New Dynamic Inclination, 3D acceleration and 3D rate sensor for Off Road and Construction Equipment, Automotive Advanced Drive Assist Systems, Robotics, Wind Turbine Towers, etc.
ACEINNA (pronounced "A See Nah"), today announced the availability of its new MEMS based, MTLT305D Dynamic Tilt Sensor Module. It combines accelerometers, gyroscopes and a temperature sensor with advanced calibration and correction algorithms to provide accurate 3D acceleration, 3D rate and Pitch and Roll measurement in dynamic, moving vehicle applications.

The MTLT305D uses advanced sensor fusion (Extended Kalman Filtering) and calibration algorithms to achieve 0.5 degree tilt and <10 milli-g acceleration accuracy in a wide variety of dynamic conditions. It is calibrated to accurately operate over a wide temperature range of -40C to +85C. The completely sealed compact module (65 x 66 x 27 mm) with integrated connector is perfect for rugged construction, off road and agriculture applications. It offers high reliability, MTBF > 50k hours and is ITAR- Free
It includes CAN J1939 and RS232 interfaces for network connectivity. The miniature plastic housing is durable under hazardous environments (IP68 and IP69K ratings). It includes an Ampseal 16, 6 position connector and supports a wide 4.9 V to 32 V supply input range (qualified for use in both 12 V and 24 V vehicle platforms).
"This new Dynamic Tilt Sensor Module provides the best performance for the price in the industry," says Mike Horton, CTO of ACEINNA. "Not only is the MTLT extremely compact compared to competing modules, it is extremely rugged, well qualified and inexpensive."
Easy to integrate, the MTLT305D supports industry standard SAE J1939 messaging over the CAN bus, and the included ACEINNA NAV-VIEW software provides a simple to use graphical interface to display, record, playback, and analyze all the MTLT305D parameters over the RS232 port. NAV-VIEW can also be used to set a wide range of user-configurable fields in the MTLT305D to optimize the system performance for various dynamic applications.
The new MTLT305D is available for purchase directly from the ACEINNA site as well as from our network of worldwide distribution partners.
For additional technical details, the MTLT305D data sheet is available at https://www.aceinna.com/inertial-systems/MTLT305D
ABOUT ACEINNA
ACEINNA Inc., headquartered in Andover, Massachusetts, provides leading edge MEMS-based sensing solutions that help our customers improve the reliability, cost, features, and performance of their end products and equipment. The company has manufacturing facilities in Wuxi, China, and R&D facilities in San Jose CA, Andover MA, and Chicago IL.
Featured Product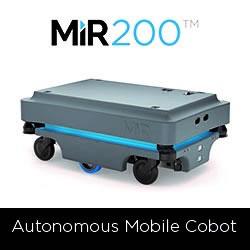 MiR200 is a safe, cost-effective mobile robot that automates your internal transportation. The robot optimizes workflows, freeing staff resources so you can increase productivity and reduce costs. MiR200 safely maneuvers around people and obstacles, through doorways and in and out of lifts. You can download CAD files of the building directly to the robot, or program it with the simple, web-based interface that requires no prior programming experience. With its fast implementation, the robots offers a fast ROI, with payback in as little as a year.