Ultra-compact, lightweight and stepper motors with improved torque and low backlash join the PKP Series.
Oriental Motor is pleased to expand the PKP Series stepper motor product line-up with the introduction of the PKP Series 2-phase Flat Type and PKP Series 5-phase TS Geared.

The new 2-phase Flat Type is an ultra-compact and light weight entry to the PKP Series of stepper motors. It is available in two frame sizes; 1.65" (42 mm) or 2.22" (56.4 mm) frame size. The 1.65" frame size Flat Type has a motor body length of 17 mm while the 2.22" frame size has a motor body length of just 16 mm. The Flat Type PKP Series stepper motor can be installed in a narrow space due to its flat profile design where conventional stepper motors would not fit. This makes the Flat Type an ideal solution for applications that require a low profile motor with high position accuracy and low torque requirement.
The new 5-phase PKP Series with TS gearhead is made with a simple spur gear design. The TS type gearhead has the same level of accuracy when compared to our tapered (TH) type without the added cost of tapering. This reduces backlash and improves both torque and high speed performance.
The new PKP Series stepper motors now uses neodymium magnet in its rotor design, which allows for lower vibration compared to the original PKP Series motors. For the optimal results, use the new PKP stepper motors with their respective CVD bipolar driver.
To learn more about Oriental Motors new PKP stepper motors, contact the Technical Support group at 800-468-3982 or email, techsupport@orientalmotor.com, or visit the web page at:
https://www.orientalmotor.com/stepper-motors/stepper-motor-only.html
###
ABOUT ORIENTAL MOTOR
Since its founding in Japan in 1885, Oriental Motor has been a world leader in motion control systems. For over a century, we have concentrated on technological advancement and product design improvement — an emphasis evident in the sophisticated devices we market today.
Featured Product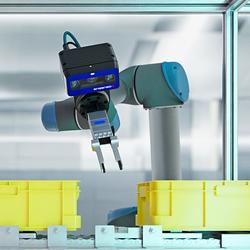 Combining the ease of use of a webcam with the performance and reliability of an industrial camera? The uEye XC autofocus camera from IDS Imaging Development Systems proves that this is possible. Its high-resolution imaging, simple setup and adaptability make it an invaluable tool for improving quality control and streamlining workflows in industrial settings - especially for cases where users would normally employ a webcam. The uEye XC autofocus camera features a 13 MP onsemi sensor and supports two different protocols: USB3 Vision, which enables programmability and customization, and UVC (USB Video Class). The UVC functionality enables a single cable connection for easy setup and commissioning, while delivering high-resolution images and video. This makes the uEye XC camera an ideal option for applications that require quick setup and need to manage variable object distances. Additional features such as digital zoom, automatic white balance and color correction ensure precise detail capture, which is essential for quality control.