Robotic exoskeleton manufacturer has provided life changing medical devices for persons with spinal cord injury in 26 countries
ReWalk Robotics Ltd. (Nasdaq: RWLK) ("ReWalk" or the "Company") announced today that the company has placed its 500th robotic exoskeleton medical device. The majority of these devices are personal systems used by individuals with spinal cord injury in their homes and communities, while others are located in rehabilitation centers to evaluate and train potential new device owners.

The first ReWalk device was placed in 2011 to the Vatican Hospital in Rome, and it became the first exoskeleton to be cleared by the FDA for sale in the United States in June 2014. To continue its growth, the Company is focused on expanding insurance coverage of exoskeletons for all persons with spinal cord injury and has helped develop national coverage policies with payers in several countries, including Germany, Italy and the U.S. Department of Veterans Affairs in the U.S.
The Company continues to work with payers on individual system procurements as well as the development of broad private coverage policies and additional national coverage policies for eligible beneficiaries. To date, 38 different payers in the United States and 39 in Germany have provided positive coverage decisions for ReWalk Personal systems to their clients.
"500 units placed is a wonderful milestone for the Company, and an important moment in our mission to improve the quality of life for individuals with lower limb disability," said ReWalk CEO Larry Jasinski. "Most of all, we see this moment as a chance to reflect on the myriad lives that have been impacted by the technology. Every single patient was told he or she would never walk again. Innovation and their determination has helped spinal cord injured patients stand up and regain many of the daily life functions they thought were lost forever. It is hugely gratifying to see how these systems have changed the lives for ReWalkers and their families across the world."
ReWalkers have made news using their systems over the years. Claire Lomas in the UK has completed multiple marathons in her ReWalk, including the 2012 London Marathon and the 2018 Greater Manchester Marathon. Retired Captain Derek Herrera, the first recipient of a ReWalk Personal system in the U.S., received the Bronze Star at his retirement ceremony from the U.S. Marine Corps while using his ReWalk. Captain Herrera achieved his goal of retiring from the military on his own two feet, the same as when he entered the armed forces. To learn more about ReWalk or hear the stories of ReWalkers around the world, please visit: www.rewalk.com
About ReWalk Robotics Ltd.
ReWalk Robotics Ltd. develops, manufactures and markets wearable robotic exoskeletons for individuals with lower limb disabilities as a result of spinal cord injury or stroke. The Company's mission is to fundamentally change the quality of life for individuals with lower limb disability through the creation and development of market leading robotic technologies. Founded in 2001, ReWalk has headquarters in the United States, Israel and Germany. For more information on the ReWalk systems, please visit www.rewalk.com.
ReWalk® is a registered trademark of ReWalk Robotics Ltd. in Israel and the United States.
Featured Product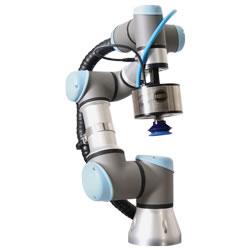 A variety of standard and custom options make the Bimba CRVT the perfect tool for your next collaborative robot project. This completely integrated plug-and-play solution is simple to operate and adds unparalleled flexibility to your collaborative robot.