Goudsmit Magnetic has developed a magnetic gripper or robot-end-of-arm-tooling which is used for picking up or holding items such as punched steel parts, blanks and perforated steel sheet in robotic applications in the automotive industry. The ultralight magnetic gripper is fitted with permanent magnets and can be used in grippers on robot arms. The magnets can be switched on and off pneumatically. This enables the system to pick up and transport even very thin steel sheets one at a time. The rubber pad at the end ensures that the work piece does not slide during vertical pick-up and prevents the work piece from being damaged. This easily installable system is already in use by a number of large car manufacturers.
Vacuum technique

The use of a magnetic gripper on robot arms replaces the traditional vacuum technique. A disadvantage of vacuum grippers is that they are susceptible to malfunction and subject to wear. Furthermore, the vacuum cups must be positioned correctly, because when they are positioned even partially over a hole in the metal sheet they do not grip at all. The electromagnets used by other manufacturers are not a good solution for this problem, because they are so heavy that they reduce the lifting capacity; a magnetic gripper with permanent magnets is considerably lighter. Moreover, the gripper does not wear and has a longer service life than vacuum grippers.
Featured Product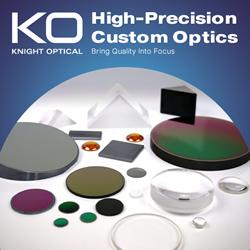 Knight Optical (KO) has provided discerning engineers, designers, and the like from the automation sector with dependable, premium-quality optics for over three decades. Throughout this time, the leading supplier has helped refine the precision of some of the world's most innovative technologies and partnered with a wide range of companies throughout the industry. In this article, Automation talks to KO about its involvement in the sector and, ultimately, finds out more about how the optical brand can help your supply chain process.