Goudsmit Magnetic has developed a magnetic gripper or robot-end-of-arm-tooling which is used for picking up or holding items such as punched steel parts, blanks and perforated steel sheet in robotic applications in the automotive industry. The ultralight magnetic gripper is fitted with permanent magnets and can be used in grippers on robot arms. The magnets can be switched on and off pneumatically. This enables the system to pick up and transport even very thin steel sheets one at a time. The rubber pad at the end ensures that the work piece does not slide during vertical pick-up and prevents the work piece from being damaged. This easily installable system is already in use by a number of large car manufacturers.
Vacuum technique

The use of a magnetic gripper on robot arms replaces the traditional vacuum technique. A disadvantage of vacuum grippers is that they are susceptible to malfunction and subject to wear. Furthermore, the vacuum cups must be positioned correctly, because when they are positioned even partially over a hole in the metal sheet they do not grip at all. The electromagnets used by other manufacturers are not a good solution for this problem, because they are so heavy that they reduce the lifting capacity; a magnetic gripper with permanent magnets is considerably lighter. Moreover, the gripper does not wear and has a longer service life than vacuum grippers.
Featured Product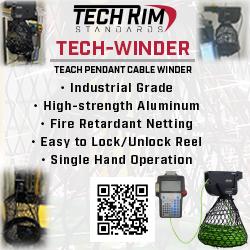 Tech-Winder is a robust solution for industrial cord management. Aluminum body, for hard impact protection. Flame retardant netting, for added protection against any sparks that may land on the cord. This industrial grade cord reel keeps your pendant cords protected and organized. Stores up to 50 meters (164 ft.) of cable in length with a diameter of 4.5 mm to 10.0 mm. Adapts to NAAMS or Modular Fencing when mounting. Help prevent your next $1,200 factory cable incident, by getting organized with Tech-Winder from Tech Rim Standards.