The release contains new trailblazing features that have been very well received by both users and developers. MERLIC 4, the new software version for the rapid creation of complete machine vision solutions, will be released on February 15, 2019.
Munich, December 13, 2018 - In November, MVTec Software GmbH presented its new software releases HALCON 18.11 and MERLIC 4 to a wide audience at the VISION trade show in Stuttgart, Germany. The leading provider of standard machine vision software used the world's most important trade fair for machine vision to present its innovations in fascinating live demonstrations. These focused on deep learning, embedded vision, and deflectometry, among other trending topics.

The latest HALCON version has been available for download on the MVTec website www.mvtec.com since November 30, 2018. The release contains new trailblazing features that have been very well received by both users and developers. MERLIC 4, the new software version for the rapid creation of complete machine vision solutions, will be released on February 15, 2019.
HALCON 18.11 with new deep learning functions
At VISION 2018, MVTec presented semantic segmentation as one outstanding feature of HALCON 18.11. Object, feature, or error classes trained with the aid of deep learning and convolutional neural networks (CNNs) can be segmented with pixel precision. This supports the recognition of objects with highly heterogeneous textures, for instance. Also new in HALCON 18.11, the object recognition feature marks the objects to be detected with a bounding box for each object within the image. This makes it possible, for example, to count objects within an image. MVTec offers pretrained deep learning networks for all AI-based processes.
The latest HALCON release also contains many new features for developers. For example, HALCONs integrated development environment, HDevelop, now displays detailed information on important handle variables. Other new functions include dictionaries for the convenient management of complex data, as well as a Hilscher CifX interface for communication with nearly all industrial field bus protocols.
MERLIC 4 introduces parallelization
At the VISION trade show, MVTec experts also demonstrated many new practical features of MERLIC 4 that greatly improve its usability. One particular highlight is parallelization, i.e., the ability to run multiple tools at the same time. This improves the implementation of multi-camera systems, for instance, and supports a more efficient use of computing capacities. Moreover, MERLIC can now also be integrated more effectively into automation solutions via Hilscher cards, using field bus communication protocols (such as PROFIBUS or PROFINET).
"Similar to previous events, our presence at VISION once again turned out to be a resounding success. Every day, we experienced large crowds of specialists, partners, and journalists, who were inspired by our product presentations and live demonstrations. We were also very happy to see that our forum presentations and presence during the Industrial Vision Days, at the School of VISION, as well as at the trade show's standardization booth were particularly popular," remarks Dr. Olaf Munkelt, MVTec Managing Director.
HALCON World Tour registers record visitor numbers
Users can learn more about the latest HALCON 18.11 features and benefits first hand at the HALCON World Tour, which will continue until the first quarter of 2019. This proven international presentation series got off to a very successful start in Japan in mid-November. More than 1,500 visitors participated, which set a record for MVTec. The tour is being organized by MVTec's distribution partners. The full schedule can be found at www.mvtec.com/news-press/halcon-events.
About MVTec
MVTec is a leading manufacturer of standard software for machine vision. MVTec products are used in all demanding areas of imaging: Semi-conductor industry, web inspection, quality control and inspection applications in general, medicine, 3D vision, and surveillance. MVTec, with its head office in Munich (Germany), has more than 30 established distributors worldwide and in addition, MVTec, LLC works out of Boston, MA (USA). www.mvtec.com
About MVTec HALCON
MVTec HALCON is the comprehensive standard software for machine vision with an integrated development environment (HDevelop) that is used worldwide. It enables cost savings and improved time to market. HALCONs flexible architecture facilitates rapid development of any kind of machine vision application. MVTec HALCON provides outstanding performance and a comprehensive support of multi-core platforms, special instruction sets like AVX2 and NEON, as well as GPU acceleration. It serves all industries, with a library used in hundreds of thousands of installations in all areas of imaging like blob analysis, morphology, matching, measuring, and identification. The software provides the latest state-of-the-art machine vision technologies, such as comprehensive 3D vision and deep learning algorithms.
The software secures your investment by supporting a wide range of operating systems and providing interfaces to hundreds of industrial cameras and frame grabbers, in particular by supporting standards like GenICam, GigE Vision, and USB3 Vision. By default, MVTec HALCON runs on Arm®-based smart cameras and other embedded vision platforms. It can also be ported to various microprocessors/DSPs, operating systems, and compilers. Thus, the software is ideally suited for the use within embedded systems.
www.halcon.com, www.embedded-vision-software.com
About MVTec MERLIC
MVTec MERLIC is the all-in-one software product for quickly building machine vision applications without any need for programming. It is based on MVTec's extensive machine vision expertise and combines reliable, fast performance with ease of use. An image-centered user interface and intuitive interaction concepts like easyTouch provide an efficient workflow, which leads to time and cost savings. MERLIC provides powerful tools to design and build complete machine vision applications with a graphical user interface, integrated PLC communication, and image acquisition based on industry standards.
All standard machine vision tools such as calibration, measuring, counting, checking, reading, position determination, as well as 3D vision with height images are included in MVTec MERLIC. Furthermore, the software is able to execute tools in parallel, increasing overall efficiency and improving the implementation of multi-camera-setups. MERLICs features are all based on the latest state-of-the-art machine vision technologies, such as matching or deep learning. The software is available for Windows-based PC and embedded platforms, making it ideally suited for use in smart cameras.
www.merlic.com
Featured Product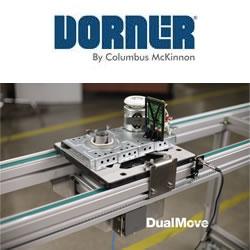 Dorner's 2200 Series Precision Move Pallet Systems are ideal for assembly automation. With features such as an innovative timing belt conveyor design and industry best pallet transfers, they get your product to the exact location, at the exact time and in the exact position it needs to be. They are now available with new options such as heavy load corner modules with 150 lb. capacity and 180 degree tight transfer corners for compact loops.