Two models from Dorner's newly redesigned AquaGard 7350 V2 Series are now available in D-Tools, Dorner's online conveyor configurator.
HARTLAND, Wis., (February 1, 2019) — Two models from Dorner's newly redesigned AquaGard 7350 V2 Series are now available in D-Tools, Dorner's online conveyor configurator.

The AquaGard 7350 V2's Positive Drive and LPZ (Flat and Cleated belt) models now on D-Tools give project engineers, plant managers and others the ability to easily design an AquaGard conveyor to fit their exact application in a matter of minutes. D-Tools, which includes 2D and 3D CAD libraries and other functions, allows users to construct simple or complex conveyor packages, as well as individual components such as gearmotors and mounting packages, support stands and accessories. To access Dorner's D-Tools, visit https://tools.dornerconveyors.com.
The AquaGard 7350 V2 is built for numerous sanitary applications within baking, snack food, pharmaceutical, pet food, packaging and other industries that require occasional wipe-down cleanings of the conveyor. The new conveyor comes in belted, modular belt and positive drive models.
The platform includes the safest, most advanced modular curve chain conveyor in the industry today. The modular belt curve conveyor has no openings greater than the international standard of 4mm, even within the curves, which increases safety by eliminating pinch points for operators. Added safety measures are also achieved by covering the upper and lower chain edges, and fully containing the drive system, which reduces catenary belt sag and conveyor noise.
Features and benefits of the AquaGard 7350 V2 Positive Drive Conveyor include:
• Positively-driven belt avoids slipping in wet environments
• Positive-belt control on drive sprockets
• Eliminates need to be tensioned or tracked
• Tip up tails for access inside conveyor for cleaning and maintenance
Features and benefits of the AquaGard 7350 V2 LPZ Conveyor include:
• Available in Flat and Cleated belt models
• Flat belt angles from 5° to 30° in 5° increments
• Cleated belt angles from 30° to 60° in 5° increments
• Configurations: Horizontal to incline; noseover; Z-frame
For more information on Dorner's new AquaGard 7350 V2 sanitary conveyor platform, or its D-Tools online conveyor configurator, visit www.dornerconveyors.com.
Connect with Dorner on Facebook at www.facebook.com/dornerconveyors
Follow Dorner on Twitter at www.twitter.com/dornerconveyors
Subscribe to Dorner on YouTube at https://www.youtube.com/user/DornerConveyors
Follow Dorner on LinkedIn at www.linkedin.com/company/dorner-mfg-corp
###
Hartland, Wisconsin-based Dorner is a world leader in the design, manufacture and distribution of high-quality conveyors and related equipment. Since 1966, companies from around the world have turned to Dorner conveyors for greatly improved efficiency and productivity. For more information about products or company news, visit Dorner's Web site at www.dornerconveyors.com or call 1-800-397-8664.
Featured Product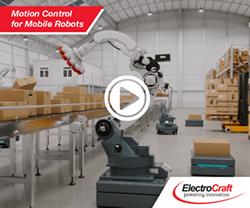 ElectroCraft is showcasing its award-winning mobile robot technology including their powerful and compact wheel drives, high-torque-density brushless DC motors, precision linear actuators as well as servo motor drive technology at a variety of conferences and tradeshows including the Boston Robotics Summit. Robotics Summit is the premier symposium for the sharing of ideas, technology, and market developments for robotic technologies across industries. Beyond a showcase and pitch of product, ElectroCraft is eager to participate in the collaborative discussion of challenges and opportunities that will shape the near and long-term robotic marketplace.