RobotShop, the leading source of robotics technology and owner of the Lynxmotion brand, announces today the release of an all new articulated robotic arm based on Lynxmotion's new Smart Servos (LSS) and Servo Erector Set (SES) V2 system launched earlier this year.
Lynxmotion is one of the oldest brands of educational robotic kits, including robot arms, bipeds, quadrupeds, hexapods, rovers and more. Purpose-built robots which were created using RC servo motors, evolved into a modular robotic building system known as the "Servo Erector Set". Lynxmotion's previous generation of articulated robotic arms, the AL5 series, is very popular in schools and the DIY / hobbyist communities.

"As more and more schools integrate robotics into their curriculum, it is important that teachers and students have access to the latest robots which can simulate articulated arms used in industry." indicated Coleman Benson, R&D Project Manager at RobotShop. "A culmination of over 20 years of experience in the field, this high quality arm is easy to use, versatile and affordable."
Lynxmotion's smart servos incorporate the best technology in their class and allow this new arm to be fully configurable. The custom human readable communication protocol is open to all, allowing users to easily integrate control of and obtain feedback from the arm's servos via their preferred programming language.
In order for users to get up and running quickly, a new software application called LSS Flowarm was created and includes a graphical interface with multiple ways to control the arm as well as create, edit and run sequences without any programming required.
RobotShop plans to launch add-ons and accessories shortly thereafter in order to facilitate integration and use in different education level and curriculums.
About RobotShop Inc.
RobotShop is the world's leading source of robotics technology. It provides personal, domestic and professional robots, development platforms, kits, and specialized robotic parts. RobotShop is also an important source for robotics used in education and research.
For more information, please visit http://www.robotshop.com
Featured Product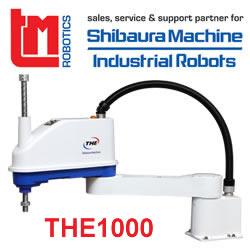 Designed for assembly and inspection applications in the electronics equipment and automobile components industries, the THE600 SCARA is a powerful automation tool. Advancing from the specifications of the existing THE400 SCARA, the THE600 has been developed to meet growing demand for fast-cycle automation. The THE600 model includes improvements in synchronised control and tracking precision. The THE600 is compact in design and offers improved high speed, with 60 per cent higher payload capacity than competing SCARA models in the same price range, making it the price-to-performance leader. Affordable price, impressive performance.