In Booth No. 3139, Stäubli will feature solutions in a variety of categories, all designed to offer superlative performance in the top echelons of high-performance racing.
DUNCAN, S.C. (Oct. 28, 2019) — Those in the high-stakes auto-racing industry will have the chance to see a wide array of Stäubli's proven high-performance quick release couplings and connector solutions in addition the newest Ligier GT Racer Car JS2 R in booth No. 3139 at PRI 2019, the 32nd annual Performance Racing Industry trade show.

The premiere racing-industry show will be held Dec. 12-14 in Indianapolis. Attendees are pre-qualified to ensure they are a part of the automotive racing industry, either as owners, managers or employees in racing businesses.
Stäubli has built a reputation throughout the automotive industry for quality, innovation, reliability and safety, and nowhere are those qualities in greater demand than in the world of high-performance racing. Stäubli offers a complete range of clean break connection solutions, including couplings designed to be resistant to high pressure, vibrations and shock.
Wherever the rubber meets the road - or track - Stäubli's quality coupling solutions are there.
"Stäubli has consistently demonstrated its commitment to performance and safety in all facets of the automotive industry, which certainly includes the demanding performance-racing niche," said Phil Briggs, Fluid Connectors North American Division Manager. "Stäubli connectors also integrate anti-pollution features and lightweight and compact designs, making them uniquely suited for the demands of performance racing."
At this year's PRI trade show, Stäubli solutions will be featured in four product categories:
• Drag Race Clutches
• Fuel Filters
• Hoses and Fittings (plumbing)
• Suspension (Oval Track)
Stäubli's booth, No. 3139, will be in the Yellow Hall.
Visit www.staubli.com for more information on the company and products.
About Stäubli North America
Stäubli North America has more than 200 employees supporting Connectors, Robotics and Textiles customers. The company's North American headquarters is located in Duncan, South Carolina, and the sales force is placed strategically on the West Coast and in Canada, Mexico, and elsewhere thoughtout the continent.
Stäubli is one of the leading manufacturers of quick connector systems. Stäubli covers connection needs for all types of fluids, gases and electrical power. Our standard and specialized products, including single- and multi-pole connectors, tool changers, and quick mold change systems, combine performance, quality, safety, dependability and durability. Choose the original Stäubli.com
Stäubli is a leading manufacturer of, quick release couplings, robotics systems and textile machinery. With a workforce of over 5,000 employees, Stäubli is present in 29 countries supported by a comprehensive distribution network in 50 countries worldwide.
About Ligier Automotive
Ligier Automotive is the first car constructor since Ferrari in 1998 to have won the 24 Hours of Daytona, the 12 Hours of Sebring and Petit Le Mans the same year. Ligier Automotive is located in France (Magny-Cours, Le Mans and Amilly) and in North America (Denver, North Carolina). It offers worldwide a large range of sports prototypes (Ligier JS P4, Ligier JS P3, Ligier JS P320, Ligier JS P2, Ligier JS P217, Ligier Nissan DPi), single-seaters (Ligier JS F3 and Ligier JS F4) and GT with the Ligier JS2 R. Since 2018, Ligier Automotive has launched two single-make series, the Ligier JS Cup France with 30 Ligier JS2 Rs entered in 2019 and the Ligier European Series featuring the Ligier JS2 R and the Ligier JS P4 which will make its debuts in 2020 during the European Le Mans Series' meetings. More than 300 racing cars are expected on track in 2020. For more information consult https://ligierautomotive.com/
About the PRI trade show
The PRI trade show annually attracts buyers from all 50 states and from more than 70 countries. This year's show will feature 1,100 exhibiting companies with a total of more than 3,300 booths, and more new racing products than anywhere else on Earth.
Each year, thousands of professional race teams, from NASCAR Cup teams to NHRA Top Fuel, from Japan to the U.K., send buyers to the PRI trade show to ensure they are current with today's best race technology.
Featured Product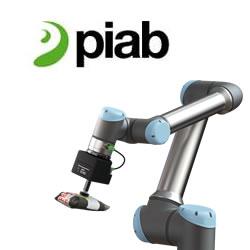 Piab's Kenos KCS gripper enables a collaborative robot to handle just about anything at any time. Combining Piab's proprietary air-driven COAX vacuum technology with an easily replaceable technical foam that molds itself around any surface or shape, the gripper can be used to safely grip, lift and handle any object. Standard interface (ISO) adapters enable the whole unit to be attached to any cobot type on the market with a body made in a lightweight 3D printed material. Approved by Universal Robots as a UR+ end effector.