Sensor networking platform and integrated situational awareness software help vehicle crew perform tasks more effectively, efficiently, and safely while reducing cognitive burden
Pleora Technologies will be demonstrating how its RuggedCONNECT™ Smart Video Switching platform and situational awareness software provide critical decision-support capabilities to increase mission effectiveness for ground vehicle crew at the International Armoured Vehicles 2020 conference (Twickenham Stadium, London, United Kingdom, Jan. 20-23, stand #B4). To book a demo visit https://go.pleora.com/IAV-2020.

Pleora's RuggedCONNECT platform converts sensor data from multiple sources into a standardized feed that is transmitted over a low latency, multicast Gigabit Ethernet (GigE) network to endpoints. Manufacturers can design straightforward camera-to-display systems and cost-effectively evolve to fully networked architectures integrating different sensor and display types, switching, processing, and recording units. With all devices connected to a common infrastructure, vehicle crew can view information they need on a single display and know immediately if something has changed in their environment.
Combining the high-performance networking of RuggedCONNECT with the powerful GPU resources of the NVIDIA Jetson TX2i, designers can easily add machine learning-based decision-support capabilities to help reduce cognitive burden and increase mission effectiveness. Advanced situational awareness software, available as solution plug-ins for RuggedCONNECT, includes automatic threat detection, region of interest, and rollover warning capabilities to improve battlefield intelligence.
Pleora has announced technology partnerships with Mission Control Space Services and Lemay.ai to develop machine-learning artificial intelligence capabilities for military imaging platforms. For more on Pleora's artificial intelligence capabilities for military applications visit C4ISR.ai.
Global manufacturers are designing Pleora's military imaging expertise into local situational awareness (LSA), Command, Control, Communications, Computers, Intelligence, Surveillance, and Reconnaissance (C4ISR), remote controlled weapon stations (RCWS), driver vision enhancement (DVE), and panoramic surveillance applications.
Presentation at IAV - 11:00 am, January 20
Pleora President Harry Page will be discussing how understanding challenges and mission goals for vehicle crew members is critical when developing new technology for the military market. Joining Mr. Page will be Alan Bolster. Mr. Bolster spent over 37 years in uniform with the Canadian army, and has experience both in Canada and internationally as a tank and reconnaissance officer with operational tours in Germany, the Middle East, and Afghanistan.
Pleora's presentation - "Real-Time Sensor Networking for Mission Critical Applications" - is on January 20th at 11 a.m., as part of the IAV 2020 MRO & Retro In-Service Support Focus Day.
About Pleora Technologies
Pleora Technologies invented high-performance frame grabbers and embedded hardware for the delivery of sensor data over Gigabit Ethernet, and leads the market in interfaces for USB 3.0. With this spirit of innovation, Pleora engineers reliable sensor interfaces and embedded vision gateways for system manufacturers and camera companies serving the military, medical, and industrial automation sectors. Pleora provides end-to-end solutions that shorten time-to-market, reduce risk, and lower costs. We partner with our customers and tailor products to meet their individual needs. Find out more at pleora.com.
Featured Product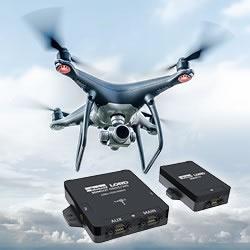 The new complete inertial navigation solution comes with GNSS/INS 3DMGQ7 sensor, 3DMRTK correction modem and real time SensorCloud RTK correction network. The sensor comes with Dual antenna GNSS, tactical grade IMU with centimeter-level accuracy with RTK. Low profile and light weight at 78 grams, this sensor is The sensor is optimized for size and weight in Unmanned Ground Vehicles, mobile robots and autonomous vehicles. The network interface 3DMRTK modem is seamlessly integrated into the 3DMGQ7 sensor supports industry-standard NMEA and RTCM 3.1 protocols. The network RTK support comes with cellular data plan. The SensorCloud RTK is a cloud-based RTK correction system with private encrypted data stream. Check out our G Series and C Series OEM products.