As robotics and automation experience rapid growth and adoption, the leader in wireless charging for robots gets a boost to expand its product offerings and enhance customer support
SEATTLE - WiBotic, a Seattle company that specializes in advanced wireless charging and power optimization solutions for the rapidly expanding ecosystem of aerial, mobile and marine robots, today announced it has secured $5.7 million in Series A funding. Investors include Junson Capital, SV Tech Ventures, Rolling Bay Ventures, Aves Capital, The W Fund and WRF Capital, amongst others.

WiBotic is the leader in wireless charging and power optimization solutions for the robotics industry, and provides next-generation off-the-shelf hardware and software systems that most customers can use out of the box with any type of robot or drone. WiBotic wireless charging is more resilient and reliable than contact-based systems and helps simplify charging logistics and reduce maintenance costs. Robots and drones can connect to power with greater accuracy, improving productivity.
"WiBotic will use the Series A funding to accelerate the company's growth, expand our sales team, advance hardware and software engineering, and fulfill increased customer demand," said Ben Waters, WiBotic CEO. "Our mission is to power the world of autonomous systems. By providing mission-critical technologies for autonomous charging and fleet energy management, we help organizations quickly scale-up robotic fleets, improve robot uptime while reducing recurring charging and maintenance costs. Our successful Series A funding accelerates our innovation and growth to ensure we lead the charge in powering autonomous systems."
"WiBotic provides highly reliable wireless power solutions and really understands the complexities associated with managing hundreds or thousands of batteries in a fleet that all need to get charged up," said Geoff Entress, Series A investor and Managing Director at Rolling Bay Ventures. "This is a market that's well positioned for growth. According to ABI Research's recent Commercial and Industrial Robotics market data report, the robotics market is projected to hit a market valuation of $277 billion by 2030. This is driving increased demand for wireless charging technology that works seamlessly, with minimal human intervention. We're optimistic about WiBotic's vision and its ability to capture significant market share in a burgeoning industry."
Additionally Mark Rogers, Chief Revenue Officer at Coolfire Solutions, has joined WiBotic's Board of Directors. Mark has extensive expertise partnering with startups to enhance their sales strategies and revenue streams and was previously SVP of Business Development at Mendix (acquired by Siemens). He also held senior roles at Microsoft including global head of Microsoft Azure product management when it launched into the market, as well as leading global ISV and Developer Marketing for Microsoft Windows.
"With the addition of Mark to our Board of Directors, WiBotic has gained a proven leader who will contribute significantly to our vision, technology and business growth," continued Ben Waters. "We're thrilled to have attracted prominent investors, as well as a talented and experienced team of thought leaders and advisors, as we take our products to the next level of maturity."
About WiBotic
WiBotic provides wireless charging and power optimization solutions for the rapidly growing ecosystem of aerial, mobile and marine robots. Its solutions help companies optimize the uptime of robot fleets and are an integral component of fully autonomous robotic operations. WiBotic works with companies in a variety of industries. For more information, please go to: www.wibotic.com
Featured Product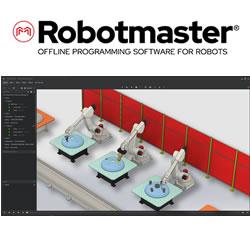 Robotmaster® offline programming software for robots helps manufacturers maximize their productivity and profitability with an intuitive and powerful programing solution ideal for production runs of all sizes and varying part complexity as a result of integrated CAD/CAM functionality.