The Leaders in Rapid Prototyping of High-Quality Motion Control Solutions
Midwest Motion Products (MMP) now a Subchapter 'S' Corporation, founded in 2001, has been dedicated specifically to serving the DC Motor and Motion Control Industry. Beginning as a Sole Proprietorship, the Company has now grown into a highly successful manufacturer/distributor of DC Motor Products to include Brushed and Brushless Motors and Gearmotors, Electronic Controls, Linear Actuators, DC Power Supplies and related ancillary equipment.

MMP has always been an organization dedicated to maintaining the agility necessary to bring top-quality DC Motor Products to the Market in a "lightning-fast" manner, thus differentiating from those competitors with traditionally burdensome leadtimes. By maintaining an inventory of a wide variety of Motor Windings and Gear Ratios, for instance, the Company has gained significant notoriety in the industry for shipping prototypes in "days" instead of weeks or months, compared to the competition. A high priority has been placed on developing partnerships with equally agile Sub-Contractors and Suppliers, therefore allowing MMP to gain this distinct advantage in the Marketplace. MMP built a new Facility in 2014, and has bolstered capacity by adding 40% more Manufacturing and Warehouse space to the present Building in 2020, bringing the capacity to 40,000 to 50,000 units annually.
Since beginning to track measurable performance results in 2016, MMP boasts a 97% On-Time Delivery rate and a Manufacturing Defect Rate of less than 0.2%.
Since its inception in 2001, MMP has employed unique Business Strategies that are responsible for the balanced and healthy annual growth which the Company has achieved over its first 20 years.
The Current MMP Team has expanded on these historical achievements with many new innovations, specifically relating to the Company's Manufacturing Processes, Administrative Procedures, and Government Agency Standards, including ISO-9001:2015.
The Company excels at developing new products and custom designs with superior engineering talent, dedicated to leveraging MMP's inherent creativity, thus allowing for rapid responses to Customer/Market demands and new programs, as they are identified, with continued unique agility.
Further detailed information can be found at the following Link on the MMP Website: https://midwestmotion.com/generalinfo/MMPSalesPresentation.pdf
Featured Product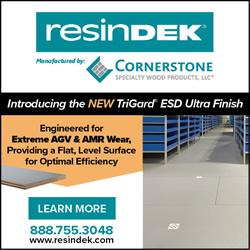 ResinDek flooring panels are designed for elevated platforms such as mezzanines, pick modules, and work platforms. They have the proven structural integrity to support dynamic and static rolling limits from 2,000 to 8,000 lbs. ResinDek flooring panels are available in a multitude of options that are customized for load capacities, required finish type, volume and type of traffic including heavy rolling pallet jack loads and robotic traffic with AGVs and AMRs.