Manufacturers—especially in automotive and electronics—turn to automation during and after the COVID-19 pandemic; Invest in fleets of AMRs to automate material handling and internal logistics
Mobile Industrial Robots (MiR), the global market leader in autonomous mobile robots (AMRs), today announced a 55 percent increase in sales in Q1 2021 over the same period last year. A large number of Q1 sales are of the MiR250, MiR's latest and most compact AMR, with multiple orders from multinational organizations that continue to invest in large fleets of MiR robots as they automate material handling and internal logistics.

"Automation and digitalization are critical measures to strengthen manufacturing businesses during and after the Covid-19 pandemic," said Søren E. Nielsen, president, Mobile Industrial Robots. "Consequently, many companies that successfully tested AMR solutions are returning for more and planning full-scale deployments of up to 50 robots to improve internal logistics and efficiency and enable their workers to focus on higher-value tasks."
As MiR's Q1 orders demonstrate, automotive and electronic companies continue to automate internal transport with AMRs; these robots are also widely used in the consumer packaged goods (CPG) sector, the pharmaceutical industry, and logistics. The global pandemic has also propelled the development and growth of cleaning modules for MiR robots as they are deployed to disinfect offices, hospitals, and other public places to reduce the spread of the coronavirus.
MiR's growth in Q1 is due as well to increased interest by technology manufacturers in integrating MiR robotic platforms with their products to make their automation solutions mobile and flexible. For example, KEN Hygiene Systems uses MiR robots to automate the filling and emptying of washer disinfectors in sterile centers in hospitals.
MiR invests in fleet management software and customer service
Since MiR disrupted the market for transport robots with the 2015 launch of its first collaborative AMR, the MiR100, the number of competing solutions has increased significantly. To stay at the forefront of the industry, MiR continues to invest in quality, product maturity and global customer service across its entire fleet of user-friendly, powerful and robust AMRs that are used at top companies such as Novo Nordisk, Ford and Honeywell. The largest percentage of orders in Q1 were for the MiR250.
"Robustness, agility and safety features make the MiR250 exactly what dynamic production and logistics environments need as companies strive to succeed in a competitive business landscape," Nielsen added. "To ensure our customers can capitalize on all of the benefits of AMRs, we've further developed the MiRFleet software that manages our robots and integrates them into our customers' other systems such as enterprise resource planning (ERP) and warehouse management systems. This effort our customers more easily scale up their fleets of MiR robots locally and across multiple locations."
MiR posts open positions and hires new talent
To meet MiR's growth and development projections, the company hired 26 new employees in the first quarter, a 10 percent increase in staff, and has 21 positions open worldwide.
"2020 was a challenging year for everyone, and after several prior years of high growth in personnel, last year was quieter," Nielsen said. "In line with a return to high growth, we are launching new initiatives that require new employees. It's an exciting time to be at MiR and within the automation sector overall."
About Mobile Industrial Robots:
Mobile Industrial Robots (MiR) develops and markets the industry's most advanced line of collaborative and safe autonomous mobile robots (AMRs) that quickly, easily and cost-effectively manage internal logistics, freeing employees for higher-value activities. Hundreds of mid-to-large multinational manufacturers and logistics centers and several hospitals have installed MiR's innovative robots. As the global market leader, MiR has a distribution network in more than 60 countries, with regional offices in New York, San Diego, Singapore, Frankfurt, Barcelona, Tokyo, and Shanghai. Founded by experienced Danish robotics industry professionals, MiR is headquartered in Odense, Denmark, and in 2018 was acquired by Teradyne, the leading supplier of automated test equipment. For more information, visit www.mobile-industrial-robots.com.
Featured Product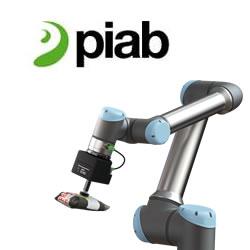 Piab's Kenos KCS gripper enables a collaborative robot to handle just about anything at any time. Combining Piab's proprietary air-driven COAX vacuum technology with an easily replaceable technical foam that molds itself around any surface or shape, the gripper can be used to safely grip, lift and handle any object. Standard interface (ISO) adapters enable the whole unit to be attached to any cobot type on the market with a body made in a lightweight 3D printed material. Approved by Universal Robots as a UR+ end effector.