BasicStop- dampers are expanded by three sizes
The Zimmer Group, which has long been one of the world's leading specialists in industrial damping, has added three new models to its BasicStop structural dampers, which have been successfully placed on the market.

Until now, the BasicStop series has been available in both axial and radial versions and is basically available in two hardness grades with Shore 40D and Shore 55D. In both hardness grades, the dampers, which are assigned to the Axial Standard series, are now available in a total of 49 sizes that can absorb between 0.4 J and 2951 J of mechanical energy. The three new sizes were developed specifically for low energy absorption (0.3 - 0.9 joules). The new BasicStop structural dampers thus open up a wide range of cost-effective applications for reliable and permanently damping shocks and vibration under the most adverse conditions. The range of applications for the new products extends from shock absorption in miniature axles to small handling modules.
The BasicStop dampers of the entire series are lightweight and require only a small amount of installation space. For example, the axial size in Shore 55D hardness with a diameter of 39 mm and a height of 35 mm is roughly equivalent in its energy absorption to a hydraulic damper of size M20, which is around 95 mm long with a diameter of 20 mm. Despite comparable energy absorption, the structural damper thus makes do with around a quarter of the overall height - and also costs only around a quarter of a comparable industrial shock absorber.
Special plastic ensures high load capacity
BasicStop structural dampers are made of a special, indestructible, fully recyclable thermoplastic elastomer based on copolyester (TPC for short), which converts a large proportion of the kinetic energy into heat due to internal friction in the molecular structure. The bottom line is that the Zimmer Group's structural dampers, with their outstanding properties, are an economical alternative to industrial shock absorbers from the low-cost sector. Compared with simple rubber buffers, they set new standards in terms of service life, media compatibility and robustness, and thanks to their high damping content they open up new possibilities for achieving good protection of equipment and systems with low-cost material dampers.
The BasicStop profile dampers have already been available since the beginning of 2021.
Product finder:
The product finder of the Zimmer Group for industrial dampers on www.zimmer-group.de/en/pdti makes choosing the right product simple!
Featured Product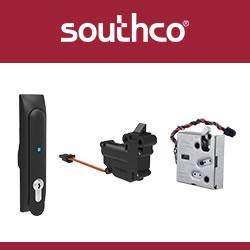 Many robotics engineers need to securely mount and latch sensitive electronic components in their robotics applications; Southco is able to help reduce theft and vandalism with our proven and reliable access technologies. Learn how Southco can help secure your robotics, or other smart city application, from theft and vandalism.