WestPack attendees will learn how Brenton can take the lead on end of line packaging, robotic integration, palletizing and material handling applications
ALEXANDRIA, Minn., July 22, 2021 - Brenton will be showing its expertise in end of line packaging and robotic integration in case packaging, palletizing and material handling through interactive animation demonstrations in booth 5211 at WestPack, August 10-12 at the Anaheim Convention Center, Anaheim, California.

Brenton is a global leader in the designing and manufacturing integrated end of line packaging systems and machines, specializing in case packing and palletizing using both robotics and other automation. Brenton is part of the ProMach family of brands.
WestPack attendees will be able to meet with Brenton personnel to discuss their upcoming projects, and watch live interactive animation demonstrations of Brenton systems including:
• Complete Integrated Flexible Packaging Line
• M2000 Side Load Case Packer
• RP1000 Robotic Palletizer
• MP1000 Master Pal Bulk Robotic Palletizer
The Complete Integrated Flexible Packaging Line demonstrates the full capabilities of the ProMach family of brands. ProMach has the expertise and breadth of products to complete packaging line projects from start to finish. Its product brands are grouped into distinct business lines that make the most sense for customers, covering every function of the packaging line.
The M2000 Side Load Case Packer is considered Brenton's workhorse case packer because it is designed to handle both flexible and rigid packaging, and is engineered to work with more than 80% of the packaged goods market, including food, personal care, pharmaceuticals and nutraceuticals. The best applications for the M2000 are ones that are growing with steady and consistent packaging demands.
The RP1000 Robotic Palletizer can accommodate single or multiple lane systems with both feed and discharge lanes. The RP1000 also accommodates mixed layer palletizing that is supported by multi-zoned vacuum, clamp style or bag grippers, and are engineered to meet customer requirements - RSC, HSC, bag, etc.
MP1000 Master Pal Bulk Robotic Palletizer can pick up full layers of product at one time, making it a great time-saving solution for a variety of industries, including plastic container manufacturers. The MP1000 provides consistent tight layer grids of palletized and depalletized product through cradle and place technology that combines a servo-operated rotary tool and slat system to gently handle full layers of product weighing up to 500 pounds with each motion.
Plan to visit booth 5211 at WestPack 2021 to learn how Brenton can assist you in your upcoming packaging, palletizing or material handling project.
###
About Brenton
Brenton engineers and manufactures custom case packaging, palletizing, robotic packaging systems including material handling, high speed pick and place, and integrated end-of-line systems. Specializing in food, beverage, pharmaceutical, medical device, personal care, and household products, Brenton surpasses regulatory and market driven demands and creates collaborative, long-standing partnerships to best serve a diverse customer base. Brenton is a product brand of ProMach, a global leader in packaging line solutions. As part of the ProMach End of Line business line, Brenton helps packaging customers protect and grow the reputation and trust of their consumers. ProMach is performance, and the proof is in every package. Learn more about Brenton at www.BrentonEngineering.com.
About ProMach
ProMach is a family of best-in-class packaging solution brands serving manufacturers of all sizes and geographies in the food, beverage, pharmaceutical, personal care, and household and industrial goods industries. ProMach brands operate across the entire packaging spectrum: filling and capping, flexibles, pharma, product handling, labeling and coding, and end of line. ProMach also provides Performance Services, including integrated solutions, design/build, engineering services, and productivity software to optimize packaging line design and deliver maximum uptime.
ProMach designs, manufactures, integrates, and supports the most sophisticated and advanced packaging solutions in the global marketplace. Its diverse customer base, from Fortune 500 companies to smaller, privately held businesses worldwide, depends on reliable, flexible, technologically advanced equipment and integrated solutions. ProMach is headquartered near Cincinnati, Ohio, with manufacturing facilities and offices throughout the United States, Canada, Mexico, Brazil, Europe, United Arab Emirates, and China. For more information about ProMach, visit www.ProMachBuilt.com.
Featured Product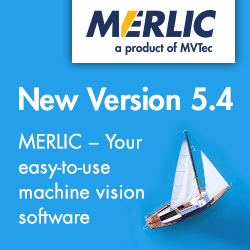 MVTec has launched the newest version 5.4 of its easy-to-use machine vision software MERLIC on Oct. 25. Its focus is on easier process integration. MVTec MERLIC 5.4 includes state-of-the-art machine vision technologies, plug-ins for direct communication with different PLCs and can be used to create complete machine vision applications. Try the new MERLIC 5.4 now!