Virtual trade show will allow attendees to learn how company's comprehensive product line can improve automotive-manufacturing operations
Auburn Hills, Michigan (August 18, 2021) - DESTACO is excited to announce that it has set the date for its next digital trade show event. Titled "Automotive Manufacturing Insights," this one-day event is set for Wednesday, Sept. 22. A total of five 15- to 20-minute pre-recorded sessions will be available for event attendees to view, with information provided on new products, tips on improving quality, and ways to enhance speed and output in critical automotive-manufacturing operations.

Specifically, DESTACO's End Effector (Robotic Tooling), Power Clamp and Sheet Metal Gripper product lines will be highlighted, along with ways that they can help optimize performance in automotive-manufacturing press stamping and body-in-white applications. Additionally, a session will be offered that discusses Camco's Indexing and Conveyor product families and how they can improve automation applications in small-component manufacturing facilities.
"The automotive industry is one of the most important in the United States, with manufacturers constantly searching for ways to improve speed, reliability and product quality," said Russell Toney, President of DESTACO. "We invite everyone to take part in the virtual Automotive Manufacturing Insight seminars that have been designed to highlight how they can help their users achieve optimized performance in automotive-manufacturing operations."
DESTACO's Engineering and Sales Teams members will be available throughout the event to personalize the attendee experience by answering any questions, or listening and responding to comments. CLICK HERE for further information and to register for the Automotive Manufacturing Insights digital event.
To learn more about DESTACO's digital trade show events, or any of its high-performance automation, workholding or remote-handling solutions, please visit destaco.com or call (888) DESTACO (888-337-8226).
About DESTACO
DESTACO, a Dover Corporation company, is a global leader in the design and manufacture of high-performance automation, workholding and remote-handling solutions. The company serves customers in a variety of end-markets, including the automotive, life sciences, consumer packaged goods, aerospace, industrial and nuclear sectors.
Built on a legacy of more than 100 years, DESTACO offers a comprehensive portfolio of products designed to engineer precise movement, placement and control solutions that drive productivity and uptime for manufacturers around the world. The DESTACO family of products consists of industry-leading brands such as DESTACO Manual Clamps, Power Clamps, and End Effectors; Camco™ and Ferguson™ Indexers; Robohand™ Grippers; and CRL™ Manipulators and Transfer Ports.
DESTACO is based in Auburn Hills, Michigan, U.S.A. The company has more than 800 employees with 13 locations, in 9 countries, across the Americas, Europe and Asia. More information is available at destaco.com.
Featured Product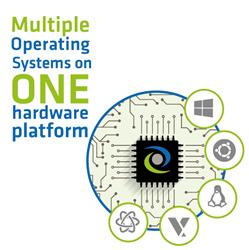 The RTS Hypervisor enables work-load consolidation of both real-time and non-real-time operating systems on a single x86 based platform. Unlike traditional virtualization, we partition and allocate the hardware for each work-load and provide a "privileged" mode for real-time operating systems that guarantee zero impact to determinism while adding zero jitter. This is instrumental for work-loads such as robotic controllers managing motion control where minimum jitter is required. And, our hypervisor is designed for easy setup and configuration for any work-load consolidation scenario. This equates to deterministic real-time applications taking advantage of all the benefits of virtualization immediately, without costly implementation projects.