• Presentation of the latest product releases and technology highlights • MVTec uses in-person trade show to develop personal contacts
Munich, September 9, 2021 - MVTec Software GmbH (www.mvtec.com), a leading international provider of machine vision software, will present an overview of its latest machine vision technologies and recent product developments at this year's VISION in Stuttgart. The company views its participation in the world's leading machine vision trade show as an excellent opportunity to once again establish personal contacts with customers, partners, and interested parties. From October 5 to 7, 2021, visitors to Booth 8C56 can learn about the latest features of the company's HALCON standard software, Deep Learning Tool, and MERLIC. The new MERLIC 5 version will be released just in time for VISION 2021. Numerous technical features have been added to the all-in-one machine vision software. MVTec will also participate in the Industrial VISION Days, the world's largest machine vision lecture forum part of VISION 2021, with a presentation on deep learning.

"Our participation in VISION 2021 will provide us with our first European opportunity to develop personal contacts since the pandemic began. We're looking forward to lively discussions. This trade show will also serve as a valuable stimulus for the entire machine vision industry, and we'd like to make a significant contribution with our technological innovations," says Dr. Olaf Munkelt, Managing Director of MVTec Software GmbH.
Demos provide real-time insight into practical applications
Two interactive demos at the MVTec booth will provide in-depth insight into a wide range of machine vision applications, while also creating an opportunity to engage in deepened discussions. The first demo allows visitors to experience the many topics and technologies relating to machine vision interactively, based on practical examples and videos. These include anomaly detection, deep OCR, the Subpixel Bar Code Reader, and an agricultural application relating to 3D plant inspection. The demo will be offered at three different locations within the booth so as to comply with the rules of hygiene. This will enable multiple visitors to access the demo while keeping the social distance. In another live demonstration, MVTec experts will show how images can easily be labeled with the aid of the Deep Learning Tool in order to optimally prepare it for training.
About MVTec Software GmbH
MVTec is a leading manufacturer of standard software for machine vision. MVTec products are used in all demanding areas of imaging: semiconductor industry, surface inspection, automatic optical inspection systems, quality control, metrology, as well as medicine and surveillance. By providing modern technologies such as 3D vision, deep learning, and embedded vision, software by MVTec also enables new automation solutions for the Industrial Internet of Things aka Industry 4.0. With locations in Germany, the USA, and China, as well as an established network of international distributors, MVTec is represented in more than 35 countries worldwide. www.mvtec.com
About MVTec HALCON
MVTec HALCON is the comprehensive standard software for machine vision with an integrated development environment (HDevelop) that is used worldwide. It enables cost savings and improved time to market. HALCON's flexible architecture facilitates rapid development of any kind of machine vision application. MVTec HALCON provides outstanding performance and a comprehensive support of multi-core platforms, special instruction sets like AVX2 and NEON, as well as GPU acceleration. It serves all industries, with a library used in hundreds of thousands of installations in all areas of imaging like blob analysis, morphology, matching, measuring, and identification. The software provides the latest state-of-the-art machine vision technologies, such as comprehensive 3D vision and deep learning algorithms. The software secures your investment by supporting a wide range of operating systems and providing interfaces to hundreds of industrial cameras and frame grabbers, in particular by supporting standards like GenICam, GigE Vision, and USB3 Vision. By default, MVTec HALCON runs on Arm®-based embedded vision platforms. It can also be ported to various target platforms. Thus, the software is ideally suited for the use within embedded and customized systems. www.halcon.com, www.embedded-vision-software.com
About MVTec MERLIC
MVTec MERLIC is an all-in-one software product for quickly building machine vision applications without any need for programming. It is based on MVTec's extensive machine vision expertise and combines reliable, fast performance with ease of use. An image-centered user interface and intuitive interaction concepts like easyTouch provide an efficient workflow, which leads to time and cost savings. MERLIC provides powerful tools to design and build complete machine vision applications with a graphical user interface, integrated PLC communication, and image acquisition based on industry standards. All standard machine vision tools such as calibration, measuring, counting, checking, reading, position determination, as well as 3D vision with height images are included in MVTec MERLIC. Furthermore, the software is able to execute tools in parallel, increasing overall efficiency and improving the implementation of multi-camera-setups. MERLIC's features are all based on the latest state-of-the-art machine vision technologies, such as matching or deep learning. The software is available for Windows-based PC and embedded platforms, making it ideally suited for use in smart cameras. www.merlic.com
Featured Product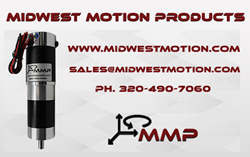 MMP specializes in supplying high-quality Brushed & Brushless DC Motors & Gearmotors for Robotics and Automation Equipment with a wide range of motor windings and gear ratios. With an impressive track record of more than 8,000 released DC Gearmotors designs and over 2,000,000 individual part numbers, we are renowned for our ability to handle large-scale orders. Due to our huge on-hand inventory, we are also well known for lightning-fast delivery of our standard products. We take pride in our dedicated customer service and our team of knowledgeable sales and engineering experts who are ready to assist you with custom design solutions tailored to your specific application. Additionally, we also offer a wide range of complimentary products, such as DC Motor Controls, DC Linear Actuators, AC-DC power Supplies, and DC Servo Amplifiers and others.