See how Brenton's new RT1000 robotic top load case packer, Box Bot, integrated frozen pizza packaging line and other innovations can add newfound efficiencies.
ALEXANDRIA, Minn., March 18, 2022 - Brenton, a ProMach brand, is highlighting a wide variety of products through interactive 3D animations, including its new RT1000 top load case packer, Bot Box modular robotic palletizer, integrated frozen pizza line, and other robotic automation solutions in booth 2220 at PACK EXPO East, March 21-23, at the Philadelphia Convention Center in Philadelphia, Penn.

Brenton is a leader in designing and manufacturing integrated end-of-line packaging systems and machines, specializing in case packing and palletizing using both robotics and other automation.
PACK EXPO East attendees can meet with Brenton personnel to discuss their upcoming projects and watch live interactive animation demonstrations of Brenton systems including the modular-designed RT1000 top load robotic case packer system. The RT1000 brings several attractive features to industries packaging consumer/commercial goods, household chemicals and personal care items that are looking to add automation to manage their packing needs and sustain their business growth more efficiently.
The RT1000 provides greater flexibility to customers to accommodate a wider range of products, and the ability to quickly program them into the system on the fly without outside assistance. This is accomplished through a simple-to-use HMI that can be operated by staff with varied skill levels. Additionally, the single-skid design enables the machine to fit into a truck for easy transport and set up.
For those manufacturing and packaging customers who currently rely on manual palletizing but are looking to add automation as a way to increase efficiencies, the Box Bot modular robotic palletizer is a great solution. Implementing a robotic solution such as the Box Bot cuts down on labor costs, reduces risk of employee injury associated with manual palletizing, and increases predictability of a company's production output.
The Box Bot features a skid-based design that allows for fast setup and operation in just a few hours. Conversely, as applications or facility layout change, the Box Bot can easily be moved.
The Box Bot features a FANUC robot that provides higher stack patterns, which better maximize tractor-trailer loading for more efficient shipping. Creating patterns is accomplished though the QBox custom pallet building HMI-based software, the most technologically intuitive operator interface available on the market. The ability to build your own patterns saves time and money by eliminating the need to have a service programmer onsite to perform the task.
Many customers choose to connect Brenton solutions together to maximize robotic automation to the fullest. A notable example of this is in our integrated line simulating frozen pizza packaging. This animated 3D display shows how Brenton case packers, palletizers and other systems seamlessly work in harmony to deliver a higher level of efficiency and productivity, while also increasing speed. These types of lines allow customers to do more with fewer employees - employees who can be reallocated to other areas where they can be more beneficial to the company.
To learn how these and other Brenton solutions can add efficiencies to your next end-of-line packaging application, visit booth 2220 at PACK EXPO East. For more information about Brenton's integrated end-of-line packaging systems, log onto https://www.brentonengineering.com/
###
About Brenton
Brenton engineers and manufactures custom case packaging, palletizing, robotic packaging systems including material handling, high speed pick and place, and integrated end-of-line systems. Specializing in food, beverage, pharmaceutical, medical device, personal care, and household products, Brenton surpasses regulatory and market driven demands and creates collaborative, long-standing partnerships to best serve a diverse customer base. Brenton is a product brand of ProMach, a global leader in packaging line solutions. As part of the ProMach End of Line business line, Brenton helps packaging customers protect and grow the reputation and trust of their consumers. ProMach is performance, and the proof is in every package. Learn more about Brenton at www.BrentonEngineering.com.
About ProMach
ProMach is a family of best-in-class packaging solution brands serving manufacturers of all sizes and geographies in the food, beverage, pharmaceutical, personal care, and household and industrial goods industries. ProMach brands operate across the entire packaging spectrum: filling and capping, flexibles, pharma, product handling, labeling and coding, and end of line. ProMach also provides Performance Services, including integrated solutions, design/build, engineering services, and productivity software to optimize packaging line design and deliver maximum uptime.
ProMach designs, manufactures, integrates, and supports the most sophisticated and advanced packaging solutions in the global marketplace. Its diverse customer base, from Fortune 500 companies to smaller, privately held businesses worldwide, depends on reliable, flexible, technologically advanced equipment and integrated solutions. ProMach is headquartered near Cincinnati, Ohio, with manufacturing facilities and offices throughout the United States, Canada, Mexico, Brazil, Europe, United Arab Emirates, and China. For more information about ProMach, visit www.ProMachBuilt.com.
Featured Product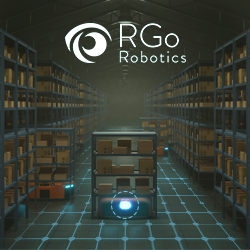 RGo's intelligent vision and AI system, Perception Engine™, provides mobile robots with 3D perception capabilities, enabling them to understand complex surroundings and operate autonomously just like humans. Its camera-based system operates is able to localize, map, and perceive in even the most robust environments including indoor/outdoor and dynamic or unstructured environments.