The company will also showcase its ANT® navigation with a unique multi-brand fleet demo
28.04.2022, St-Sulpice, Switzerland — Autonomous navigation leader BlueBotics, which was recently acquired by ZAPI GROUP, is heading to LogiMAT 2022 to launch a new educational resource for prospective buyers of AGVs, and to showcase a multi-brand fleet of automated vehicles driven by its ANT® technology.

On May 31, BlueBotics will also unveil a brand-new online education platform. This comprehensive new website will enable supply chain decision makers to learn about AGVs, automated forklifts and AMRs, explore the return on investment possible with these solutions, and browse a wide range of approximately 100 different automated vehicles based on the company's ANT® navigation platform.
"Site automation has become a priority for a growing number of businesses, driven by the need to improve resilience and remain competitive in these challenging times. As such, many companies are examining their automated vehicle options more closely," says Dr. Nicola Tomatis, the CEO of BlueBotics, "and our forthcoming online resource will help professionals and decision makers to do exactly that."
Multi-brand fleet demo
The BlueBotics stand in hall 2 will also host a unique multi-brand vehicle demonstration. This will feature several different brands of vehicles, spanning automated guided vehicles (AGV), automated forklifts and autonomous mobile robots (AMRs) from across the ANT® navigation ecosystem.
These vehicles will run a small pallet-moving operation, all controlled by one ANT® server software project. Specifically, the fleet will include: one automated pallet truck, one automated forklift, one omnidirectional AGV, and three autonomous mobile robots from two different brands.
"As our multi-brand demo will show, ANT® navigation allows a business to slot together the widest possible range of vehicle types and brands in one connected and highly robust fleet," Tomatis adds. "This provides great flexibility when building out a custom fleet. And at a multinational level, today's wide ecosystem of ANT® vehicle producers allow large enterprises to work with different local vehicle suppliers in different territories, while still reaping the benefits of deploying one globally-proven technology platform."
ANT® navigation
ANT® natural feature navigation by BlueBotics provides accurate, robust, repeatable vehicle performance. There are minimal infrastructure changes required - unlike with vehicles that follow physical lines or use laser triangulation - meaning vehicles are quick to install and operations can be modified easily in future.
As a business's site and needs evolve, multiple types and even brands of ANT® driven vehicles can be connected in a diverse fleet using ANT® server, the company's advanced mission and fleet management software. This software can also interface with a business's existing WMS, MES, or ERP software, in addition to communicating seamlessly with on-site equipment such as palletizers, automatic doors and elevators.
LogiMAT 2022 runs from May 31 - June 2 at the Stuttgart Trade Fair Center in Stuttgart, Germany. Alongside the company's all-new educational platform and multi-brand fleet demo, BlueBotics' team of autonomous navigation experts will be on hand to answer any questions visitors might have about ANT® or ANT® driven vehicles.
Find BlueBotics at LogiMAT booth C19 in Hall 2. To register for the show, visit www.logimat-messe.de
About BlueBotics
BlueBotics is the reference in natural feature navigation and has the mission to help companies meet the challenge of vehicle automation. With its 20 years of industry experience, the company provides the autonomous navigation technology (ANT®) and expert support customers need to bring their AGV, automated forklift or mobile robot successfully to market. Today, there are more than 3,000 ANT® driven vehicles in operation worldwide. https://www.bluebotics.com
Featured Product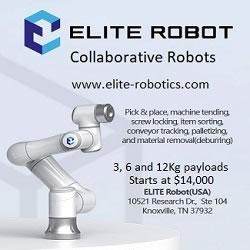 ELITE ROBOT lightweight 6-axis collaborative robots have payloads of (3kg, 6kg, and 12kg cobots). ELITE ROBOT cobots have gained a positive reputation among users in the Automotive, Electronics, Packaging Logistics, Metal Processing, Rubber & Plastics, chemicals, and other industries. The EC series robots start at $14,000 USD making it one of the fastest ROI in the industry. The EC robots come complete with 6 DOF arm, control box, teach pendant and software.