Geek+ strengthens its European partner network by collaborating with ProLog Automation, a leading logistics automation service provider in the DACH region
FREIBERG AM NECKAR/DÜSSELDORF, August 18, 2022 - Geekplus, the global leader in autonomous mobile robots (AMRs), and ProLog Automation, market leader in automated guided vehicle (AGV) services, have announced the signing of a service partnership in Europe.

ProLog experts support Geekplus's AMR solutions in both implementation and after-sales. This includes the complete service spectrum, from hotline support and remote support to deployment and maintenance. Both partners expect this to further develop their business areas.
Markus Ruck, Director of Project Implementation at Geekplus Europe GmbH, said: "With ProLog Automation, we have found the optimal partner to consistently provide high-quality installation performance, maintenance, and after-sales services. This enables us to meet the demand for projects that need to be implemented at short notice and will increase the service quality with additional German-speaking contact partners."
In the long term, this will improve service quality, delivery capability, and availability. The partnership is currently operational in various European countries with project implementations and service orders already underway.
"Our targeted growth and the internationalization of our service and integration activities will be further expanded through the cooperation with Geekplus," said ProLog Automation CEO, Markus Zipper. "We are pleased that Geekplus, as one of the leading AMR providers, is working with ProLog to expand the great potential in Europe."
Geekplus, together with its global partner network, is constantly gathering new insights into the automation of intralogistics systems. This deep, high-quality expertise enables Geekplus, with select partners such as ProLog Automation, to offer its technology to a wide range of companies of all types and sizes.
About Geek+
Geek+ is a global technology company leading the intelligent logistics revolution. We apply advanced robotics and AI technologies to realize flexible, reliable, and highly efficient solutions for warehouses and supply chain management. Geek+ is trusted by over 500 global industry leaders and has been recognized as the world leader in autonomous mobile robots. Founded in 2015, Geek+ has over 1500 employees, with offices in Germany, the United Kingdom, the United States, Japan, South Korea, Mainland China, Hong Kong SAR, and Singapore.
For more information, please visit: https://www.geekplus.com/
About ProLog Automation
ProLog Automation helps manufacturers and operators of automated guided vehicles to realize their projects and service in a cost-effective and timely manner by going directly on site with their AGV experts, thus having a fast SOP and high availability of the systems.
Many AGV manufacturers and operators from the automotive, logistics, food and healthcare industries have been working successfully with them for years.
For more information, please visit: www.prolog-automation.de
Featured Product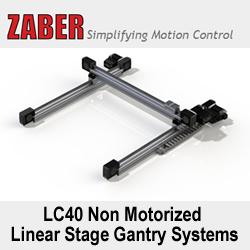 A Zaber gantry kit comes with everything you need to build a customized XY gantry system or XYZ gantry system. These gantry systems feature coordinated multi-axis motion, plug-and-play operation, easy integration with end-effector options, and built-in IO and E-Stop capabilities. An intuitive ASCII interface allows the user to easily communicate with the gantry systems using our free software, either Zaber Motion Library with APIs for several popular languages or Zaber Console. Third party terminal programs that can communicate over a serial port can also be used.