MaVis Imaging will represent BitFlow frame grabbers in Germany, France, Italy, Spain and Portugal
WOBURN, MA, AUGUST 25, 2022 -- BitFlow, Inc. today announced expansion in its international distributor network by signing MaVis Imaging GmbH to represent its portfolio of frame grabbers in Germany, France, Italy, Spain and Portugal through MaVis' integrated supply chain and customer-centric sales force.

Headquartered in Taufkirchen, Germany, MaVis Imaging is staffed by a highly regarded team of sales and engineering professionals who will support BitFlow customers to ensure the best image acquisition solution for their application. The collaboration begins immediately with a first order placed this week for BitFlow CoaXPress and CameraLink frame grabbers.
"We continue to seek outstanding distributor partners who will add value to our frame grabbers by providing outstanding customer service and technical knowledge," said Donal Waide, Director of Sales for BitFlow, Inc. "MaVis has proven itself to be a successful distributor for many of the industry's biggest brands, and we are thrilled to have them aboard to represent BitFlow. Our newly formed partnership enables us to expand our presence in targeted markets throughout Europe that are poised for growth opportunities in 2022 and beyond."
MaVis Imaging GmbH is a company of Framos GmbH, focusing on providing machine vision components and cutting-edge solutions for nearly four decades. From cameras and lighting, to lenses and software, it represents a powerful portfolio of well-known brands such as Effilux, Kowa, Zeiss, Huaray, Sony, and of course, Framos.
"BitFlow frame grabbers are an ideal compliment to our growing portfolio, especially in light of industry trends towards faster, higher resolution sensors that require the high-speed CoaXPress interface," said Lorenzo Cassano, CEO of MaVis Imaging. "BitFlow has been setting the global standard for CoaXPress frame grabbers since CXP's inception with a track record of innovation and success. In addition, BitFlow CameraLink frame grabbers will play a vital role in serving our customers who are seeking a cost-effective acquisition solution for more traditional imaging needs."
European customers can contact MaVis Imaging at +39 039 888 0585, or visit www.mavis-imaging.com. For information about BitFlow frame grabbers, visit www.bitflow.com.
Featured Product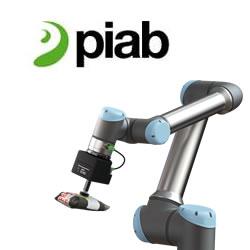 Piab's Kenos KCS gripper enables a collaborative robot to handle just about anything at any time. Combining Piab's proprietary air-driven COAX vacuum technology with an easily replaceable technical foam that molds itself around any surface or shape, the gripper can be used to safely grip, lift and handle any object. Standard interface (ISO) adapters enable the whole unit to be attached to any cobot type on the market with a body made in a lightweight 3D printed material. Approved by Universal Robots as a UR+ end effector.