Geek+ deploys a hundred goods-to-person robots to Dr.Max's e-commerce distribution warehouse in Romania
DÜSSELDORF, November 3, 2022 - Geek+, the global leader in autonomous mobile robots (AMRs), has brought smart automation to Dr.Max's e-commerce warehouse in Bucharest, which handles more than 25 000 SKUs monthly. The goods-to-person robots have vastly increased Dr.Max's efficiency and storage capacity, while delivering order fulfillment accuracy of over 99%.

Dr.Max's e-commerce platform is among the top 10 websites in Romania, measured by number of unique visitors, and offers a wide variety of OTC products, cosmetics, medical devices, food supplements, dermato-cosmetics, mother & baby products, diet and nutritional products, and natural remedies. With the help of nearly one hundred Geek+ autonomous mobile robots that can process orders 24/7, Dr.Max increases the order processing capacity and thus efficiently responds to the needs of online patients, especially in peak e-commerce order seasons. The flexibility to add more robots to keep up with Dr.Max's growing e-commerce business was a key factor in the decision to automate with Geek+'s solutions.
The Geek+ Picking System uses AMRs to bring the products ordered from storage locations to picking stations, where operators package the goods and send them to Dr.Max's patients. The algorithms and software place as many orders in each batch moved from storage as possible, keeping special orders to a minimum, and also takes into account the expiration date of goods, a key step in reducing waste.
Brian Lee, Managing Director of Europe at Geek+, said: "Dr.Max is a key player in the pharmaceutical industry across central and eastern Europe, and we are very pleased to support them. The past couple years have driven home how important access to medical supplies is, and we are very proud that Geek+ technology is able to make such a direct impact on people's quality of life."
Sorin David, Supply Chain Director at A&D Pharma - Dr.Max Group, said: "As part of our group's development strategy, we continue to make long term investments in the logistics infrastructure in order to respond efficiently to the needs of our patients. The technology provided by our partner Geek+ allows us to have a more accurate overview of our work processes. We are glad to have Geek+ as our trustworthy partner."
Dr.Max is expecting rapid growth to continue over the coming years, and Geek+ will continue to support their progress with further applications of advanced AMR technology. Geek+'s robots are just beginning to assist in the provision of critical medicines and supplies to people around the world.
About Geek+
Geek+ is a global technology company leading the intelligent logistics revolution. We apply advanced robotics and AI technologies to realize flexible, reliable, and highly efficient solutions for warehouses and supply chain management. Geek+ is trusted by over 500 global industry leaders and has been recognized as the world leader in autonomous mobile robots. Founded in 2015, Geek+ has over 1500 employees, with offices in Germany, the United Kingdom, the United States, Japan, South Korea, Mainland China, Hong Kong SAR, and Singapore.
For more information, please visit: https://www.geekplus.com/
About A&D Pharma Group, part of the Dr.Max family
With over 25 years of experience on the local market, A&D Pharma is one of the largest pharmaceutical groups in Romania, offering pharmaceutical retail and drug distribution services, with a turnover of over 1 billion euros in 2021 and over 5000 employees.
A&D Pharma has two business lines, both of strategic importance: The drug distribution line and the pharmaceutical retail line.
For more information about the Dr.Max brand, visit the website https://www.drmax.ro/
Featured Product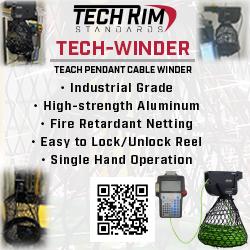 Tech-Winder is a robust solution for industrial cord management. Aluminum body, for hard impact protection. Flame retardant netting, for added protection against any sparks that may land on the cord. This industrial grade cord reel keeps your pendant cords protected and organized. Stores up to 50 meters (164 ft.) of cable in length with a diameter of 4.5 mm to 10.0 mm. Adapts to NAAMS or Modular Fencing when mounting. Help prevent your next $1,200 factory cable incident, by getting organized with Tech-Winder from Tech Rim Standards.