NODAR's New Hammerhead Development Kit Enables Partners to Rapidly Assess and Integrate Ultra-Precise, Long-Range Stereo Vision Technology for Autonomous Vehicles and Machines
NODAR, the leading provider of advanced stereo vision technology for autonomous vehicles, announced today that it is moving to accelerate the growth of the autonomous vehicle market and ensure the development of safer autonomous solutions by expanding to new markets, including last-mile delivery vehicles, trains, boats, air taxis, drones, and commercial and agricultural vehicles. NODAR's Hammerhead Development Kit (DevKit) enables new partners to rapidly assess and integrate its best-in-breed 3D vision technology, which already supports the ADAS and automotive markets with ultra-precise, long-range camera-based sensing.

The newly-released NODAR DevKit includes the software, hardware, and tools autonomous systems developers need to leverage the benefits of NODAR's patented Hammerhead ™ technology. Hammerhead is an untethered stereo vision software platform that utilizes images from multiple cameras to produce high-fidelity 3D point clouds in real-time. The system is capable of detecting objects as small as 10 cm at 150 m away as well as objects at a distance of up to 1,250 m. Autonomous systems such as construction cranes, farming equipment, and air taxis will benefit from Hammerhead to perceive their environment in real-time with unparalleled range, accuracy, and precision. Hammerhead's proprietary online calibration system delivers resilience to extreme vibration, making the system ideal for off-road, commercial, and in-air autonomous system applications.
"Every autonomous system must have the ability to 'see' and sense its environment in order to avoid obstacles and do path planning. In the automotive industry, 3D vision is the cornerstone of developing safer autonomous vehicles," NODAR CEO Leaf Jiang says. "Recently, we've been hearing increasingly about the automation of robotic systems beyond the automotive market, and that's very exciting for us. The DevKit we are releasing makes NODAR technology accessible across a wide variety of markets and applications of autonomy, offering the reliability of active sensing systems at the price-point of cameras."
Demand for autonomous systems across markets is being driven by the promise of improved efficiency, safety, and economics. For instance, the [$270 billion U.S. commercial trucking market is suffering from an 80,000 driver shortage, due in part to the pandemic and substantially by the growth of eCommerce in general. Yet the cost of the driver constitutes approximately 60 percent of the overall cost to run a vehicle. While human drivers cannot legally drive more than 8 hours a day, autonomous trucks are tireless and can be run nearly 24 hours a day, improving delivery times and capacity. Further, trucking accidents account for nearly 5,000 fatalities a year in the U.S.—a number that is expected to decline dramatically as autonomous functionality comes online.
Along with trucking, the construction industry will see increased automation, particularly with cranes, which require highly trained operators who must manage a swinging hook and move dangerous materials for hours at a time. In the boating market, autonomous systems are being developed with sensors that must accommodate constant motion and a shifting horizon. Commuter trains, which travel at up to 80 miles per hour, need ultra-long-range sensing to detect potential hazards far ahead, giving the train time to stop. Last-mile delivery robots, another new market, require precise yet low-cost and low-compute 3D vision to navigate roads and sidewalks safely as they bring packages and food to consumers' doors.
As with autonomous vehicles and trucks, NODAR's platform benefits all of these new markets with its support for independently mounted cameras and wide baseline configurations, offering camera-based resolution, a small compute footprint and the sensing reliability of lidar. Compared with other sensor systems, the Hammerhead solution offers up to 10 times the range while free of their inherent limitations, such as the dependency on AI and neural networks used in monocular camera solutions, and the scanning, low resolution, and high cost of lidar.
NODAR's new Hammerhead DevKit contains everything customers need to set up and begin using the system in a matter of minutes. Any inquiries should be sent to sales@nodarsensor.com For additional information visit our website at: http://www.nodarsensor.com/dev-kit.
About NODAR
NODAR is the leading provider of camera-based 3D vision technology and is a crucial component in the development of ADAS and autonomous vehicles, bringing safety, advanced performance, and cost-effectiveness to the automotive market. NODAR's award-winning 3D vision platform, called Hammerhead, delivers reliable, ultra-precise, and real-time 3D sensing at an ultra-long range (up to 1000 meters), providing better-than-LiDAR 3D data at the price point of camera technology. NODAR uniquely provides long-range, high-density, high frame-rate 3D data to AVs and is able to detect any object as small as 10 cm to 150 m. NODAR Hammerhead is an ideal solution for forward collision warning, path planning, automatic emergency braking, traffic jam assist, VRU detection, and parking valet. NODAR was founded in 2018 and is backed by New Enterprise Associates (NEA) and Rhapsody Venture Partners. For more information, please visit http://www.nodarsensor.com
Featured Product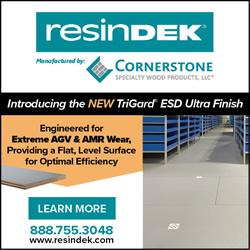 To maximize the productivity of an autonomous mobile robot (AMR) or automatic guided vehicle (AGV) deployment, it's critical to create the optimal environment that allows the vehicles to perform at their peak. For that reason, Cornerstone Specialty Wood Products, LLC® (www.resindek.com) created the TriGard® ESD Ultra finish for its ResinDek® engineered flooring panels. The TriGard ESD Ultra finish is ideal for high-traffic robotic applications characterized by highly repetitive movement patterns and defined travel paths.