In 2022, Ottonomy launched autonomous delivery from Curbside to Last Mile across North America, Europe and Middle East. One of 40 companies selected for LG Nova's Mission for the Future Program, Ottonomy is driving innovation with scalability in 2023
Today, Ottonomy.IO unveiled Ottobot Yeti, the first fully autonomous unattended delivery robot on the market, ideal for curbside, first mile and last mile deliveries, locker integration and automating the return process for retailers.

Ottonomy.io is focused on innovating and paving the way for efficient and sustainable delivery logistics. With its global pilots throughout 2022, Ottonomy successfully demonstrated autonomous deliveries across a range of terrain and in varying inclement weather conditions, in order to provide sustainable solutions for automating deliveries for multiple use cases at scale.
"During the validation processes we ran pilots with airports, retailers and postal services which gave us the deep insights we needed on the most effective use cases and scalability," says Ritukar Vijay, CEO and co-founder of Ottonomy.IO. "With our strategic partnerships, we are in the prime position to fill the gap that companies like Amazon and Fedex were not able to. As demand and the use cases for autonomous unassisted delivery continue to grow, we are positioned to provide robots-as-a-service for restaurants, retailers and beyond."
The global autonomous delivery market has had an excellent year with technological advancements shaping the autonomous last-mile delivery market. Launching its robot-as-a-service business model, Ottonomy was able to catalyze rapid adoption of autonomous delivery solutions proving that fully autonomous delivery is an efficient, scalable, and sustainable solution.
In 2022, Ottonomy successfully deployed autonomous delivery robots at Cincinnati/Northern Kentucky (CVG), Rome Fiumicino International Airport (FCO), and Pittsburgh (PIT). In addition, Ottonomy robots are used by Posten Norge in Oslo, Norway as well as Goggo in Madrid, Spain for automating first-mile delivery and last-mile deliveries. Ottonomy is also working with industry partners in Canada and Saudi Arabia with more launches scheduled for 2023 in the USA, Europe and Asia.
The Ottobot 2.0, introduced in Q3 2022, as the first fully customizable and modular robot featuring interchangeable cabins and specializations based on the needs of retail, restaurants, and curbside deliveries. Designed with accessibility and directional mobility in mind, the Ottobot 2.0 utilizes Ottonomy's proprietary contextual mobility navigation to autonomously navigate through crowded and unpredictable environments.
You can visit Ottonomy.IO and see the Ottobot Yeti in action at CES 2023 in the LVCC North Hall Booth #10700. Ottonomy was also selected as one of forty startups in the LG NOVA's Mission For the Future Program, which will be showcased at its lounge at The Venetian, Eureka Park during CES ® 2023.
Last-mile deliveries made simple with the Ottonomy, watch the Ottobot in action. To learn more about Ottonomy, please visit: https://ottonomy.io/ or download the Ottonomy Press Kit.
About Ottonomy.IO:
Ottonomy.IO is a deep tech startup, developing autonomous delivery robots to help navigate businesses with staffing shortages for retail and restaurant industries. Ottobot, its fully autonomous robots for contactless deliveries. Ottonomy was recognized as among the top 50 robotics companies worldwide in 2021 by Robotics Business Review and won the Mobility Startup Award given by Plug & Play Accelerator and the Sustainability Product of the Year Award for 2021 by the Business Intelligence Group. The company is backed by Pi Ventures, Connetic Ventures and Branded Hospitality Ventures.
Featured Product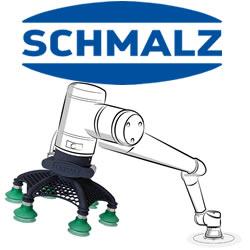 In order to interact with their environment and perform the tasks, lightweight robots, like all industrial robots, depend on tools - and in many cases these are vacuum grippers. These form the interface to the workpiece and are therefore a decisive part of the overall system. With their help, the robots can pick up, move, position, process, sort, stack and deposit a wide variety of goods and components. Vacuum gripping systems allow particularly gentle handling of workpieces, a compact and space-saving system design and gripping from above. Precisely because the object does not have to be gripped, the vacuum suction cupenables gapless positioning next to each other.