Learn how to create ROS applications for autonomous mobile manipulators
Event Title: Mastering Mobile Manipulator in-person training

Location
: Barcelona, Spain
Dates
: March 22, 2023 → March 24, 2023
URL
:
https://www.theconstructsim.com/ros-mobile-manipulators-training/
What You Will Learn:
In this training, you will learn how to build mobile robot manipulator applications with ROS1 from the ground up. Our expert instructors will guide you through everything you need to know, including:
* Robot Navigation
* Robot Perception: Object Detection
* Motion Planning for Robotic Manipulators
* Pick & Place Objects with MoveIt
* Robot Behavior Design using FlexBe
* Creating a Complete App that Integrates all Behaviors into a Single ROS App
* Creating a Web Interface for End Users to Use
This program is held in-person, so you will have the opportunity to work with a real RB-KAIROS+ Mobile Manipulator robot by Robotnik.
Benefits:
* In-person instruction from industry professionals
* Hands-on experience with real robots
* Exercises with simulated robots, working along with the instructors
* Complete a real-world project with a real RB-KAIROS+ mobile manipulator
* Access to a supportive community of like-minded learners
For any questions please contact us at info@theconstructsim.com.
Featured Product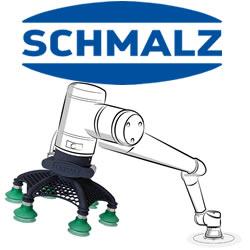 In order to interact with their environment and perform the tasks, lightweight robots, like all industrial robots, depend on tools - and in many cases these are vacuum grippers. These form the interface to the workpiece and are therefore a decisive part of the overall system. With their help, the robots can pick up, move, position, process, sort, stack and deposit a wide variety of goods and components. Vacuum gripping systems allow particularly gentle handling of workpieces, a compact and space-saving system design and gripping from above. Precisely because the object does not have to be gripped, the vacuum suction cupenables gapless positioning next to each other.