Learn how to create ROS applications for autonomous mobile manipulators
Event Title: Mastering Mobile Manipulator in-person training

Location
: Barcelona, Spain
Dates
: March 22, 2023 → March 24, 2023
URL
:
https://www.theconstructsim.com/ros-mobile-manipulators-training/
What You Will Learn:
In this training, you will learn how to build mobile robot manipulator applications with ROS1 from the ground up. Our expert instructors will guide you through everything you need to know, including:
* Robot Navigation
* Robot Perception: Object Detection
* Motion Planning for Robotic Manipulators
* Pick & Place Objects with MoveIt
* Robot Behavior Design using FlexBe
* Creating a Complete App that Integrates all Behaviors into a Single ROS App
* Creating a Web Interface for End Users to Use
This program is held in-person, so you will have the opportunity to work with a real RB-KAIROS+ Mobile Manipulator robot by Robotnik.
Benefits:
* In-person instruction from industry professionals
* Hands-on experience with real robots
* Exercises with simulated robots, working along with the instructors
* Complete a real-world project with a real RB-KAIROS+ mobile manipulator
* Access to a supportive community of like-minded learners
For any questions please contact us at info@theconstructsim.com.
Featured Product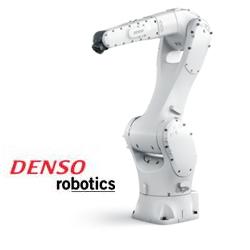 The new VMB series represent some of the newest members to our 6-axis family of robots. These high-performance, versatile units offer a longer arm reach and a higher load capacity than traditional models which make VMB an excellent solution for palletizing, packaging, and material handling. New features include greater air piping, valve and signal line options, as well as new programming options with state-of-the-art functions using our new WINCAPS Plus software. VMB offers an IP67 protection grade along with meeting ISO Class 5, which makes them suitable for electric parts, food manufacturing processes, and pharmaceutical and medical devices. With the addition of the new VMB large robots, all manufacturing processes can now be automated by DENSO Robotics.