• Personal exchange with customers and partners on automation topics • Presentation of new technologies such as deep counting • Live demos show machine vision application in the automation environment
Munich, May 11, 2023 - MVTec Software GmbH (www.mvtec.com), a leading international software manufacturer for machine vision, is presenting its comprehensive machine vision portfolio at this year's automatica in Munich. From June 27 to 30, 2023, the company will demonstrate the importance of machine vision as a key technology in automation. At the leading trade fair for intelligent automation and robotics, visitors to booth B5 303 will learn about the added value that MVTec software products offer to process automation - true to the MVTec motto "We teach machines to see". The focus will be on the current versions of HALCON and MERLIC as well as completely new technologies such as Deep Counting. Furthermore, practical use cases will be shown using various demos. MVTec also offers a guided tour of the trade fair. Interested visitors will have the opportunity to visit the booths of MVTec partners in groups, where an expert will explain the machine vision applications exhibited there.

"Automatica is a major event on MVTec's trade show calendar. Here we have the opportunity to welcome customers from all areas of automation and all parts of the world to our booth and to live up to our claim of being particularly close to our customers," comments Dr. Olaf Munkelt, Managing Director of MVTec Software GmbH, on the trade fair appearance.
Dr. Maximilian Lückenhaus, Director Marketing + Business Development at MVTec, adds: "Machine vision is used in almost all manufacturing industries and supports automated processes to a great extent. automatica is the ideal event to present our new technologies such as Deep Counting as well as the latest versions of our software products HALCON and MERLIC to a professional audience - live and application-oriented."
Exchange on actual requirements and applications of the visitors
In addition to the presentation of its own products, MVTec's main focus is on the exchange with customers, partners and interested parties. Visitors to the MVTec booth can talk to experts and learn how automation can be optimized through image processing. In addition, the machine vision experts are also looking forward to exchanging ideas with visitors about specific requirements and applications.
Live demos show machine vision potential for automation
By means of several live demos, MVTec will show directly at the booth how HALCON and MERLIC can support processes in automation and robotics. The focus of a demo that will be presented for the first time is the new technology "Deep Counting". This feature, integrated into the current software version HALCON 23.05, is based on deep learning and enables fast and robust counting of a large number of objects.
In addition, the deep-learning-based bin-picking technology "3D Gripping Point Detection" integrated into HALCON will also be the focus of a live demonstration: Here, MVTec will use an image-processing-based robotics system to show how the technology can be used to grip, move and place any objects with unknown shapes.
Experience the demo on a cell phone
In another live demo, the MVTec experts will show how printed circuit boards can be inspected with the help of the "Global Context Anomaly Detection" feature integrated in MERLIC. The special highlight for visitors to the booth: they can scan a QR code at the booth during the MERLIC demo and then check the status on their cell phones.
In addition, the umati (universal machine technology interface) dashboard can be seen at the booth of the German Engineering Federation (VDMA), which also displays the status of the MERLIC demo. Umati is based on the open interface OPC UA and connects machines, robots, components and systems distributed across several halls, whose data can be tracked via cell phone. MVTec's software products support the OPC UA standard and are thus ideally equipped for the interconnected future of industrial automation.
About MVTec Software GmbH
MVTec is a leading manufacturer of standard software for machine vision. MVTec products are used in all demanding areas of imaging: semiconductor industry, surface inspection, automatic optical inspection systems, quality control, metrology, as well as medicine and surveillance. By providing modern technologies such as 3D vision, deep learning, and embedded vision, software by MVTec also enables new automation solutions for the Industrial Internet of Things aka Industry 4.0. With locations in Germany, the USA, and China, as well as an established network of international distributors, MVTec is represented in more than 35 countries worldwide. www.mvtec.com
Featured Product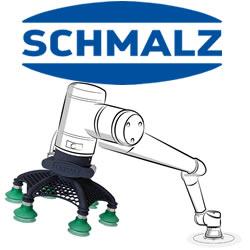 In order to interact with their environment and perform the tasks, lightweight robots, like all industrial robots, depend on tools - and in many cases these are vacuum grippers. These form the interface to the workpiece and are therefore a decisive part of the overall system. With their help, the robots can pick up, move, position, process, sort, stack and deposit a wide variety of goods and components. Vacuum gripping systems allow particularly gentle handling of workpieces, a compact and space-saving system design and gripping from above. Precisely because the object does not have to be gripped, the vacuum suction cupenables gapless positioning next to each other.