Awards ceremony held at AUVSI XPONENTIAL 2023 in Denver, CO
ArroTech Corporation has been named an XCELLENCE Award winner by the Association for Uncrewed Vehicles Systems International (AUVSI). The company won 1st place from a pool of accomplished applicants as one of five finalists for the Humanitarian category. Winners were publicly congratulated during the XCELLENCE awards ceremony at AUVSI's 50th anniversary event. Learn more about the AUVSI XCELLENCE awards here.

"This year, XPONENTIAL is all about designing a shared plan for the future of autonomy," said Brian Wynne, President and CEO of AUVSI. "There's no better place to announce the 2023 XCELLENCE award finalists. Together, they are redefining what's possible with uncrewed and robotic technology."
"ArroTech's mission is to develop innovative technologies to help rid the world of dangerous explosive remnants of war (ERW), which include unexploded ordnance (UXO) and abandoned explosive ordnance (AXO). We are very honored to win the AUVSI XCELLENCE Humanitarian Award," said Steve Millaway, CEO of ArroTech.
Featuring a proven onboard military-grade metal detector and highly advanced fully autonomous software, ArroTech's GEON E61 is the world's first fully autonomous drone optimized for military, humanitarian, and commercial demining organizations. Currently, these organizations detect ERW and metallic landmines using metal detectors that are handheld and rolling cart-based. Although effective, this method is dangerous, time-consuming, and extremely expensive.
Using the GEON E61, the GPS coordinates of metallic objects can be more safely provided to explosive ordnance disposal (EOD) personnel in a fraction of the time and cost. Flight plans are easily configured in seconds with user-friendly smartphone and tablet apps, and onboard sensors allow the drone to precisely follow real world terrains and avoid obstacles.
Ukraine is one of the world's largest providers of wheat, corn, barley, and sunflower oil, and these exports have been severely impacted by the war in Ukraine. Starting this spring, ArroTech's drone operators will use a fleet of GEON E61s to help Ukraine farmers locate and remove hundreds of thousands of ERW and metallic landmines from their fields. The company is using donations from worldwide for-profit and nonprofit organizations to help cover its costs so that it can provide these services to Ukraine's farmers for free.
AUVSI's XCELLENCE Awards honor innovators with a demonstrated commitment to advancing autonomy, leading and promoting safe adoption of uncrewed systems and developing programs that use these technologies to save lives and improve the human condition.
About ArroTech: ArroTech develops and manufactures precision autonomous drones for a variety of military, humanitarian, and commercial applications. Visit ArroTech.com.
About AUVSI and XPONENTIAL: AUVSI, the world's largest nonprofit organization dedicated to the advancement of uncrewed systems and robotics, represents corporations and professionals from more than 60 countries. XPONENTIAL is the leading annual gathering for global leaders and end users of uncrewed technologies. Visit AUVSI.org and xponential.org.
Featured Product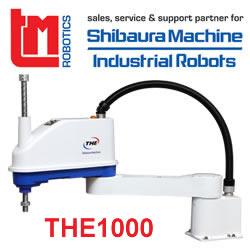 Designed for assembly and inspection applications in the electronics equipment and automobile components industries, the THE600 SCARA is a powerful automation tool. Advancing from the specifications of the existing THE400 SCARA, the THE600 has been developed to meet growing demand for fast-cycle automation. The THE600 model includes improvements in synchronised control and tracking precision. The THE600 is compact in design and offers improved high speed, with 60 per cent higher payload capacity than competing SCARA models in the same price range, making it the price-to-performance leader. Affordable price, impressive performance.