Automation solutions provider Omron Automation Americas recognizes its top channel partner of FY22 for excellence in revenue growth, expertise, local engagement, and solution selling.
Industrial Automation solutions provider Omron Automation Americas is proud to announce West Des Moines, IA-based Ramco Innovations as U.S. Strategic Partner of the Year for FY22. This prestigious award recognizes Ramco's outstanding contributions and dedication to its customers and to Omron over the past year.

Ramco has consistently driven year-over-year (YOY) growth with a three-year compound annual growth rate of 17%, and in FY22 they increased their point-of-sale revenue by 31% YOY. With innovation as its guiding principle, Ramco also established Maple Studios, a startup studio providing a collaborative space combined with automation and executive support for entrepreneurs. Helping to accelerate each company's development, members benefit from experienced Ramco engineers' advice and have access to testing environments.
"Ramco is incredibly deserving of this award," says Peter Brouwer, Vice President of Sales, Omron Automation Americas. "Their outstanding performance and contributions to local social outreach with Maple Studios has been of great value and has helped us drive success for our customers and accelerate growth. We are grateful for our strong partnership with Ramco and look forward to continuing to work together to deliver exceptional results."
Ramco is honored to be the FY22 award recipient. "We value our 40-year relationship with Omron and the full suite of automation solutions they provide. Their continued investment in advanced technology allows us to operate at a very high level with our manufacturing customers and partners. We are excited to continue growing our partnership with Omron as labor shortages and consumer demands make high-tech automation solutions more important than ever," says Hank Norem, President at Ramco.
The Strategic Partner of the Year award is an important recognition of the critical role that partners play in Omron's success. It reflects Ramco's commitment in building strong partnerships that enable Omron to deliver value to customers and achieve strategic goals.
About Ramco Innovations
Ramco Innovations began in 1962 as the Ramco Company, an electrical supply distributor in West Des Moines, IA. Founders Tom and Marj Ramsey had a vision from early on that their business would be an employee-owned company and would eventually involve much more than just electrical component sales. The company now supports high-tech businesses with advanced solutions and value-added services. Learn more at https://www.ramcoi.com/vendors/omron
About Omron Automation
Omron Automation is an industrial automation partner that creates, sells and services fully integrated automation solutions that include sensing, control, safety, vision, motion, robotics and more. Established in 1933, Omron's 30,000 employees help businesses solve problems with creativity in more than 110 countries. Learn more at automation.omron.com.
Featured Product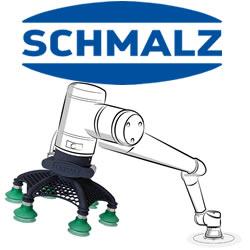 In order to interact with their environment and perform the tasks, lightweight robots, like all industrial robots, depend on tools - and in many cases these are vacuum grippers. These form the interface to the workpiece and are therefore a decisive part of the overall system. With their help, the robots can pick up, move, position, process, sort, stack and deposit a wide variety of goods and components. Vacuum gripping systems allow particularly gentle handling of workpieces, a compact and space-saving system design and gripping from above. Precisely because the object does not have to be gripped, the vacuum suction cupenables gapless positioning next to each other.