Marble and Yelp Eat24 start robot food delivery in San Francisco
Lora Kolodny for TechCrunch: Rules governing the use of food delivery robots remain to be seen across the US. But major food businesses are investigating the possibilities already. In the latest deal, Yelp Eat24 has begun testing delivery by robot in partnership with Marble in select San Francisco neighborhoods.
TechCrunch spied Marble's delivery robots, stickered with a Yelp Eat24 logo, earlier this month. But the companies announced their robot delivery service officially today.
Marble is one of a handful of ventures developing ground-based robots that can navigate autonomously to a customer's address. Their machines look like a large kitchen appliance crossed with a Mars rover.
Users order as they normally would through the Yelp Eat24 site or app. They are asked if they're cool with robot delivery. If they opt in, they get a pin code texted to their phone, which they can use to unlock the robot's cargo bay when their Marble delivery arrives. After retrieving their food, they close the door and the robot returns to Marble HQ or another restaurant. Full Article:
Comments (0)
This post does not have any comments. Be the first to leave a comment below.
---
Post A Comment
You must be logged in before you can post a comment. Login now.
Featured Product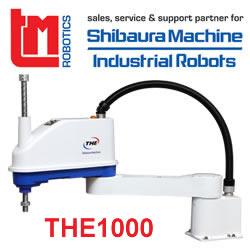 Designed for assembly and inspection applications in the electronics equipment and automobile components industries, the THE600 SCARA is a powerful automation tool. Advancing from the specifications of the existing THE400 SCARA, the THE600 has been developed to meet growing demand for fast-cycle automation. The THE600 model includes improvements in synchronised control and tracking precision. The THE600 is compact in design and offers improved high speed, with 60 per cent higher payload capacity than competing SCARA models in the same price range, making it the price-to-performance leader. Affordable price, impressive performance.