Amazon drone designed to self-destruct in emergencies. Here's why.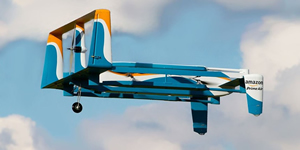 Patrick Caughill for Futurism: Amazon is taking a page out of the spy genre in a newly-patented feature for its future fleet of delivery drones. Filings for a patentgranted to the internet retailer show a self-destructing drone that is able to strategically disassemble in the air during an emergency to mitigate any potential damage from an otherwise fully-formed delivery drone, or as the patent describes it, "direct fragmentation for unmanned airborne vehicles."
Perhaps the self-destructing drones will find a home in the recently-patented hive-like structure approved this past summer.
While programming a self-destruct sequence may seem like a curious safety feature, having a crashing drone break into pieces before impact can reduce the chances for significant property damage or injury to people on the ground. The feature would use the onboard computing system to analyze conditions to determine the best course of action. Full Article:
Comments (0)
This post does not have any comments. Be the first to leave a comment below.
---
Post A Comment
You must be logged in before you can post a comment. Login now.
Featured Product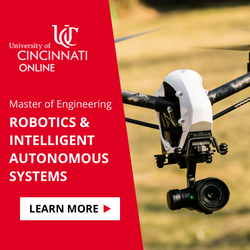 The online MEng in Robotics & Intelligent Autonomous Systems program from the University of Cincinnati provides specialized training in several disciplines, including computer science, electrical engineering, mechanical engineering, systems engineering, and project management. This industry-focused degree combines technical mastery with professional skills. Students are exposed to a broad set of topics to innovate and envision new systems while developing skills needed to build the future's reliable, safe, secure, and trusted systems.