Teradyne and Mobile Industrial Robots (MiR) Announce Teradyne's Acquisition of MiR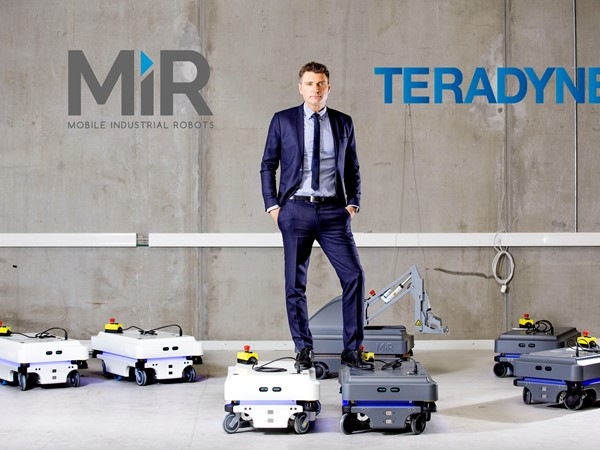 NORTH READING, Mass. and ODENSE, Denmark— April 25, 2018 — Teradyne, Inc. and the shareholders of Mobile Industrial Robots (MiR) today announced the acquisition of privately held MiR of Odense, Denmark for €121 million ($148 million) net of cash acquired plus €101 million ($124 million at current exchange rate) if certain performance targets are met extending through 2020.
MiR is a leading supplier of collaborative autonomous mobile robots (AMRs) for industrial applications. The AMR market is an emerging category within the approximately $1.1 billion logistics systems segment of the professional services robot market and is expected to grow rapidly in the years ahead.
"We are excited to have MiR join Teradyne's widening portfolio of advanced, intelligent, automation products," said Mark Jagiela, President and CEO of Teradyne. "MiR is the market leader in the nascent, but fast growing market for collaborative autonomous mobile robots (AMRs). Like Universal Robots' collaborative robots, MiR collaborative AMRs lower the barrier for both large and small enterprises to incrementally automate their operations without the need for specialty staff or a re-layout of their existing workflow. This, combined with a fast return on investment, opens a vast new automation market. Following the path proven with Universal Robots, we expect to leverage Teradyne's global capabilities to expand MiR's reach."
MiR was profitable in 2017 with annual revenue of $12 million USD, more than triple 2016 revenues and had Q1'18 sales of $5 million.
"Joining Teradyne allows us to advance our engineering and development investments to provide greater value to our customers and further expand our market leadership in industrial autonomous mobile robots," said Thomas Visti, CEO of MiR. "Teradyne's worldwide reach, world-class engineering and support capabilities, financial strength and proven model for leveraging those strengths will help us grow in new and existing markets worldwide."
"My main focus is to get our mobile robots out to the entire world," said Niels Jul Jacobsen, CSO, founder of MiR. "With Teradyne as the owner, we will have strong backing to ensure MiR's continued growth in the global market."
A webcast to discuss the acquisition and Teradyne's Q1-2018 financial results will be held on Wednesday April 25, 2018 at 8:00 a.m. EDT. Interested parties should access the webcast at investors.teradyne.com/events-presentations at least five minutes before the call begins. Interested parties can also call 1-800 865-4424 (U.S. and Canada) and 1-706-902-0224 (outside the U.S. and Canada). The conference ID is 7168509. A replay will be available on the Teradyne website, www.teradyne.com.
About MiR
Mobile Industrial Robots (MiR) develops and markets the industry's most advanced line of collaborative and safe autonomous mobile robots (AMRs) that quickly, easily, and cost-effectively manage internal logistics, freeing employees for higher-value activities. Hundreds of mid-sized through large multinational manufacturers have installed MiR's innovative robots. MiR has quickly established a global distribution network in more than 40 countries, with regional offices in New York, San Diego, Singapore, Dortmund, Barcelona and Shanghai. MiR has grown quickly since its founding in 2013, with sales increasing fivefold from 2015 to 2016, and with a tripling in revenue from 2016 to 2017. Sales are expected to continue to grow rapidly in the years ahead as new users recognize the value of MIR's easy to use, collaborative AMRs. For more information, visit http://www.mobile-industrial-robots.com
About Teradyne
Teradyne (NYSE:TER) is a leading supplier of automation equipment for test and industrial applications. Teradyne Automatic Test Equipment (ATE) is used to test semiconductors, wireless products, data storage and complex electronic systems, which serve consumer, communications, industrial and government customers. Our Industrial Automation products include collaborative robots used by global manufacturing and light industrial customers to improve quality and increase manufacturing efficiency. In 2017, Teradyne had revenue of $2.14 billion and currently employs approximately 4,500 people worldwide. For more information, visit www.teradyne.com. Teradyne(R) is a registered trademark of Teradyne, Inc. in the U.S. and other countries.
Comments (0)
This post does not have any comments. Be the first to leave a comment below.
---
Post A Comment
You must be logged in before you can post a comment. Login now.
Featured Product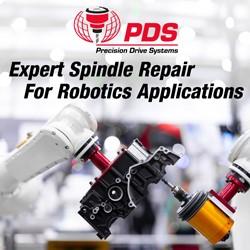 Precision components machined by CNC robot machining systems require compact, lightweight, and high-speed motorized spindles capable of delivering higher efficiency, performance, and reliability than those used in many other industries. That's why manufacturers of milling, cutting, trimming, grinding, polishing, and deburring trust Precision Drive Systems (PDS) to provide accurate and dependable spindle repair to perform to the most exacting standards.