Majority of Exhibitors at North America's Largest Manufacturing Show Pick Universal Robots for Collaborative Robot Applications
The characteristic light-blue jointed collaborative robot arms from Universal Robots(UR) will be spotted hard at work throughout IMTS in Chicago from September 10-15. The numerous IMTS exhibits are a testament to the wide range of tasks and solutions now automated by UR. The cobots will handle vision-guided product inspection, ride on top of mobile robots while performing machine tending, automate laser marking, change pallets, conduct 3D scans of booth visitors, and much more.
"We have successfully developed a rapidly expanding ecosystem around our cobots," says President of Universal Robots, Jürgen von Hollen. "IMTS attendees will see how the fast and easy integration of our collaborative robots' arms now drive both cobot-assisted OEM solutions and a host of new plug and play products certified for Universal Robots."
Universal Robots has created the UR+ platform, an online showroom and developer program that takes the trial and error out of creating a robot application by providing access to products verified to work optimally with UR robots. From grippers to software, sensors, vision cameras, and accessories, Universal Robots+ not only enables end users to hit the ground running when integrating UR robots, it's also an un-paralleled collaboration between Universal Robots and the flourishing developer ecosystem. The platform currently includes 104 certified UR+ products and 359 approved commercial developer companies, many of them exhibiting their product on UR cobots at IMTS.
Attendees visiting Universal Robots' own IMTS booth 236861 will also get a chance to experience the market leading cobots at UR's vast, two-story booth featuring the company's new flagship line of collaborative robots, the e-Series. Using a hand-tool for polishing a complex and moveable surface, the new UR10e cobot will demonstrate how the e-Series is ready to take on applications requiring force control right out of the box. With a new built-in force/torque sensor, the UR10e robot easily handles sanding, buffing, and deburring where force-feedback is paramount in order to obtain uniform results. Attendees can interact with the cobot, adjusting its force through a touch screen.
New UR+ grippers launching at the UR booth
UR+ enabled end-effectors are all integrated with the URCap software, which gives full control over the gripper's position, force, and speed through the UR teach pendant. Several new UR+ grippers have been developed for the new e-Series, including Robotiq's new gripper Hand-E, completing Robotiq's product line of adaptive grippers that all connect directly on the e-Series wrist. Debuting at IMTS is Purple Robotics' gripper, the PR10. With its collaborative nature and double-grip function, the PR10 can handle several items in a single operation. Unlike traditional vacuum grippers, the PR10 requires no external air supply and can be installed in less than 30 minutes with no prior training. "Vacuum grippers have been used for more than 40 years, typically as custom designs taking up to three weeks to build," says Lasse Kieffer, CEO and founder of Purple Robotics. "Vacuum applications can now be done off-the-shelf with the PR10 and quickly deployed without any engineering, which is a huge benefit for Universal Robot customers."
Another new gripper addition to the UR+ platform, launching at the show, is Soft Robotics unveiling its new one-of-a-kind soft robotic gripping system, specifically designed for Universal Robots. The Soft Robotics Development Kit - UR+ (SRDK-UR+) enables adaptive handling of unstructured tasks and objects of varying size, shape and weight. "We're thrilled to bring Soft Robotics' technology to Universal Robots, and develop the first customizable gripper system specifically designed for the collaborative robot space," says Carl Vause, CEO of Soft Robotics.
The UR cobots can be experienced at the following IMTS booths:
3D Infotech – Booth 135750
3D Infotech will showcase UR's Streamline automation software, available through the UR+ platform. This UR software provides manufacturers with a seamless workflow when mounting 3D scanners on any UR cobot. 3D Infotech will show the latest 1.3 software release of Streamline with a UR5 model along with complimentary 3D augmented reality technology powered by its Spotlight software
ALL AXIS ROBOTICS – Booth 236165
UR Certified System Integrator, All Axis Robotics is showcasing three cobot-assisted applications, all featuring UR10 robots. The turnkey systems will demonstrate automated burr and Foreign Object Debris (FOD) detection, integrated tending of legacy CNC machines, and robotic sanding. All Axis Robotics will also display new products for UR cobots, including a dual gripper, carbon fiber end-effectors for specific use in the metal fabrication industry, end-effector adaptors to use with Dynabrade's line of pneumatic finishers, and a range of pedestals and risers allowing UR cobots to be mounted in front of any machine. All Axis's FOD application recently received Honorable Mention in the 2018 IMTS Innovation contest.
ARIS Technology – Booth 236382
ARIS Technology resolves quality control backlog, saving manufacturers labor, scrap, and inventory costs by implementing automated 3D scanning systems (in-lab or in-production) showcased with a UR10 cobot. Using its powerful software, ARIS quickly integrates any market-proven 3D scanners to reach 100% inspection. In addition to replacing inefficient manual tasks with automation, ARIS reduces engineering costs that go into setting up complex programs by using UR cobots and AI.
ATI Industrial Automation – Booth 236417
See the latest Manual Tool Changer from ATI, the MC-10, in a live demonstration with a UR5 cobot. In a simulated polishing application using ATI's UR+ enabled Axia80 F/T sensor, the MC-10 is mounted between the cobot and tooling to allow seamless equipment exchange. This durable coupling device features an ergonomic twist-collar locking mechanism and options to integrate utilities.
Bimba Manufacturing – Booth 134825
Bimba will showcase the new Collaborative Robot Vacuum Tool (CRVT) that adds unparalleled flexibility to UR cobots. The CRVT comes off-the-shelf as a complete solution and is highly configurable to meet an array of applications. A wide range of vacuum pumps and cups are available to enable users to meet various vacuum requirements. As part of the UR+ program, the CRVT is tested and approved to integrate directly with UR robots, ensuring set-up, programming, and operation can all be accomplished with ease.
Cognex – Booth 135451
The Cognex In-Sight 2D URCaps makes setting up a vision guided application using a UR cobot and a Cognex Vision System a breeze. The UR+ enabled software guides the user through establishing communication and the hand eye calibration routine – automatically saving a calibration file which can be re-used across multiple jobs. This demo shows the system in action: the camera guides the robot to pick different types of packages at random orientations. Combining the power of Cognex Vision toolsand the flexibility of UR cobots allows even novice users to run advanced applications without weeks of integration time.
Computech Mfg. Co. Inc. – Booth 236896
The CoboFlex system will be on display with a UR5 cobot. CoboFlex is a flexible and configurable heavy duty mobile cart featuring a high precision docking system that helps manufacturers get the most from their collaborative robot investment. The CoboFlex system allows the user to accurately and effortlessly redeploy a collaborative robot to various applications within the facility, even multiple times within each day.
Emerging Technology Center – Booth 236700
The Emerging Technology Center demonstration, sponsored by NIST, showcases the first steps in the integration of machine tools, CMMs, and cobots in a practical, low cost model supporting real-time coordination and collaboration of manufacturing equipment without expensive PLCs and central control systems. The software is open-source and hardware agnostic, developed by a network of consortia to provide the building blocks for next steps in manufacturing. The MTConnect standard is providing the language that enables the equipment to express its needs, from the movement of material to the maintenance tasks required to keep the cell in top performance. The ROS-I platform delivers the ability for the UR10 cobot to find optimal ways to dynamically move material and other assets.
Energid – Booth 121838
Energid will demonstrate a UR5-based bin-picking application with unparalleled ease of use. Its Actin SDK for advanced motion control is fully integrated on the UR robot's teach pendant. The Actin robotic toolkit enables the robot to maneuver through a complex environment, including deep inside of the bin, adapting in real-time to avoid collisions and accurately pick a wide variety of parts, all without sacrificing the ease of use expected with a UR robot. The Actin SDK will also be demonstrated on a UR3, extending the cobot's capabilities to include External Tool Center Point (TCP) motions out-of-the-box. This allows the cobot to efficiently move a part around a fixed tool to reduce takt time, costs, and workspace footprint and increasing tool life.
Hexagon Manufacturing Intelligence – Booth 135202
Visitors to Hexagon Manufacturing are invited to rethink quality, flexible, automated metrology and see how UR cobots can be integrated with metrology sensors, hardware and software to create innovative solutions. From aerospace to automotive to general industry applications, the combination of Hexagon Manufacturing Intelligence and UR has created a new approach to solving manufacturing and metrology requirements.
Hurco Companies Inc. – Booth 338319
For Hurco's 50th anniversary, the company will demonstrate the WinMax control's Industry 4.0 connectivity by running robotic cells that automate production of high-mix, low-volume customized parts. The robots and robot cell controllers will communicate exclusively through the internet with no hard-wired I/O connections. The new UR10 e-Series will be used to 3D scan booth visitors' heads and faces. The data will then be used to generate 3-axis custom coins and 5-axis custom statues.
igus Inc. – Booth 134521
igus will showcase its advanced cobot cable management system triflex®, available through the UR+ platform. The triflex R sizes 30 and 40 are a perfect match technically as well as visually for the UR3, UR5, and UR10 robotic arm systems. The igus UR cable management system offers a quick and easy mounting connection.
MIDACO – Booth 339347
With a flexible reach of 51.2", the UR10 cobot paired with MIDACO's Automatic Pallet Changer can easily access parts on a table or conveyor set up alongside the pallet changer, where it handles loading tasks. Mounted on either the left or the right side of a machining center, the pallet changer automatically switches pallets in seconds when the first job is complete.
Mobile Industrial Robots (MiR) – Booth 121468
MiR will showcase a MiR200 autonomous mobile robot (AMR) with a UR5 and an OnRobot RG2 gripper application. This applications picks up circuit boards at a stationary table, drives around autonomously and delivers the circuit boards to the same table. To be as precise as this task requires, the MiR200 connects to a precision docking station built into the stationary table, demonstrating how the MiR200 adds mobility with extreme precision to the UR5, enabling the cobot to service multiple work stations.
READY Robotics – Booth 236882
READY Robotics will showcase the TaskMate R5 equipped with a UR5 cobot performing a simulated task tending a CNC lathe machine, picking steel rods from a hopper, placing them into the lathe, running an operation, and returning 'finished' parts to the hopper. Assisted by a UR10 cobot, the TaskMate R10 will perform inspection and sorting a collection of steel parts.
OCTOPUZ Inc. – Booth 236036
Attendees will be able to see simulations of the programs created with the OCTOPUZ UR+ software for Universal Robot users. From drilling to dispensing applications, OCTOPUZ is an ideal OLP solution to reduce robot downtime and increase productivity while ensuring error free programming.
OnRobot – Booth 236592 and Booth 236480
OnRobot will have four UR5 cobots equipped with OnRobot collaborative applications on display: A UR5 with a dual RG2 grippershowing a machine tending application; a UR5 with a HEX sensor polishing a car door; UR5 equipped with RG2-FT showing a precise insertion task where valves are inserted in an engine head; and, a UR5 with an RG2 gripper for direct attendee interaction.
SCHUNK – Booth 432010
SCHUNK will demonstrate a coordinated motion between a UR5 cobot and SCHUNK's servo-electric 5-finger hand SVH. Real-time tracking and motion control allows the coordination of movement of the 20 degree of freedom SCHUNK 5-finger hand and the UR5, enabling human-like motions.
Starrett Metrology – Booth 135532
Starrett Metrology will showcase a UR5 cobot utilizing OnRobot's RG2 gripper. The UR5 arm will execute precision movements in order to position, sort and sample measurement pieces. Part sorting to specific rack locations will be executed based on a pass or fail measurement result from the Starrett HVR Field of View measuring system, powered by Metlogix M3 Metrology Software. Using standard ascii text sent from the cobot through a TCP socket, the M3 software will receive, process, and respond to commands with confirmation or measurement results. This unique pairing of collaborative robot technology, measuring equipment and powerful metrology software introduces efficiency and automation to high volume part inspection environments.
Takamatsu Machinery – Booth S-339488
Takamatsu Machinery will demonstrate the UR5 cobot with Robotiq's UR+ enabled Hand E-Grippers and wrist camera doing vision-guided machine tending with the Takamaz GSL-10 Lathe, picking parts off a pallet riding on an S-Cart AGV. The wrist camera demonstrates how vision guidance can compensate for positional variations of the part pallet when docking with the lathe. A UR10 loading parts with an OKK CNC Mill will also be on display.
TUV Rheinland – Booth 135425
TUV Rheinland will showcase the UR3 cobot. Like all UR cobot models, the UR3 has the ability to be used as a power and force limited robot, which allows it to be integrated in various collaborative applications. TUV will demonstrate how to validate that a robot is safe to use collaboratively.
Versatech – Booth 236363
Versatech will be showcasing a UR3 in conjunction with a Cognex vision system to demonstrate the integration of vision systems and Universal Robots. Attendees will experience the safety of working closely with a collaborative robot as they receive a candy bar of their choice, identified by the vision system, from the UR3. The system illustrates the versatility of Universal Robots and creativity of Versatech's design team to meet all automation needs.
About Universal Robots
Universal Robots was co-founded in 2005 by the company's CTO, Esben Østergaard – the 2018 Engelberger Award Winner – who wanted to make robot technology accessible to all by developing small, user-friendly, reasonably priced, flexible industrial robots that are safe to work with. Since the first collaborative robot (cobot) was launched in 2008, the company has experienced considerable growth with the user-friendly cobot now sold worldwide. The company, which is a part of Teradyne Inc., is headquartered in Odense, Denmark, and has subsidiaries and regional offices in the United States, Germany, France, Spain, Italy, Czech Republic, Turkey, China, India, Singapore, Japan, South Korea, Taiwan and Mexico. In 2017, Universal Robots had a revenue of USD 170 million. For more information, please visit www.universal-robots.com or read our blog at blog.universal-robots.com.
Comments (0)
This post does not have any comments. Be the first to leave a comment below.
---
Post A Comment
You must be logged in before you can post a comment. Login now.
Featured Product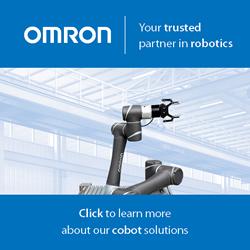 Humans and robots can now share tasks - and this new partnership is on the verge of revolutionizing the production line. Today's drivers like data-driven services, decreasing product lifetimes and the need for product differentiation are putting flexibility paramount, and no technology is better suited to meet these needs than the Omron TM Series Collaborative Robot. With force feedback, collision detection technology and an intuitive, hand-guided teaching mechanism, the TM Series cobot is designed to work in immediate proximity to a human worker and is easier than ever to train on new tasks.