Industrial Robotics Companies to Watch Out for in 2020
The following article was written by Bailey Hudson, freelance industrial writer. Bailey is currently writing on behalf of Summit Machine Tools.
The role of robots is increasing in the automation of business processes. Robots are even touching human life and are also being used in customer-facing roles. That is why it is fast emerging as one of the sectors which is not only changing our lives but also growing at an exponential pace. There are a few companies which are at the forefront of this revolution. If you haven't heard about these fast-growing Robotics companies, we will help you out. Today, we will share with you industrial Robotics companies to watch out for in 2020.
Boston Dynamics has been around since 1992. It is slated to launch its robots for commercial applications in the next year. There have already showcased SpotMini, which is a robot by the company inspecting construction sites. It is, however, just one of the applications of that robot. The company plans to launch for the commercialized version for other applications in the coming year.
NVIDIA is focusing on developing chips which would work as the brain for next-generation robots. The latest one being the Jetson AGX Xavier Module. It consists of 9 billion transistors, which make it energy efficient. With the help of 6 high-performance processing units, robots will be able to interact with the world around them and learn consistently. The robot consists of deep learning accelerator competition, image, video, and vision processor. Due to this very reason, the application of such a robot are endless.
UBTECH is on a mission to build Humanoid robots. It has raised over $ 1 billion. The walking bipedal robot which it unveiled in 2018 was developed into a fully humanoid robot in 2019. According to the company, the robot has intelligence which will help it accomplish tasks at home as well as in business. That is why, in the year 2020, it is expected that they will unveil the humanoid robot and how it can accomplish real-world tasks.
Universal Robots pioneers in the robotics field. In the past decade, it has sold over 25,000 cobots. The sales growth is expected to be much higher in the coming few days. While it might be facing competition from other vendors but its rich experience in the field of robotics has helped it stay ahead. In the year 2019, it is expected that they will unveil the next generation of cobots in the industrial automation field. That is why; it is going to be a good year for the company.
Mitsubishi Robotics solely focuses on industrial robots. It is trying to automate various business processes like:
• Material handling
• Assembling
• Dispensing
• Packaging

The company focuses on the industrial market and is growing at a rapid pace. It helps its clients reduce labor cost, electricity costs, and other overhead costs. The company aims to streamline the manufacturing processes with the help of its robots. It is continuously developing its robots to become more efficient and handle the needs of the customers. That is why; it is one company which you should watch out for in 2020.

So, while there might be quite a few companies working on developing industrial robots, but when you look at the top 5 options, you should keep in mind these five companies. With the increasing innovation, these five companies would surely be at the forefront of the robotic revolution. They can be pioneers in introducing new features and technologies when it comes to industrial robots.
Referenced:
https://fortune.com/2017/12/07/best-stocks-buy-2018-robot-honeywell/
https://www.therobotreport.com/robotics-companies-to-watch-in-2019/
https://www.plantautomation-technology.com/articles/top-industrial-robotics-companies-in-the-world
Comments (0)
This post does not have any comments. Be the first to leave a comment below.
---
Post A Comment
You must be logged in before you can post a comment. Login now.
Featured Product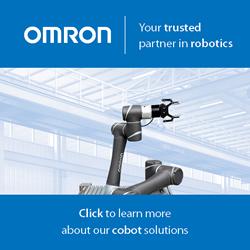 Humans and robots can now share tasks - and this new partnership is on the verge of revolutionizing the production line. Today's drivers like data-driven services, decreasing product lifetimes and the need for product differentiation are putting flexibility paramount, and no technology is better suited to meet these needs than the Omron TM Series Collaborative Robot. With force feedback, collision detection technology and an intuitive, hand-guided teaching mechanism, the TM Series cobot is designed to work in immediate proximity to a human worker and is easier than ever to train on new tasks.