Future of Warehouse Automation – Market worth $27B by 2025
LogisticsIQ™ expect the growth of the material handling equipment market in general, and automated warehouse solutions in particular, to be driven by several key industrial and macro trends. Among the industrial trends, we see the adoption of new technologies relating to the (Industrial) Internet of Things, increased pressures on and demand for efficient and flexible distribution operations, and growth in use of automated solutions across key end markets:
Technology availability. As part of their efforts to boost productivity and margins, companies are increasingly adopting data analytics tools to identify areas of improvement, which also holds true for logistics and warehouse operations. The combination of sensors, scanners and RFID tags with warehouse control systems and automated material handling equipment is increasingly seen as the way forward in terms of warehouse safety and operational efficiency. The same technology allows real-time identification and tracking of inventories, further helping to streamline the logistics process and reduce error potential.
Rising customer expectations. The rapid rise of global e-commerce and expectations for shorter delivery times are further increasing the pressure on distribution operations, particularly in high-volume areas like online grocery retailing where online penetration and proliferation should grow across several markets, in particular high-density urban areas.
Increasing manufacturing complexity. A move towards the Industrial Internet of Things and increased customisation of products, e.g. cars, is a further growth driver for this industry as manufacturers require easy access to growing numbers of components with very little room for material handling errors. Other industries where manufacturing and distribution needs are expected to drive increased demand for modern material handling solutions include Chemicals, Pharmaceuticals, and Food & Beverage.
Apart AIDC (data capture) and AMR (Mobile Robots), we have also seen some new technology innovations like Automated Storage and Retrieval System (ASRS), Automated Guided Vehicles (AGVs – working with other navigation methods like Optical Tapes, Sensors) and Picking Systems (Pick by Voice, Pick by Vision, Pick by Light) to make the warehouse more effective so that customer expectation to deliver the product within 12/24 hours can be met.
LogisticsIQ™ latest market research study "Warehouse Automation Market By Technology (AGV/AMR, AS/RS, Conveyors, Sortation, Order Picking, Automatic Identification and Data Capture, Palletizing & Depalletizing, Overhead Systems, MRO Services and WMS/WES/WCS), By Industry (E-commerce, General Merchandise, Grocery, Apparel, Food & Beverage, Pharma, 3PL), By Functions (Inbound, Picking, Outbound), By Geography – Global Forecast to 2025", estimates that the global Warehouse Automation Market will grow more than 2x from $13 Billion in 2018 to $27 billion by 2025, at a CAGR of 11.7% between 2019 and 2025.

Source – LogisticsIQ™
As per LogisticsIQ™ market study, AGV/AMR market is expected to cross $4B mark by 2025 and AMR (without any external support of optical tape, sensor or vision) is going to be main contributor in retail warehouses due to high demand in e-commerce sector and its flexibility to deploy the robot without any major change in the existing warehouse infrastructure. However, it is a bit slow in terms of pick rate per hour as compared to ASRS but is preferred in small and medium warehouses due to lower cost and quick deployment. LogisticsIQ™ market study estimates that AGVs/AMRs are going to have more than 15% market share in overall warehouse automation led by players like Dematic, SSI-Schaefer, Geek+, GreyOrange and HikVision. There are many leading players in warehouse automation across different functions like Material Handling, AMRs, Sensors & Control, AIDC and WMS. LogisticsIQ™ has also created a Market Map for such players as depicted below.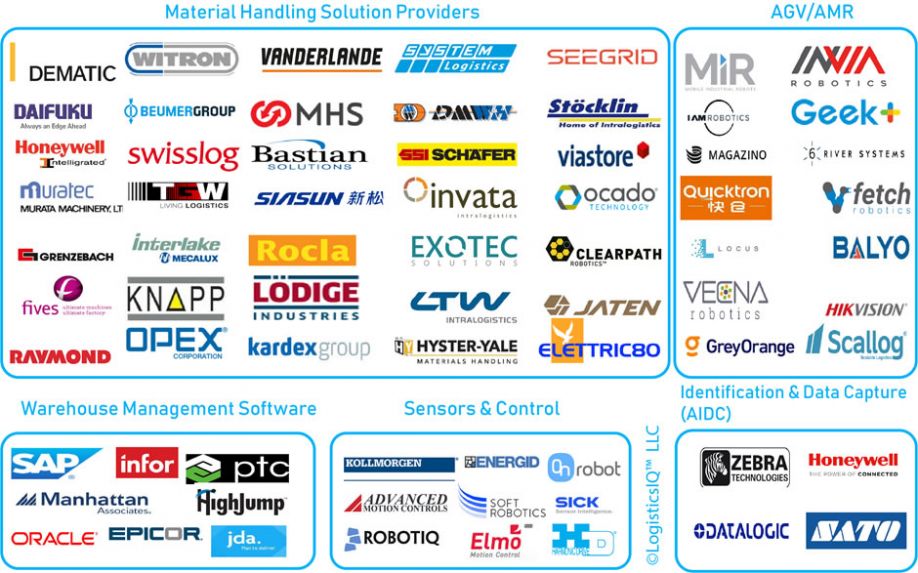 The eMarketer estimates that the global retail market will reach $25.038 trillion in 2019, an increase of 4.5% and slight acceleration in growth w.r.t to last year. At the same time, it represents a marked decline from the five years preceding that, when global retail sales grew between 5.7% and 7.5% each year. This consumer spending slowdown over the past two years reflects growing economic uncertainty and a dampening economic environment across many corners of the globe. Despite of this declining trend, eMarketer estimates that global ecommerce will rise 20.7% in 2019 to $3.535 trillion. Despite its obviously strong growth rate, 2019 will experience a decline from the previous two years when ecommerce grew 28.0% in 2017 and 22.9% in 2018. By 2021, global ecommerce is supposed to reach $5 trillion, though growth rate would not be as attractive as 20% in coming years.
Also, it is expected that Mobile Robots will help the companies to lower down their increasing labor cost. It is getting popular in countries where LPI score is high but there are some exceptions like China where demand is too high due to e-commerce wave and disruption in the Automotive and Manufacturing Sector. Quicktron, HikVision, and Geek+ are leading the market in China and has more than 70% market share in AMR space. If we do consider AGV, AMR and Picking Robots combine market then they are expected to have more than 40% market share in Warehouse Automation Market by 2025.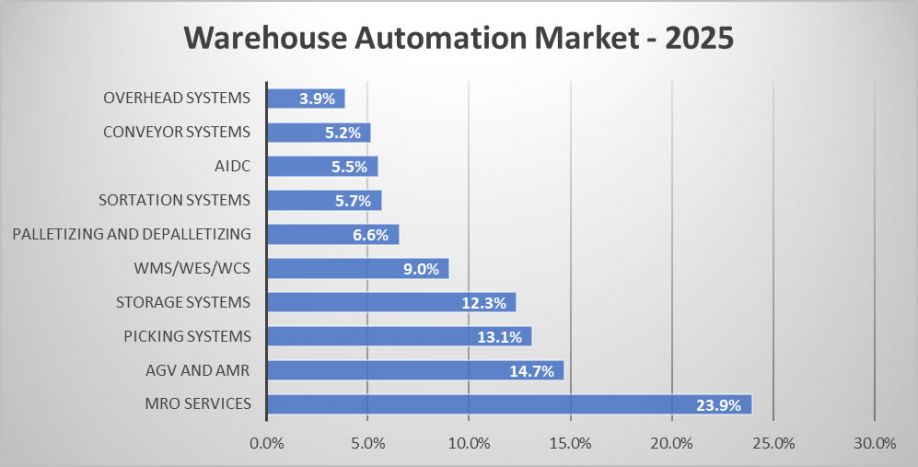 Source – LogisticsIQ™
We see substantial growth opportunities in the warehouse automation equipment space owing to several structural trends in consumer demand within eCommerce, retailing and 3PL logistics.
Automation is must for customer fulfilment: Meeting customer demands within e-commerce requires increased adoption of warehouse automation solutions to keep costs and operational complexity in check. Online retailing is fundamentally a logistics business driven by margin improvement from cost reduction in inventory management, order fulfilment and delivery capabilities.
Scalable solutions enable growth: Double-digit growth in e-commerce and online grocery sales is driving players to expand capacity to deliver required volumes. Warehouse automation solutions are built for scale and can deliver higher output and more accurate order fulfilment than a manual setup at lower operating costs and can increase the customer satisfaction as well as improve margins by reducing the delivery time as well as cutting down on the cost of wrong orders.
Cost efficiency and quality: Automated and robotic solutions are easing the increasing pressure felt by online grocery retailers to get orders out to customers more efficiently while reducing fulfilment costs. Warehouse automation solutions can both increase picking speed and volumes while decreasing picking inaccuracy due to a reduction in the number of human interactions. In addition, robots are independent of labour market conditions and can work 24/7 without requiring any overhead costs such as pensions, health insurance, vacations or breaks. They also do not require training, an extra cost associated with the additional or temporary hires necessary during the peak shopping cycles. There remains the need for capex to be incurred at the beginning of operations, and ROI calculations are a key criteria for any retailer looking to implement warehouse automation. The ROI keeps improving as the cost of manual trained labour force is increasing, as well as the cost of mis-pick can tend to shift customer loyalty.
Home-to-Shop direct connectivity: A gradual transition towards "complete connectivity" drives greater demand for warehouse automation solutions as enhanced inventory management systems and data analytics are required to deliver on customer expectations. As the number of daily online shoppers grows across the world, consumers are migrating towards mobile platforms and have learnt to expect increasingly personalised product offerings. The growth in smart home/home automation products, e.g. automatic replenishment of a "Smart Fridge" through an Amazon Echo smart speaker, we believe is causing a fundamental shift in how customers will shop in the future. To make this shift possible, full integration of the retail supply chain is necessary.
Online Grocery Retail: Online grocery retail is the perfect use-case owing to the high-volume, low-margin nature of the business and the constraints involved in storing and delivering "fresh" products that typically involve temperature controlled supply chains. Building and delivering orders that meet increasing customer demands as well as can compete with the produce available in brick and mortar grocery stores in terms of freshness and prices, puts a huge pressure on the already thin margins in the grocery retail business. Warehouse automation is a perfect solution for this model, as the order picking and fulfillment process can be made more cost-efficient enabling the retailer to compete on prices as well as offer same-day delivery.
Efficiency: The spatial savings from reduced warehouse footprints can be up to 85% and reductions in operational costs of up to 65%. Space savings are achieved primarily through storing SKUs higher and denser, and reductions in operational costs are resulting from decreased demand for manual labour.
Effectiveness: Warehouse automation solutions result in faster process times and reduced picking errors, and hence improved service levels. The speed at which an order can be accurately picked and shipped, increases the reliability of the customer's delivery service, and makes operations more flexible in terms of handling late changes.
Optimisation of operations: Warehouse automation solutions can be optimised through programming for continuous improvement in processes such as dynamic storage, inventory management and overnight relocation of goods. Warehouse Management Software provides cataloguing of inventory and improves end-consumers' experience from connectivity and real-time data.
Considering the challenges of the current market scenario including high customer expectations, players don't have any other option left than deploying these disrupting technologies in their warehouses and fulfillment centres to be part of this race. In the last 2-3 years, more than 30 young companies have been started including an investment of approximate $350M. In 2017, $178M fund was raised for AMR/AGV start-ups and is expected to more than $5B by 2025.
Key Facts and Drivers for Warehouse Automation Market
Order Fulfilment in E-commerce sector is the biggest factor driving the adoption of warehouse automation technologies
High warehouse rents, shortage of skilled warehouse staffs and increasing staff costs are driving even higher adoption
AGV/AMR, ASRS and Order Picking Solutions to have the highest market share of warehouse automation market in 2025
Last Mile Delivery, Micro Fulfillment centres and Urban Warehouses drive the need for reduced warehouse space and more automation
10 start-ups operating and >$5B investment will flow into this space by 2025
Contact Here to download the ToC and sample PDF of LogisticsIQ™ Warehouse Automation study
Comments (0)
This post does not have any comments. Be the first to leave a comment below.
---
Post A Comment
You must be logged in before you can post a comment. Login now.
Featured Product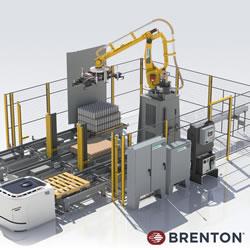 Brenton is a leader in robotic solutions with standard product offerings including palletizing and depalletizing for efficient an option for carrying hard-to-handle products, as well as larger scale systems with an optimized footprint; and case and carton loading solutions for numerous industries. In addition, Brenton works with customers on integrated solutions, offering robotics in a broad spectrum of robotics to fully integrate end of line systems. Brenton helps packaging customers protect their reputation and grow the trust of their consumers.