Robot End-Effector Market to Reach US$ 6.5 Bn by 2025
The revenue of Robot End-Effector Market crossed $2.5 billion in the year 2018 and is predicted to touch 6.5 billion-dollar mark till 2025, growing at 14% between the years 2019 and 2025; as per the research done by Global Market Insights, Inc.
The advent of industry 4.0 in manufacturing industry which includes the inclusion of technological trends such as cloud robotics, automation, cyber-physical systems, big data, and IoT is driving the demand for advanced end-effectors. The usage of these advanced technologies is anticipated to drive up production, improve efficiency, by transfer computational and decision-making powers to robotics systems. Factors such as growing deployment of collaborative robots, increasing implementation of robots in the logistics industry for pick & place operations, decreasing cost of sensors etc. is augmenting the robot end-effector market growth.
The proliferation of Industry 4.0 provides major growth opportunities to manufacturers operating in the robot end-effector market. Organizations such as Comau have worked in line with Industry 4.0 by the creation of collaborative robots called AURA (Advanced Use Robotic Arm) which contains a layer of sensors beneath a protective foam that can detect human movement. However, a major portion of the technologies are still under research as companies are investing heavily in R&D activities to make their technology smarter and more aligned to the demands of the consumers.
Robot End-Effector Market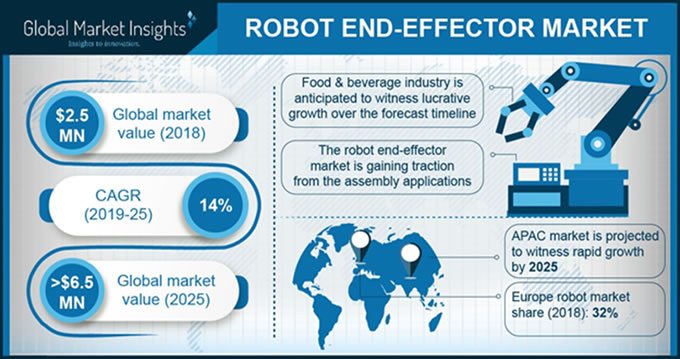 The food & beverage industry will provide attractive growth potential to the market. The Automated Guided Vehicles (AGVs) or Automated mobile Robots (AMR) are highly suitable for materials shifting operations in the food manufacturing companies. In addition, food plants are being equipped with robots for beverage bottling, food packaging, refrigerated meat processing, and other applications. An important benefit of using robot technology in the food & beverage industry is that they eliminate frequent manual manipulation, improving hygiene and performance. Industries such as milk processing require faster operations to ensure product quality and freshness to customers; hence, are highly inclined toward automating the process.
Major companies operating in the market are Zimmer Group, JH Robotics Inc., ABB, Applied Robotics, Weiss Robotics, Robotiq, Piab AB, FIPA, Festo, Destaco, Soft Robotics, KUKA, ATI Industrial Automation, and Schunk, among the others. The rising competition in the market boosts companies to develop more capable and application-specific products in the market. In July 2019, SCHUNK introduced smart clamping devices and gripping systems, particularly for metal cutting applications. These systems provide detailed monitoring of the production process autonomously and in real-time. In August 2018, Zimmer introduced its GPP GPD5000AL grippers, particularly for price-sensitive customers. These grippers guarantee up to 15 million cycles without the requirement for maintenance, further reducing the costs.
Europe will be one of the key regions in the robot end-effector market with a high penetration rate of automation technologies in manufacturing. The highly developed automotive industry in the region is expected to create a considerable demand in the market. Furthermore, the region is witnessing the growing use of robots in logistics, agriculture, underwater, and other applications. Countries such as Germany are among the major markets for robots. Germany witnessed a 7% increase in robot sales in 2017, according to the International Federation of Robotics. According to the euRobotics, Europe currently holds around 32% of the market in the global robots industry. The strong research & development activities by organizations, such as Bristol Robotics Laboratory, is further boosting developments in the industry.
China robot end-effector market size, by end-use, 2019 & 2025 (USD Million)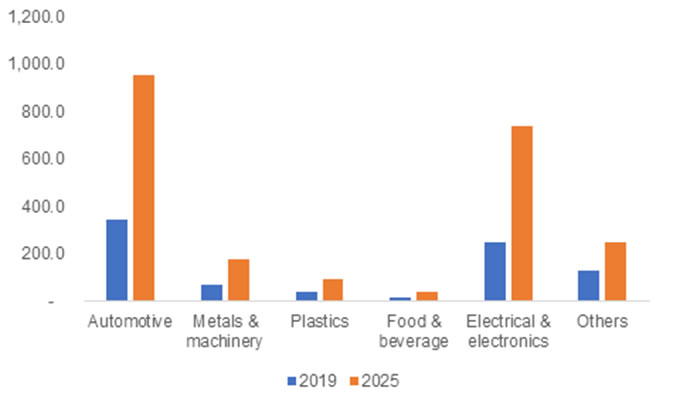 The higher initial costs associated with the implementation of automation technologies in production lines and other applications can considerably hamper the growth of the market. The other factor that may hamper growth is the need for an update in the current manufacturing infrastructure, which may not be economical. Furthermore, the Robotic Process Automation (RPA) implemented in manufacturing requires higher maintenance costs, which limits their implementation by smaller companies to some extent. Improper maintenance of robot equipment can result in decreased process efficiency in manufacturing, further limiting its usage.
Source: https://www.gminsights.com/industry-analysis/robot-end-effector-market
Comments (0)
This post does not have any comments. Be the first to leave a comment below.
---
Post A Comment
You must be logged in before you can post a comment. Login now.
Featured Product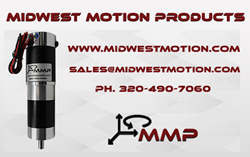 MMP specializes in supplying high-quality Brushed & Brushless DC Motors & Gearmotors for Robotics and Automation Equipment with a wide range of motor windings and gear ratios. With an impressive track record of more than 8,000 released DC Gearmotors designs and over 2,000,000 individual part numbers, we are renowned for our ability to handle large-scale orders. Due to our huge on-hand inventory, we are also well known for lightning-fast delivery of our standard products. We take pride in our dedicated customer service and our team of knowledgeable sales and engineering experts who are ready to assist you with custom design solutions tailored to your specific application. Additionally, we also offer a wide range of complimentary products, such as DC Motor Controls, DC Linear Actuators, AC-DC power Supplies, and DC Servo Amplifiers and others.