Co-Learning of Task and Sensor Placement for Soft Robotics
Unlike rigid robots which operate with compact degrees of freedom, soft robots must reason about an infinite dimensional state space. Mapping this continuum state space presents significant challenges, especially when working with a finite set of discrete sensors. Reconstructing the robot's state from these sparse inputs is challenging, especially since sensor location has a profound downstream impact on the richness of learned models for robotic tasks. In this work, we present a novel representation for co-learning sensor placement and complex tasks. Specifically, we present a neural architecture which processes on-board sensor information to learn a salient and sparse selection of placements for optimal task performance. We evaluate our model and learning algorithm on six soft robot morphologies for various supervised learning tasks, including tactile sensing and proprioception. We also highlight applications to soft robot motion subspace visualization and control. Our method demonstrates superior performance in task learning to algorithmic and human baselines while also learning sensor placements and latent spaces that are semantically meaningful.
Authors: Andrew Spielberg*, Alexander Amini*, Lillian Chin, Wojciech Matusik, and Daniela Rus Published in: IEEE Robotics and Automation Letters (RA-L), with presentation in RoboSoft 2021.
Comments (0)
This post does not have any comments. Be the first to leave a comment below.
---
Post A Comment
You must be logged in before you can post a comment. Login now.
Featured Product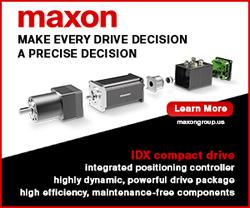 The compact brushless EC-i motor combined with an EPOS4 positioning controller delivers a highly dynamic, powerful drive package with field-oriented control (FOC), high efficiency, and maintenance-free components in a high-quality industrial housing. The maxon IDX drives are suitable for use across the entire speed range (from standstill to maximum speed) and have an extremely high overload capability. Together with a positioning controller, the integrated sensor (single turn) enables absolute positioning.