Robotics in Woodworking - The Zimmer Group reaches deep into its bag of tricks for Schmidt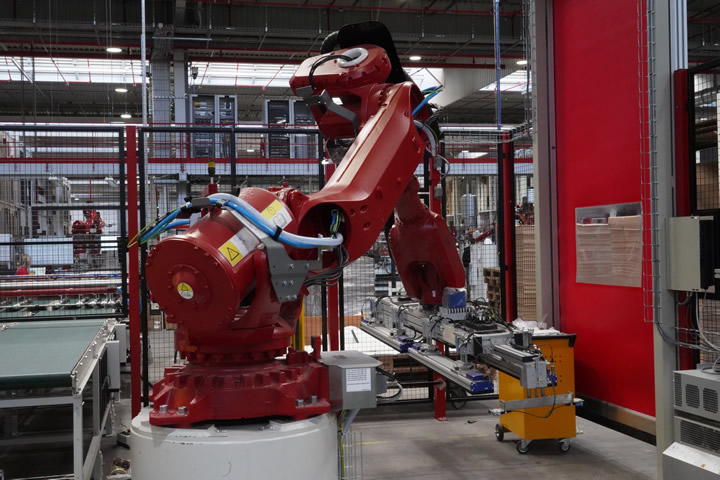 More and more consumers want personalized products tailored precisely to their needs - from customized bicycles to self-mixed muesli and individualized printed Coke bottles to unique travel suitcases. The trend does not stop at the home either - kitchen equipment should also be designed as individually as possible. It is precisely this trend toward individualization that is being addressed by the French kitchen manufacturer Schmidt, which has perfectly supplemented its existing batch size 1 concept with an innovative robotic machining cell for drilling and fitting kitchen furniture components. The cell is part of a production line used to manufacture complete kitchen equipment in batch sizes of 1.
From classic component to system supplier
The location of the robotic machining cell is in Sélestat, Alsace, France. Two production facilities of the internationally active kitchen furniture manufacturer Schmidt are currently located in Sélestat. The name Schmidt has stood for particularly modern production technology and perfect quality since 1934 (founded in Türkismühle, Germany) and with over 1500 employees. German perfection and French design guarantee affordable furniture for the highest demands. The manufacturer of the robot processing cell is the Zimmer Group from Rheinau in Germany. On its way towards Industry 4.0, the Zimmer Group has evolved from a classic component supplier to a system provider and has thus produced an entire robotic cell at once.
At the heart of the system are five large ABB robots in a row, connected by a flexibly acting transport system in which the workpieces are clamped and moved by up to four freely programmable shuttles, depending on their size. This circulating shuttle system was - by the way - honored with a German Innovation Award in 2019.
In close cycles with workpiece intervals of less than two seconds, furniture parts are provided with holes, grooves and fittings by the robots. A two-meter-high side panel of a tall cabinet can be immediately followed by a shelf measuring just 15 x 20 centimeters. Without setup time.
Furniture parts with an accuracy of two tenths of a millimeter
"When we first discussed our plans for such a cell, we were quickly told: don't do it, it can't be done with sufficient precision using robots," recalls Managing Director Achim Gauß, who is responsible for technology and sales at Zimmer Group. "And that was the case at first. We had to invest a lot in hardware and in software," Gauß continues. The special feature of this robotic solution, for which the Zimmer Group draws from its own pool of grippers and tool changers, among other things, is the drilling operation, which is performed by ABB industrial robots and can process the furniture parts with an accuracy of two tenths of a millimeter in single batches on the robot. For this, a self-developed compensation algorithm based on laser tracker measurement of the robots in the machining area was used. The hurdle of accuracy was also one of the sticking points in the entire process: The individual furniture parts are clamped into the shuttles by a loading robot and then measured in terms of dimensions and position. In one set-up, the parts are then moved along the various processing stations and finally removed from the shuttles by the unloading robot. This ensures that there is no loss of accuracy due to reclamping.
Nearly 100% availability desired
"Our customer Schmidt wanted a system that had 100% availability if possible, i.e. whose maintenance did not have to lead to a complete machine shutdown. This is only possible with a modular system. In addition, there was the desire for flexibility, accuracy, expandability, as well as a batch size of 1 production without predefined machining programs," explains Gauß. The Zimmer Group experts solved the availability problem by ensuring perfect accessibility to all parts. For example, when changing the drill head on conventional machines, the cladding first has to be laboriously removed. Individual shuttles can also be removed/replaced without the system coming to a complete standstill. In extreme cases, a "simple" exchange of a complete processing robot is also possible.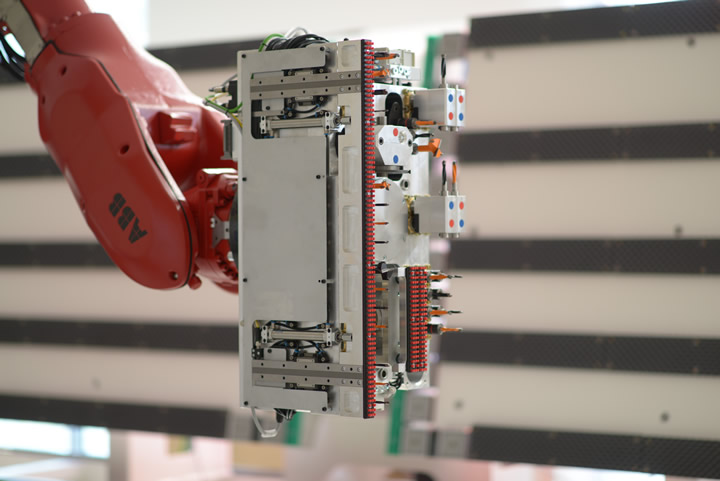 Performance and flexibility at the highest level
In order to achieve the desired production output, the machining operations are automatically divided between two machining robots and typical machining operations are combined in one drilling stroke (e.g. hinges, line drilling). For this purpose, the two machining robots each carry a multifunctional head with 41 tools in order to be able to perform all necessary machining operations without changing tools. The desire for the greatest possible flexibility was met by special software - the so-called optimizer - which generates the machining program from the workpiece description in the customer's central database when the system is loaded. This direct connection of the control system to the higher-level Manufacturing Execution System (MES) thus achieves full networking of production. The kitchen manufacturer was provided with a helpful tool: The Zimmer Group's HMI enables intuitive operation and extended diagnostic options for the entire robot machining cell.
Industry 4.0 - full networking of production
"In order to be able to reliably organize such a complex plant during planning, but also later during operation, you need a one hundred percent real-time simulation," Achim Gauß continues. "Such a digital twin makes the plant highly flexible, but also exciting for work preparation and for planning at the customer. We learned a lot in this project and have been able to transfer this know-how to all our components with the digital twin." With the help of the digital twin in the HIL system, the cell can be built virtually to be able to check the system performance and functionality even before realization. The Zimmer Group's robotic machining cell thus consistently implements the approaches of Industry 4.0.
Enormous production advantages and investment security
The customer Schmidt is very satisfied with the implementation, as the cell offers considerable economic advantages in addition to extremely high system availability. For example, the use of industrial robots instead of classic processing machines and the significantly simpler design result in significantly lower investment costs. The circulating shuttles of the innovative transport system can be individually controlled in terms of speed, cycle time and positions to be approached and can be operated individually or in combination. In conjunction with the processing stations, significantly higher production efficiency can be achieved than with conventionally clocked machines. Considered over the entire life cycle, the new machine concept also offers a high level of investment security, as the modular design enables subsequent expansion with new processing modules.
Comments (0)
This post does not have any comments. Be the first to leave a comment below.
---
Post A Comment
You must be logged in before you can post a comment. Login now.
Featured Product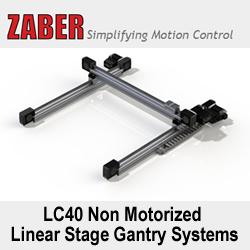 A Zaber gantry kit comes with everything you need to build a customized XY gantry system or XYZ gantry system. These gantry systems feature coordinated multi-axis motion, plug-and-play operation, easy integration with end-effector options, and built-in IO and E-Stop capabilities. An intuitive ASCII interface allows the user to easily communicate with the gantry systems using our free software, either Zaber Motion Library with APIs for several popular languages or Zaber Console. Third party terminal programs that can communicate over a serial port can also be used.