Applications Open for Second AWS Robotics Startup Accelerator to Scale Robotics Startups Focused on Automation and IIOT
MassRobotics announces the second cohort for the Amazon Web Services (AWS) Robotics Startup Accelerator delivered by MassRobotics to address the biggest challenges in the automation, robotics and industrial internet-of-things (IIoT) industries. MassRobotics is helping to create and scale the next generation of successful robotics and connected devices companies by providing entrepreneurs and innovative robotics startups with the workspace and resources they need to develop, prototype, test and commercialize their products and solutions. Combined with AWS resources to establish a scalable infrastructure for building, testing, and managing robots, the joint effort will help robotics startups and the industry overall to experiment and innovate, while connecting startups and their technologies with AWS customers.

The AWS Robotics Startup Accelerator delivered by MassRobotics is a four-week technical, business and mentorship accelerator opportunity open to robotics startups from around the globe. The call for applications was announced by Tom Ryden, executive director of MassRobotics, in his talk at re:MARS and is open from June 23, 2022, through August 1, 2022. MassRobotics will provide expertise in venture capital and startup acceleration to help drive a select cohort of robotics startups through an intensive, advanced curriculum specially designed to accelerate their growth on AWS.
Startups selected to participate will receive:
Specialized training in AWS Robotics solutions
Mentoring from robotics experts and technical subject matter experts in artificial intelligence (AI)/ML and internet-of-things (IoT)
Co-marketing with AWS via blogs and case studies upon completion of proof of concept (PoC)
Business development and investment guidance from MassRobotics
Networking opportunities with other startups
Introductions to the AWS Partner Network (APN)
"Reliant cloud technologies are rapidly becoming essential to the growing adoption and deployment of robotics solutions in manufacturing, logistics, healthcare, construction and other sectors," said Juan Necochea, manager of strategic partnerships at MassRobotics. "We are thrilled to once again execute the AWS Robotics Startup Accelerator delivered by MassRobotics to catalyze startups in their efforts to scale by using AWS technologies."
"At AWS, we are dedicated to investing in the future of robotics and providing world-class services to help companies build, deploy, and manage robots," said Michael MacKenzie, GM Industrial IoT & Robotics. "We're thrilled to have had such a global and diverse cohort for our inaugural AWS Robotics Startup Accelerator. It's clear that startups are driving robotic innovation and we are excited to be taking part once again."
This new round of applications will conclude with the selection of the second cohort of startups to participate in the program after last spring's successful run, which included, but was not limited to, the following speakers:
Tom Ryden, executive director, MassRobotics
Jenny Larios Berlin, co-founder & COO, Optimus Ride
Rick Faulk, CEO, Locus Robotics
​​Tye Brady, chief technologist, Amazon Robotics
Peter Finn, managing director, Cowen
Elaine Chen, director, Derby Entrepreneurship Center at Tufts University
Veronica Pascual, CEO, ASTI Technologies Group
Bilal Zubari, partner, Lux Capital
Lior Susan, partner, Eclipse Ventures
Lidiya Dervisheva, partner, Next47
Michael Feinstein, principal business development manager, AWS
Lars Pappe, VP - head of CoE for automation of operation, DP DHL
Vijay Somandepalli, CEO & CTO, American Robotics
Ben Linville-Engler, director, Massachusetts eHealth
The program's first cohort included startups from around the world, including Aivero, AirRow, Alias Robotics, ANT61, A&K Robotics, BotBuilt, Burro, Gardin, HUGO Green Solutions, Inovo Robotics, Kiwibot, MotivEdge, Northstar Robotics, Parrots, RobotAI, Square Robot, Star Robotics and Tertill. Five volunteer startups participated in re:MARS running live demos of their technologies.
After attending the four-week AWS Robotics Startup Accelerator herself, Helen Greiner, CEO of Tertill, provided the following insight from her experience: "The AWS Robotics Startup Accelerator delivered by MassRobotics will help robotics entrepreneurs who want to raise capital, refine their business model and become part of a select cohort with mentors within AWS to help them. This program will become a major force in accelerating the robotics industry."
MassRobotics has a successful track record in developing similar innovation programs with strategic partners like Festo, General Motors, Panasonic, Analog Devices and Mitsubishi Electric. These corporate partners provide strategic guidance, bring MassRobotics residents' technologies to their markets and create practical programming and networking opportunities for residents, partners and investors.
MassRobotics is currently leading a cluster of the highest concentration of robotics companies in the world with approximately 400 companies, 65 resident startups and 40 strategic partners. The organization's unique "escalator" model allows startups to get established, grow, scale, and provide meaningful employment for the future workforce and to provide ongoing value for MassRobotics' partner organizations.
Interested organizations can learn more about the AWS Robotics Startup Accelerator delivered by MassRobotics program and apply here.
Comments (1)
Post A Comment
You must be logged in before you can post a comment. Login now.
Featured Product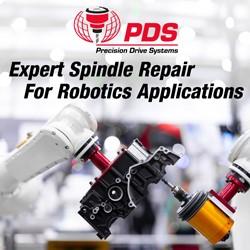 Precision components machined by CNC robot machining systems require compact, lightweight, and high-speed motorized spindles capable of delivering higher efficiency, performance, and reliability than those used in many other industries. That's why manufacturers of milling, cutting, trimming, grinding, polishing, and deburring trust Precision Drive Systems (PDS) to provide accurate and dependable spindle repair to perform to the most exacting standards.