Harvest CROO Robotics is developing and beginning to test an automated strawberry picker which will save strawberry growers time and money and revolutionize the way strawberries are harvested.
This year attendees can expect to see a lot of Ag focused drone systems and also enjoy interfacing with the people making them but that is not all. Our focus this year is on the "Drones, Data, Droids and Dirt."
Records 46 to 47 of 47
Featured Product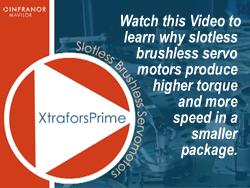 For 30 years, Infranor a motion control technology leader has been providing high-performance standard and custom motion control products and integration services. Feature Motor products include the FP series of Slotless Brushless Motors (high efficiency, best in class torque and power density, high speeds up to 30,000 RPM, smooth ZERO cogging motion, and 8 frame sizes). Pancake-style, explosion-proof, radiation-hardened, and kit motors are also available. Feature motor drives include the PAC/EASY series of compact servo drives (Sensorless, EtherCAT, CANopen, and Indexing).