Harvest CROO Robotics is developing and beginning to test an automated strawberry picker which will save strawberry growers time and money and revolutionize the way strawberries are harvested.
This year attendees can expect to see a lot of Ag focused drone systems and also enjoy interfacing with the people making them but that is not all. Our focus this year is on the "Drones, Data, Droids and Dirt."
Records 46 to 47 of 47
Featured Product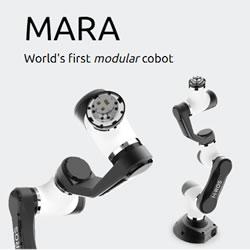 Built out of individual modules that natively run ROS 2.0, MARA can be physically extended in a seamless manner. The modular robot arm delivers industrial-grade features such as a high-speed real time enabled ROS 2.0 communication interface, security protections or a hardware power lifecycle.