Grabits electroadhesion grippers are an enabling technology. We enable mobile robots to have energy efficient manipulation where conventions like vacuum are not feasible.

Charlie Duncheon & Harsha Prahlad | Grabit, Inc.
Where was electroadhesion developed?
Electroadhesion development was led by Dr. Harsha Prahlad in the labs of SRI International. Like Intuitive Surgical, Siri, Artifiical Muscle and other companies Grabit was spun out of SRI to commercialize the technology with exclusive license to the SRI IP for material handling.
How strong is the electroadhesion IP position?
No one is better at creating strong patent portfolios than SRI International and that is the case with Electroadhesion. There are about fifteen (15) patents that are either issued or pending. We believe we have an IP fortress at Grabit.
What are your material handling applications?
Our market focus at Grabit is logistics. We have developed prototypes with customers for case and box handling and also have "each pick" grippers on our road map. We are also building customer funded "lower hanging fruit" sheet handling grippers for flat panels, LED panels, composite sheets, glass panels, and sheet metal applications.
What are the benefits of Grabit grippers over conventional grippers?
Many. In logistics our thin grasping form factor allows boxes and cases to be closer together, leading to significant floor space savings. Belt conveyors and robot support fixtures can have integrated electroadhesion which allows much faster starts and stops, higher inclines and up to 25% higher throughput on the warehouse floor. In glass handling we leave no "smudge" marks or micro scratches on the glass surface that conventional grippers do. We operate at three orders of magnitude less energy that vacuum grippers. We recently replace a vacuum gripper solution on a pilot PCB manufacturing line with our 1watt grippers. The vacuum grippers required a 6Kw air compressor. This technology is proving to be very disruptive.
How durable is the electroadhesion surface? Does its effectiveness degrade over time?
Our electroadesion is typically a polymer pad material and is not unlike materials used for conveyor belts and vacuum cups. We expect normal degradation over time but will have planned preventative maintenance procedures like other equipment components. The electronics would remain but "pads" easily replaced.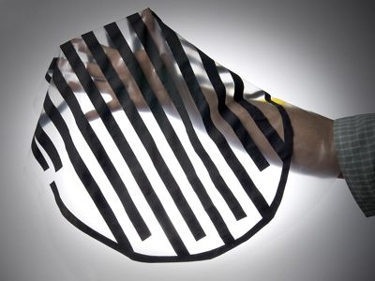 Electroadhesion sheet
When you say disruptive, what impact do you see on the robotics and automation market?
Grabit's electroadhesion grippers are an enabling technology. We enable mobile robots to have energy efficient manipulation where conventions like vacuum are not feasible. We enable warehouses to attractively justify automation not through just labor cost savings but due to throughput and storage density gains. We enable challenging high mix robot application by providing a low cost, highly flexible gripping platform. And we do it all with very low energy costs. I think this is the most disruptive technology for robotics since integrated machine vision.
Will you be selling kits or any electroadhesion products geared towards the hobbyist or people building experimental robots?
Initially we are selling prototype grippers meeting early customer specifications. We do have a simple demonstration configuration that we are selling as well.
Where do you see Grabit going over the next 5 or 10 years?
We have a product road map that starts with the "low hanging fruit", sheet handling. This would be glass panels, composite sheets, sheet metal, sheet glass, etc. We should be shipping production grippers in less than two years. We should be shipping case/box handling grippers to the logistics market in pilot mode soon and production mode in less than three years. We have other robot grippers that we should be shipping in both logistics and manufacturing in that timeframe. Longer term, (5-10 years) we see applications for recycle materials sorting and other applications.

About GRABIT
As reported on BBC Radio™, Discovery Channel™, Techcrunch™, Wired™, Gizmodo™, Technology Review™, San Francisco Chronicle™, CNET.com and others, Grabit's patented Electroadhesion-based gripping products will disrupt the world of robotics and material handling by providing a technique of holding or grasping objects with no actuation and little power required.
About Charlie Duncheon, Founder and CEO of Grabit, Inc.
2011 - Current
Founder and CEO of Grabit, Inc., a spin out company from SRI International commercializing electroadhesion technology.
February 2008-2011 EIG America, Inc. - President and CEO
Founder of EIG America, a lithium ion battery supplier.
2004-2008 Artificial Muscle Inc. - Sr. VP, Chief Executive Officer
A spin-off of SRI International building with SRI IP and venture funding commercializing electroactive polymer technology. Artificial Muscle, Inc. was sold to Bayer.
Adept Technology, Inc. - Executive Vice President
Joined Adept at startup phase and grew business to $75M by 1995 IPO and $120M by 2000. Responsible for worldwide sales, marketing and customer service along with other business P/Ls. Developed extensive worldwide value added channel including over 300 system integration companies.
FARED Robot Systems, Inc. - Vice President of Sales/General Manager
Joined FARED at startup phase and grew business to over $10M in three years in turnkey robot systems for the electronics and data storage industries. Successful IPO two years after startup.
Monsanto Corporation - Manager Corporate Industrial and Architectural Engineering
Started as design engineer for automation systems for Monsanto plants throughout the world. Promoted to Manager of the Automation and Architectural engineering group.
About Harsha Prahlad
Harsha Prahlad is the primary inventor of SRI International / Grabit's Electroadhesion technology and has pioneered its various applications in industrial material handling, wall climbing robots, US government and consumer applications. He is currently the team lead for Component Technologies in the SRI International Robotics program and acting CTO of Grabit Inc. He was previously involved in the technology development and spinoff of the company Artificial Muscle Incorporated, now acquired by Bayer Material Science. He also previously volunteered as the incubator program lead for Imagine H2O, which promotes entrepreneurship in the water sector. He holds 22 patents in a variety of technologies with another 10+ pending, and is an author of more than 30 publications. He holds an M.S. and Ph.D. in Aerospace Engineering (Smart Materials) from the University of Maryland, College Park and a Bachelor in Engineering from National Institute of Technology, Trichy, India. He was named one of "Silicon Valley's 40 Under 40 rising stars" by the Silicon Valley / San Jose Business Journal in 2011.
The content & opinions in this article are the author's and do not necessarily represent the views of RoboticsTomorrow
---
Comments (0)
This post does not have any comments. Be the first to leave a comment below.
---
Post A Comment
You must be logged in before you can post a comment. Login now.
Featured Product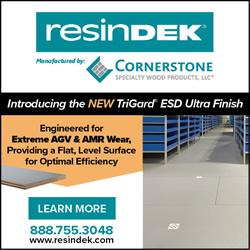 To maximize the productivity of an autonomous mobile robot (AMR) or automatic guided vehicle (AGV) deployment, it's critical to create the optimal environment that allows the vehicles to perform at their peak. For that reason, Cornerstone Specialty Wood Products, LLC® (www.resindek.com) created the TriGard® ESD Ultra finish for its ResinDek® engineered flooring panels. The TriGard ESD Ultra finish is ideal for high-traffic robotic applications characterized by highly repetitive movement patterns and defined travel paths.