Although the system was developed primarily for the inspection of orthopedic parts it can equally be used for the automated inspection of any critical parts, for example aeronautical.

Contributed by | ST Robotics
ST Robotics have collaborated in a joint venture with Lakeshore Vision and Robotics in Chicago in the development of an advanced vision inspection system. An ST R12 robot arm picks up the part to be inspected and lowers it into a chamber where a very high resolution camera takes multiple images. The robot rotates the part in front of the camera so an all-round inspection is possible. Measurements can be made down to 0.001mm resolution.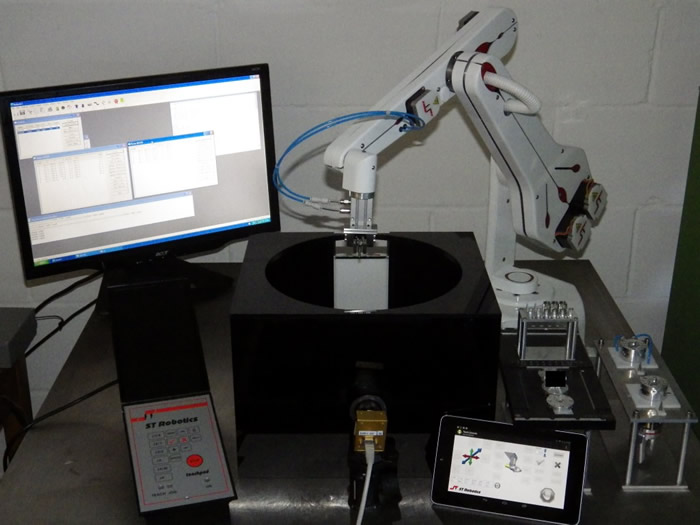 In this video the robot is also measuring the overall length of a part and sorting into bags:
The video also shows how different sizes or shapes of parts can be processed on the same system using automatic tool changers.
Basic modes of operation: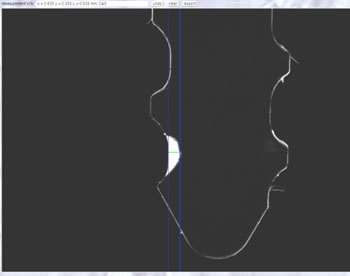 Golden Image comparison:
This where the part is compared to a known good part whose image is stored in the computer. The system shifts the images to totally align with the images of the golden part. Any difference is of course a defect and can be seen in the comparison images like the image to the right which shows a small defect and some debris.

Critical measurements:
This is where no comparison is made but the system takes measurements of critical dimensions and angles to very high precision and compared to the CAD drawings. Again it can take them from many different angles with the robot positioning the part as required.
The image to the left shows a typical part with a dimension added. The system can measure any dimension and compare to specifications entered from the CAD drawings.

Although the system was developed primarily for the inspection of orthopedic parts it can equally be used for the automated inspection of any critical parts, for example aeronautical.
ST Robotics have decades of experience in industrial robots having sold hundreds of robots over the years. The company has 3 main models, R12, R17 and R19 all using a unique simple industrial technology that dramatically reduces costs resulting in the lowest priced industrial robots available. The same uncomplicated technology vastly improves reliability. ST backs this up with a 2 year warranty. Typical applications are routine testing, sample handling and also education.
The software is a different paradigm from most robots. It is command based; you type a command and see immediate action. Programming is a building block approach, building confidence as you program in small 'mind-sized bytes'. ST offers free unlimited technical support.
The content & opinions in this article are the author's and do not necessarily represent the views of RoboticsTomorrow

ST Robotics
Manufacturer of low cost bench top robot arms with a unique approach to robotics. We have a range of robot arms for routine testing, manufacturing, sample handling, education and many others. Our robots are not only affordable but are incredibly easy to use - anyone can apply and program an ST robot regardless of experience or lack of it thanks to our acclaimed manuals and tutorials and unlimited free technical support.
Other Articles
ISO 15066 is the emerging standard for collaborative robotics and covers all aspects of robot safety. The ISO15066 definition of a collaborative workspace is the operating space where the robot system and a human can perform tasks concurrently.
Markets tend to fluctuate, for example we have not had much interest from the pharmaceutical world in recent years. However there has been a big increase in the use of robots for product testing.
There are 4 possible scenarios for collaboration between user and robot. The bottom line is that in truth the only safe way to work with a robot is to guard it.
---
Comments (0)
This post does not have any comments. Be the first to leave a comment below.
---
Post A Comment
You must be logged in before you can post a comment. Login now.
Featured Product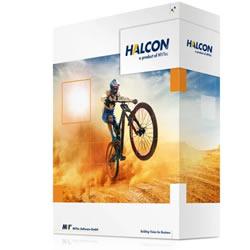 MVTec HALCON is the comprehensive standard software for machine vision with an integrated development environment that is used worldwide in all kind of industries. It enables cost savings and improved time to market. HALCON's flexible architecture facilitates rapid development of any kind of machine vision application. The software provides outstanding performance and a comprehensive support of multi-core platforms, special instruction sets like AVX2 and NEON, as well as GPU acceleration. The latest version HALCON 19.11 offers a wide range of new and improved machine vision functions. Particular emphasis was placed on the integration of further deep learning features. Now users benefit from massive simplifications for their applications, like faster inspection with anomaly detection, more transparency with the Grad-CAM heatmap and the support of ONNX format.