Controlled via a tablet by health professionals, Zora can lead a physical therapy class, read out TV programmes, weather forecasts or local news.

Contributed by | Zora Bots
Humanoid robots no longer belong to science fiction. The Belgian company Zora Bots is setting out to conquer the world with its disruptive and unique software especially designed for Aldebaran Nao and Pepper humanoid robots. Within two years the Zora application has become an indispensable reference in new generation robotics.
The Zora application is the first software able to give life to humanoid robots and make them available for senior health care use. The Belgian solution is the brain that makes using a robot simple. With already over 200 robots adopted all over the world, many of which in Europe, Zora has been unanimously received, both by health care professionals and by seniors themselves. Relationships between humans and robots have changed and the Zora Bots company is about to give it renewed momentum. The Zora application have brought many solutions for a lot of tasks in health care - Zora lives today with the elderly in residential care centers, livens up days in schools where Zora also helps young autistic children, but has also found its place in the hotel business where the robot offers a new experience to the clients. For the Zora Bots company, the retail market is the next step. The Zora solution makes using robots in real life simple, smart, enriching, powerful and useful.
Zora Bots ( former Zora Robotics Company) cares about people and makes technology care too.
In 2014 Zora Bots and Aldebaran joined forces to launch the ZORA solution for healthcare in Europe. Nao, the most famous humanoid robot in the world needed a solution to make it easier to use. Adelbaran created the shell and Zora Bots designed the application behind it.
Robots like Nao and Pepper are no longer just toys for experimentation in the closed circles of developers. Thanks to the Zora solution, these robots have become a real product and part of everyday life.
Two years later, the application has crossed the European borders and become widely adopted all over the world, mostly in the care sector, but also in the hotel business. Every day over 25,000 people interact with Zora.
Zora is the new companion in residential care facilities. Zora weighs only 5,7kg and stands just over 57cm (22 inch) but the humanoid robot arouses more than curiosity whenever Zora takes the floor or moves just a single finger.
Controlled via a tablet by health professionals, Zora can lead a physical therapy class, read out TV programmes, weather forecasts or local news.
Assisted living facilities adopt Zora to keep their residents entertained and keep them moving with dancing and exercise.
Thanks to the Belgian makers of the Zora solution, Fabrice Goffin and Tommy Deblieck, seniors establish a contact with a new kind of companion. Robots cannot do everything but they really can do what humans have no time to do or what they can't manage to do.
" This humanoid solution is not there to do just any jobs. She is a tool and like any other tool they have in a care facility for the elderly she is there to help " , Tommy Deblieck, co-CEO emphasizes. Furthermore, the robot is being studied as a way to reduce cognitive decline.
The Belgian solution is also being used in hospitals and psychiatric institutions.
In some cases, with elderly or autistic children, Zora shows solid enhancements in socialization issues.
Human beings are still superior, but Zora can also, to some extent, help fight the feeling of loneliness: "A lot of elderly people are actually feeling alone. Solitude is something which is horrible for a lot of elderly people. People don't have all the time to visit their families and they can find some kind of relationship with the robot and that is a nice thing to do " , explains Fabrice Goffin, one of the Zora's creator.
ZORA, A NEW GENERATION OF CLERKS IN THE HOTEL AND RETAIL BUSINESS
Zora Bots's first plan was to enter hotel business's market. And that plan worked too. Several hotels have already integrated the Zora solution as member of their front desk staff.
Because it offers a new vision of hospitality and also brings a new experience to their customers. Getting in contact with a humanoid robot is fun and convenient because Nao with the Zora solution is always available and has been developed to help and entertain.
According to Fabrice Goffin, Zora's Skills turn out to be very useful for repetitive tasks that hotels and stores have to manage (as providing dates and times, explaining customers policy, storytelling about the tourist area…).
The robot is equipped with cameras, loudspeakers and some microphones and is designed to perform human-like gestures: " We have been very careful in programming exactly how Zora interacts with people through human gestures such as blinking, making eye contact and slight head movements", specifies Tommy Deblieck. Tommy Deblieck and Fabrice Goffin both believe that the hotel and retail business market will really take off for the Zora solution.
The Zora solution is looked upon by professionals as a truly successful innovation. "We can customise it specically for each client, each application or request. Furthermore, we offer affordable pricing". All of this explains Zora's dazzling success.
KEY FIGURES
25,000 people make contact with Zora each day.
Over 200 Zoras adopted around the world.
Zora works with Aldebaran and its popular Nao and Pepper robots.
The Zora Solution is available from USD 295 per month.
The content & opinions in this article are the author's and do not necessarily represent the views of RoboticsTomorrow
---
Comments (1)
This is incredible and could help tremendously in the care sector particularly in the UK where funding is almost non-existent. It's wonderful to see the fascination and joy of the elderly, almost as if they have come back to life. I am sure this would make financial sense for so many care homes.
Post A Comment
You must be logged in before you can post a comment. Login now.
Featured Product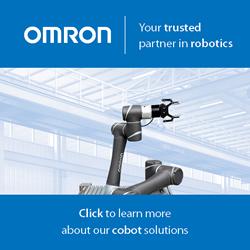 Humans and robots can now share tasks - and this new partnership is on the verge of revolutionizing the production line. Today's drivers like data-driven services, decreasing product lifetimes and the need for product differentiation are putting flexibility paramount, and no technology is better suited to meet these needs than the Omron TM Series Collaborative Robot. With force feedback, collision detection technology and an intuitive, hand-guided teaching mechanism, the TM Series cobot is designed to work in immediate proximity to a human worker and is easier than ever to train on new tasks.