Because of their enclosed structure with all the cables routed internally, the robots are ideally equipped to handle even the most extreme conditions.
Sensitive Environment Robots
Sebastien Schmitt | Stäubli
What makes Stäubli stand out from other robotics companies?
Stäubli stands out from the competition because of our commitment to clean, consistent performance. We produce the best-made robots in the world, which allows us to improve the manufacturing processes of our customers by providing unsurpassed consistency, precision, speed and safety. And safety means more than just ensuring our robots meet the most stringent safety guidelines available. It also means protecting our customer's production and their investments because of our commitment to quality and because of the versatility of our robots. Our robots are able to adapt to a number of manufacturing scenarios, which helps ensure our customers get the most out of their investment. We are flexible to meet all needs.
We also take a dynamic and cooperative approach to working with our customers, listening to their needs to come up with innovative solutions that increase their productivity. Our superior quality and service truly set us apart from the competition.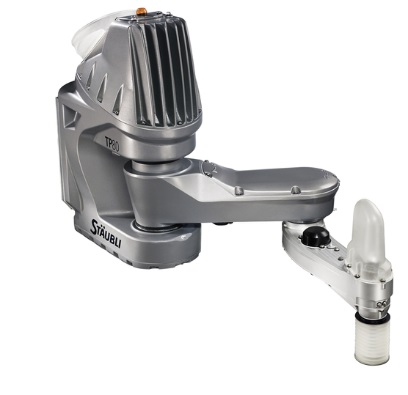 What are the main benefits and features of your new humid environment (HE) robots?
Stäubli's range of high-performance and special environment robots are designed to provide the optimum blend of rigidity, weight and compactness, ensuring consistent high performance over the lifetime of the machine, even in the most demanding applications. Stäubli has developed a proprietary patented drive technology for its six-axis robots rather than relying on standard transmission systems bought off the shelf. Because of their enclosed structure with all the cables routed internally, the robots are ideally equipped to handle even the most extreme conditions. Our new HE robots are ideal for use wherever high humidity, water spray or liquid coolants are widely used. They can easily be cleaned with detergents and hosed off with a water jet as part of the daily cleaning routine due to the rounded edges, smooth surface, pressurized seals, all of which ensure no liquid retention areas.
What other manufacturing environments can benefit from your sensitive environment robots?
Whether used for water jet cutting, for machining or for industrial parts cleaning, the Stäubli HE models offer the best performance available on the market. Our new HE robots can work alongside people in primary or secondary handling, process or packaging in the most sensitive food manufacturing environments, delivering cleanliness, consistency and performance. Outside of the HE robots, there are a number of additional Stäubli robots that can address a wide variety of needs. The sensitive environment robots also are perfect for automotive, pharmaceutical, electronics and life science.
Our ESD robots offer top-of-the-line protection against static electricity and serve as the perfect remedy for electrostatic discharge. We also offer Cleanroom and Super Cleanroom variants that comply with the most stringent requirements for wafer manufacturing. Finally, we've developed the world's first Stericlean robot, which truly is a breakthrough for robot-based automation in germ-free environments.
How big is the market for sensitive environment robots?
Sensitive environment robots serve the food, automotive, electronics, pharmaceutical and life science areas, all of which are very large markets in the United States as well as other countries. We see great potential for our sensitive environment robots to redefine performance in a variety of manufacturing scenarios for all of these markets. The flexibility of our machines has the potential to bring manufacturing to new levels.
How does Stäubli plan on adapting to changes in the manufacturing industry over the coming years?
Our robots are the most versatile on the market. Because of that, we are well positioned to react to changes in a variety of manufacturing environments. Stäubli is a mechatronics company with multiple divisions that have a crossover impact that allows Stäubli to have the leading edge in technological development. The company spends a minimum of 10 percent on research and development every year to keep Stäubli serving our customers with the most cutting-edge developments.
What is Industry 4.0 and how does that relate to robot development in the future?
Industry 4.0 is a term that describes the emergence of the smart factory. As the manufacturing sector incorporates more and more technology into their processes, there is an ever-increasing amount of data that can be collected, analyzed and coordinated along the manufacturing chain to improve efficiency.
Robots can relay production data to IT systems further up the chain to provide a basis for networking production with the digital world. Also, with the web server technology of our control system and corresponding apps, Stäubli customers can check up on their robots from anywhere in the world – whether by phone, tablet or laptop.
Stäubli will be introducing a new robot at Automate to formally illustrate Stäubli robots in the Industry 4.0 environment.
How does Stäubli work with customers to improve their production processes?
At Stäubli, we take a cooperative approach to our business that emphasizes listening to our customers to provide innovative solutions to increase their productivity. Our developers closely monitor the business landscape, act promptly on customer feedback and work to continuously improve our robots in all areas, including programming, technical performance and service. Stäubli's presale activities including simulation processes, cycle times and proof of concept to assist customers in finding ways to improve production while saving money and protecting their investments.
Do you foresee any disruptive technological developments in the near future that would affect the robotics industry?
Stäubli is ever-pursuant of technological improvements that will continue to help our level of service to our customers.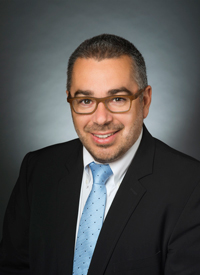 About Sebastien Schmitt
Sebastien Schmitt, Stäubli Robotics Division Manager, North America, joined Stäubli in 1995. As a computer science, mathematics and technology graduate, Schmitt started with Stäubli as an Applications Engineer in both France and the United States, and then was promoted to Industry Dedicated User Interface Software Manager where he led the development of Stäubli's Valproducts, a suite of plug-and-play market solutions, perfectly adapted for all users. Prior to coming to the U.S., Schmitt was the Global Technical Support Manager for Stäubli.
The content & opinions in this article are the author's and do not necessarily represent the views of RoboticsTomorrow

Staubli Corporation
Stäubli is a leading manufacturer of textile machinery, quick release couplings and robotics systems. With a workforce of over 4500 employees Stäubli is present in 25 countries supported by a comprehensive distribution network in 50 countries worldwide. Stäubli's North American headquarters is located in Duncan, South Carolina and has over 200 employees supporting Textile, Connectors and Robotics customers, with a dynamic sales force strategically placed on the West Coast, Canada, Mexico, and elsewhere throughout the continent.
Other Articles
When you visit us at booth 2632, you will be able to experience a live demo of our robotic tool changer system, as well as our new end-of-arm-tooling solutions for material handling in automated manufacturing processes including gripping, suction, and cutting.
When you visit us at booth 3323 , you will be able to experience a live demo of our robotic tool changer system, as well as live presentations throughout each day.
Last month, Stäubli introduced 5 new models of tool changers to round out our MPS product line. These new models open up much of the smaller payload robots to using tool changers.
---
Comments (0)
This post does not have any comments. Be the first to leave a comment below.
---
Post A Comment
You must be logged in before you can post a comment. Login now.
Featured Product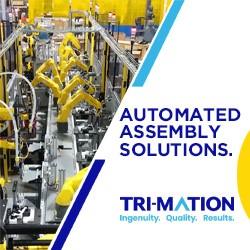 Tri-Mation reduces labor costs, improves accuracy, and production speed. Our integrators specialize in building automated assembly manufacturing systems for part production in any required volume or level of complexity.