One of the major ways in which drones may change the way we drive and travel is by helping first responders to clear road collisions much more quickly and efficiently.
How Drones Can Change the Way we Drive
Giles Kirkland
We are constantly seeing rapid developments within the drone market, both with commercial and personal applications. There is much excitement around the potential to combine drones with other, equally fascinating, innovations in the automotive industry.
These combinations could provide great advancements in road safety and the methods in which we travel. In this article we explore some of the ways that drones may change the way we drive.
Quick Incident Investigation
One of the major ways in which drones may change the way we drive and travel is by helping first responders to clear road collisions much more quickly and efficiently.
Typically, responders will have to map an accident scene before it is cleared. This information is used for any legal or insurance proceedings that may take place after the event. Recording these details usually takes a considerable amount of time and with plenty of room for error to be made. Drones have already been used in the USA to help responders to investigate, record and quickly clear collision sites.
In terms of the technology used, it is fairly simple. Using a drone and a laptop allows for geotagged photos to be stitched together of the collision site. This creates a full and detailed picture of the scene, allowing the user to determine what drivers might have seen moments before impact.
The Self Drive Revolution
For those that are interested in the innovations of self-driving cars, you are likely aware of some of the concerns involving their safety. This is almost certainly the biggest blocker for this technology being widely adopted, so a lot rides on it remedy.
New concepts from design firm Box Clever have shed some light on how drones may be able to mitigate autonomous vehicle safety concerns. Practically, drones attached to cars would provide essential foresight data and therefore mitigate potential road collisions.
The deployed drone would allow the car to collect data further down the road and make decisions based on a full scope of information. This information would avoid the need for the car to make the decision between the life of pedestrians over the life of those inside the vehicle. This allows the systems that control the vehicle to become more efficient based on the information it has received.
Flying Cars
Probably the most outlandish, but potentially achievable new car technology is combining drones with cars themselves. A recent article by Deloitte explores the technologies and innovations that may make 'flying cars' a reality. The authors highlight that the technology needed for 'passenger drones' to operate is actually developing faster than we might expect.
Either piloted remotely, manually or fully autonomous, these vehicles would likely be electric or hybrid-electric quadcopter type aircraft. Their application could be used both for the movement of people as well as carrying content between destinations. Typically, it is likely these passenger drones would have a short to medium range, reaching up 65 miles in total.
Safer Roads
Potholes, traffic and bad drivers. As a driver, those words may well have sent shivers down your spine. Drones could be the answer to solving, or at least lowering the risk many of these issues appearing.
In fact, drones fitted with cameras have already successfully been deployed on roads in Mumbai. They worked to monitor a stretch of highway renowned for accidents and road deaths. Primarily they were used for spotting speeding trucks that were jumping lanes. This information was then used by the police to pull over and fine dangerous drivers.
Similar technologies could be used to quickly survey road conditions, meaning problems areas are quickly identified and dealt with.
Car Insurance
Car insurance companies may also start to use the data collected from drones to more accurately estimate their premiums.
For example, those that drive on roads that are identified as high risk or in bad condition may expect to pay higher premiums. Whereas those that avoid these roads may see a dip in their insurance costs. A rather unlikely alternative is that insurance companies begin to deploy their own drones to watch out for drivers with bad habits, noting there details and increasing their premiums.
It is clear that drones have a huge potential to drastically change the way we drive. Combining advancements in technology could complete change the transportation landscape, both in terms of the levels of safety and the methods we use to travel.
As these technologies continue to develop new and exciting ways in which drones can be used to change the way we drive are likely to be found. We can only imagine what these changes may mean in practicality.
About Giles Kirkland
Giles is an experienced car expert with passion for new automotive technologies. He constantly researches on the latest studies, cutting-edge findings, and perspectives for the future. He writes articles and shares his expertise at Oponeo and on Twitter.
The content & opinions in this article are the author's and do not necessarily represent the views of RoboticsTomorrow
---
Comments (0)
This post does not have any comments. Be the first to leave a comment below.
---
Post A Comment
You must be logged in before you can post a comment. Login now.
Featured Product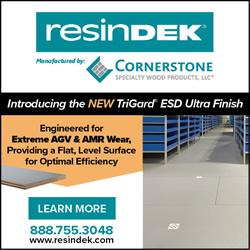 To maximize the productivity of an autonomous mobile robot (AMR) or automatic guided vehicle (AGV) deployment, it's critical to create the optimal environment that allows the vehicles to perform at their peak. For that reason, Cornerstone Specialty Wood Products, LLC® (www.resindek.com) created the TriGard® ESD Ultra finish for its ResinDek® engineered flooring panels. The TriGard ESD Ultra finish is ideal for high-traffic robotic applications characterized by highly repetitive movement patterns and defined travel paths.