One Master-and-Tool plate pair picks up and holds the protective cardboard in place, while the other Master-and-Tool plate pair carries the staple gun to the load and secures the cardboard pieces to the finished bundle.

Contributed by | ATI Industrial Automation
The Robotic Cardboard Applicator System from PRE-TEC offers Oriented Strand Board (OSB) manufacturers a way to protect their products during transit and helps keep inventory costs low. PRE-TEC developed an innovative set up for this application; Tool Changers from ATI Industrial Automation increase productivity, but keep the system's footprint small.
PRE-TEC's system is convenient for manufacturers. It provides a one-step, value-added, finishing process that helps to ensure the OSB arrives at its final destination in perfect condition. OSB products are distributed by rail, truck, or ship, where moisture and extreme temperatures can warp the exposed boards. Manufacturers incur significant chargeback fees for defective boards; thus protecting the OSB loads is a critical step in managing inventory costs. Prior to the implementation of this system, protective cardboard sheets were applied post-production by hand, if they were used at all.
ATI's Tool Changers are integral in providing flexibility to this application. Electrical power and air must be supplied to the end-of-arm tooling, but ATI's diverse selection of Utility Modules can easily accommodate these requirements. What's even more enticing is that the reliability of ATI's Tool Changers ensures that each system will yield repeatable results for millions of cycles.
The Robotic Cardboard Applicator System features two Master plates and Tool plates used in tandem to maximize the productivity of the robot. One Master-and-Tool plate pair picks up and holds the protective cardboard in place, while the other Master-and-Tool plate pair carries the staple gun to the load and secures the cardboard pieces to the finished bundle. With this innovative configuration, the system consolidates two tasks in one step. Processing time for each load is just 55 seconds, much more efficient than wrapping the bundles by hand. The system pays for itself by increasing throughput for customers and minimizing profit loss from damaged inventory.
Brian Clark, Design Engineer at PRE-TEC, developed the cardboard applicator system. When asked why they chose ATI Tool Changers, he said, "We use ATI products because they work!" In these custom applications, there is a multitude of factors to consider: design, customer requirements, and outsourced components. For PRE-TEC, using ATI equipment means there is one less variable in the equation, and that they can have confidence that the parts will work and last the life of the system.

ATI's Tool Changers complement PRE-TEC's uniquely-configured finishing process by providing flexibility and reliability in a simple one-step solution. For OSB manufacturers who want to maximize the ROI and reduce chargebacks from distributors, the Cardboard Side Protector just makes sense!
PRE-TEC offers flexible automated solutions, in the form of advanced technology systems that provide process improvements able to meet expectations for speed, accuracy, flexibility, and optimal throughput in all types of manufacturing and assembly environments.
The PRE-TEC Equipment Division supplies six-axis robot arms, custom built end-of-arm tools, and conveyance systems in the form of integrated manufacturing cells for finishing, material handling, and welding.
The content & opinions in this article are the author's and do not necessarily represent the views of RoboticsTomorrow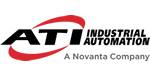 ATI Industrial Automation
ATI INDUSTRIAL AUTOMATION is the world-leading engineering-based developer of robotic accessories and robot arm tooling, including Automatic Tool Changers, Multi-Axis Force/Torque Sensing Systems, Utility Couplers, Material Removal Tools, Robotic Collision Sensors, Manual Tool Changers, and Compliance Devices. Their robot end-effector products are found in thousands of successful applications around the world. Since 1989, their team of mechanical, electrical, and software engineers has been developing cost-effective, state-of-the-art end-effector products and solutions that improve robotic productivity.
Other Articles
We will have a large variety of robotic demonstrations featuring the latest ATI Tool Changers, Material Removal Tools and Force/Torque (F/T) Sensors as well as technologies from our automation partners.
Producing the world's most advanced air defense missile requires technological innovation, especially when annual production is set to increase to 500 by 2024.
ATI has pulled out all the stops for our IMTS 2022 exhibit, with our largest booth, largest show staff and most robotic demonstrations ever! In addition, we have a variety of newly-released Force/Torque Sensors, Material Removal Tools, and Robotic Tool Changers
---
Comments (0)
This post does not have any comments. Be the first to leave a comment below.
---
Post A Comment
You must be logged in before you can post a comment. Login now.
Featured Product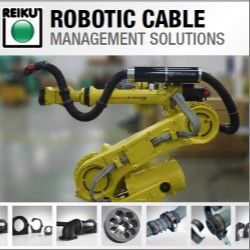 REIKU's Cable Saver™ Solution eliminates downtime, loss of revenue, expensive cable and hose replacement costs, maintenance labor costs. It's available in three sizes 36, 52 and 70 mm. All of the robots cables and hoses are protected when routed through the Cable Saver™ corrugated tubing.The Cable Saver™ uses a spring retraction system housed inside the Energy Tube™ to keep this service loop out of harms way in safe location at the rear of the Robot when not required. The Cable Saver™ is a COMPLETE solution for any make or model of robot. It installs quickly-on either side of the robot and has been tested to resist over 15 million repetitive cycles. REIKU is committed to providing the most modular, effective options for ensuring your robotic components operate without downtime due to cable management. www.CableSaver.com