Support robots are already a factor in Japan, where a quarter of the population is already greying. Japan's Ministry of Economy, Trade and Industry expects the robotic service industry to grow to nearly $4 billion annually by 2035—25 times its current level.
Companion Robots for Seniors
Len Calderone for | RoboticsTomorrow
For many seniors, companionship can change their incentive to participate in everyday activities. Seniors can have a hard time keeping busy and active. This is especially true if they are retired and living alone. Leading a secluded life can result in a lack of desire to keep their home tidy, prepare adequate meals, and look after themselves. This could lead to depression, or the inability to socialize. Should a senior have mobility issues or painful arthritis in their hands, they are not likely to be as active as they should.
In the computer age we can communicate with friends and family across the country or around the world with just a few clicks of a mouse or taps on a smart phone screen. Despite advances in communications technology, research shows that we are lonelier than ever and no other age group feels loneliness more than the elderly.
Aging produces many changes that influence a solitary life. A big issue for seniors is that their social circles begin to shrink over the years. Friends and family members move or pass away. Even people who still live nearby may not be available because of limited mobility, especially when a senior loses the ability to drive safely. Changes in a senior's physical condition, such as hearing and vision loss can make it so problematic to communicate that it doesn't seem worth the effort.
Now comes the robot caregivers that are saving the elderly from lives of loneliness. These support-bots will help seniors stay mentally and socially engaged. Being old and alone can kill you.
Support robots are already a factor in Japan, where a quarter of the population is already greying. Japan's Ministry of Economy, Trade and Industry expects the robotic service industry to grow to nearly $4 billion annually by 2035—25 times its current level. Europe and the U.S. aren't facing the same shortfall of qualified human caretakers that Japan is, but these two regions are fast-tracking the growth and adoption of support robots.
Service robots are beginning to take over for human caregivers. The Care-o-bot from Fraunhofer IPA has been installed in a number of German assisted living facilities. It takes food and drinks to the residents from the kitchen, and keeps the occupants entertained by playing memory games to help keep their minds sharp.
Fraunhofer IPA's Care-O-Bot is designed to enable seniors in need of some assistance to continue living in their own homes and to postpone an upsetting move to a nursing home for as long as possible. The engineers have taught the robot to move around without bumping into the furniture and how to grip certain objects. This robot demonstrated its appeal for transportation services and make sure that the residents drank enough water throughout the day.
A report from the U.S. Administration on Aging states that more than 30%, or well over 11 million seniors, live alone. BUDDY, the companion robot, is designed to be an excellent companion for senior citizens. BUDDY can help with the welfare of senior citizens at home by providing social interaction and assistance. It can remind them about upcoming events, appointments and deliveries. BUDDY can monitor the homes of seniors who choose to live alone by detecting falls and unusual activity as well as provide medication reminders. In addition, BUDDY can ease loneliness with social interaction by accessing communication technology, such as Skype and Facetime.
Live pets are great companions for seniors who live alone. The problem is that many seniors are unable physically to take care of them or they forget to feed their pet. Those concerns go away when the pet is a robot.
The JOY FOR ALL brand launched three years ago by Hasbro was designed specifically for seniors. It is a realistic "pet" designed to bring joy, companionship, and happiness to aging loved ones. The Joy for All companion pet cats look, feel and sound like real cats. They have soft fur, soothing purrs and pleasant meows. These cats respond to petting, hugging and motion much like the real ones except they don't require any special care or feeding. This personally intense experience can bring joy and comfort to aging loved ones without any vet bills to worry about.
With BarkBack technology and a soft, built-in heartbeat, the JOY FOR ALL companion pet pup is lifelike. It looks, sounds, and feels like a real dog. When the pup's owner speaks, it looks toward him/her and reacts with realistic puppy sounds.
The new Telenoid R1 is designed to appear and to behave as a minimalistic human. With a quick glance, one can recognize the Telenoid as a human. Because of its minimal design, it comes across as both male and female, as well as both old and young. It's soft and pleasant skin texture and small, child-like body size allows one to enjoy hugging and communicating with it easily.
The lap-sized Telenoid robot lets seniors talk remotely with users through a microphone and camera. Devoid of facial expressions, bodily features, and gender markers, Telenoid allows users to focus on communicating.
Paro is a therapeutic seal robot for patients with Alzheimer's disease and other cognition disorders, which helps improve brain function. Elderly subjects with cognition disorders were invited to interact with Paro. Studies have shown that robot therapy, involving Paro in facilities for the elderly, generates expressions and behavior in the patients that are equivalent to those in healthy people. Interaction with Paro enriches brain function in seniors with cognitive disorders and averts the development of such disorders in healthy people. Furthermore, seniors who expressed a positive attitude towards Paro displayed a greater response to therapy.
ElliQ is a companion robot named after the Norse goddess that represents old age. ElliQ is a tabletop robot that lights up when you call her name. ElliQ does not have a face, arms or legs, but it talks while keeping her human companion active and engaged. The robot mimics head movements to interact with the user.
She can look down, look up, and express excitement. ElliQ as a user-friendly social companion. She answers the phone, reads emails and plays music for her human companion.
People around the world are living longer, and the way that they grow old is shifting and the number of older adults living alone is significantly increasing with fewer multi-generational families living together. To help the elderly with loneliness, social isolation and depression, companion robots fill the need.
The content & opinions in this article are the author's and do not necessarily represent the views of RoboticsTomorrow
---
Comments (0)
This post does not have any comments. Be the first to leave a comment below.
---
Post A Comment
You must be logged in before you can post a comment. Login now.
Featured Product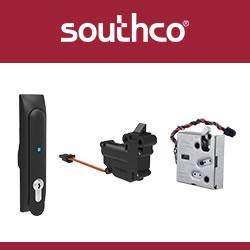 Many robotics engineers need to securely mount and latch sensitive electronic components in their robotics applications; Southco is able to help reduce theft and vandalism with our proven and reliable access technologies. Learn how Southco can help secure your robotics, or other smart city application, from theft and vandalism.