Hirebotics understands that an automation solution is much more than purchasing new equipment. Their business model enables customers to hire a robot, trained and ready, to perform a job just as they would a contract employee. The robots are paid per minute of work ...
ATI F/T Sensors Give Hirebotics a Better Feel for the Job
Contributed by | ATI Industrial Automation
Hirebotics out of Nashville, TN, is on a mission to make automation more accessible. After years in the manufacturing industry, Hirebotics understands that an automation solution is much more than purchasing new equipment. Their business model enables customers to hire a robot, trained and ready, to perform a job just as they would a contract employee. The robots are paid per minute of work and can be fired if they aren't performing to specifications. In this way, Hirebotics allows their customers to take advantage of automation technology and retain employees without needing to become experts themselves.


Hirebotics Gripper and ATI's Axia80 mounted to a Universal Robot
Robots and robotic automation projects consume a lot of resources. Beyond an initial investment into the equipment and integration, maintenance and support are required for the life of the project as well. Depending on the scale of the application, service and support may be outsourced or become the responsibility of a full-time employee or team. These are just some of the reasons manufacturers can become overwhelmed when considering a robotic endeavor.
Hirebotics takes the pressure off their customers by shouldering the burden of these unknown variables. They design solutions based on their customer's unique applications, select the right equipment, and program it to execute the required task. They also service and troubleshoot all their robots in the field. The entire fleet is cloud-connected which means processes can be monitored and controlled from anywhere. Customers get to name their robots, too. Hirebotics believes this level of personalization helps employees engage with the new technology in a positive way. The high degree of visibility, plus years of experience in various aspects of manufacturing automation, enables Hirebotics to bring custom-designed automated solutions–plus 24/7 maintenance and support–within reach of many manufacturing outfits.
If automated solutions have anything in common, it is that they are all subject to unexpected challenges. Hirebotics has partnered with leading end-effector developer ATI Industrial Automation and cobot pioneer Universal Robots (UR) to optimize the flexibility and reliability of their systems. In the Los Angeles area, Troy CSL hired a Universal Robot equipped with a custom Hirebotics gripper and ATI's Axia80 Force/Torque (F/T) Sensor. The robot, which they named "Brobot", performs a complex machine tending job.
The objective in this particular application was to streamline equipment needs and maximize the work envelope by having the robot complete many tasks, such as opening and closing a door and loading and unloading different types of parts, with a single end-effector. That end-effector would need to manipulate objects and possess a dynamic sense of touch to execute the process successfully. If only robots could feel…
ATI's Axia80, mounted between the robot wrist and gripper, provides a link between the robot and its environment. ATI F/T sensors are optimized for high accuracy and precision with a quick data sampling rate. They allow the UR10 Robot to feel and quickly react to changes in surroundings while flawlessly managing the tight workspace. The Axia80 enables the robot to differentiate between gripping a door handle and a part, to detect minute variation between parts of different materials, and to stage the part correctly in the machine.
Matt Bush, a co-founder at Hirebotics, says of ATI's F/T Sensor, "This specific job required the gripper to incorporate a 90° offset to minimize the work area consumed by the wrist of the robot. The Axia80 handled this without issue." For a plant manager, this is the best case scenario, and to date, "Brobot" is still happily employed at the Troy CSL plant.
Completing a new automation project in-house requires successful management of several variables and some knowledge of automation technology. For many manufacturing operations, a project of this magnitude seems unrealistic. Hirebotics designs, deploys, and maintains each of their robotic solutions allowing customers to make more efficient use of their time and money. Their objectives are directly in line with the priorities of their customers: to achieve hands-free, automated solutions that work! In case you are wondering, the robots are not replacing human workers. Instead, they are taking over dangerous, repetitive tasks as laborers are promoted into jobs that rely on their knowledge and experience.
When asked why Hirebotics prefers working with ATI F/T Sensors, Bush said "The reason we ultimately chose the Axia80 is the precision from the force readings." He explains that the fine resolution sensor is extremely accurate, "If we want to target two newtons, that is exactly what we get!" Bush confirmed that Hirebotics integrated the Axia80 in a variety of applications reading less than ten newtons (or about 1.01 kilograms of force) with great success.
Hirebotics is making collaborative automated solutions accessible by leveraging their expertise with trusted products from suppliers like ATI and Universal Robots. "Brobot" and other Hirebotics solutions using ATI's F/T Sensors skillfully execute complex processes using a sense-of-touch. These robots are enabling customers in a variety of manufacturing fields to take advantage of automation without having to become experts, terminate employees, or make significant capital investments. The future of manufacturing deploys automation technology so that people can work smarter and stay safe. With the help of products from ATI and UR, Hirebotics does the heavy lifting so their customers can stay focused on getting things done.
The content & opinions in this article are the author's and do not necessarily represent the views of RoboticsTomorrow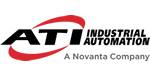 ATI Industrial Automation
ATI INDUSTRIAL AUTOMATION is the world-leading engineering-based developer of robotic accessories and robot arm tooling, including Automatic Tool Changers, Multi-Axis Force/Torque Sensing Systems, Utility Couplers, Material Removal Tools, Robotic Collision Sensors, Manual Tool Changers, and Compliance Devices. Their robot end-effector products are found in thousands of successful applications around the world. Since 1989, their team of mechanical, electrical, and software engineers has been developing cost-effective, state-of-the-art end-effector products and solutions that improve robotic productivity.
Other Articles
We will have a large variety of robotic demonstrations featuring the latest ATI Tool Changers, Material Removal Tools and Force/Torque (F/T) Sensors as well as technologies from our automation partners.
Producing the world's most advanced air defense missile requires technological innovation, especially when annual production is set to increase to 500 by 2024.
ATI has pulled out all the stops for our IMTS 2022 exhibit, with our largest booth, largest show staff and most robotic demonstrations ever! In addition, we have a variety of newly-released Force/Torque Sensors, Material Removal Tools, and Robotic Tool Changers
---
Comments (0)
This post does not have any comments. Be the first to leave a comment below.
---
Post A Comment
You must be logged in before you can post a comment. Login now.
Featured Product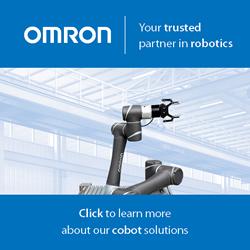 Humans and robots can now share tasks - and this new partnership is on the verge of revolutionizing the production line. Today's drivers like data-driven services, decreasing product lifetimes and the need for product differentiation are putting flexibility paramount, and no technology is better suited to meet these needs than the Omron TM Series Collaborative Robot. With force feedback, collision detection technology and an intuitive, hand-guided teaching mechanism, the TM Series cobot is designed to work in immediate proximity to a human worker and is easier than ever to train on new tasks.