Booth #7154 - Our booth features four different application clusters for machine tending, packaging, assembly and processing. We chose to focus on these applications as they are currently experiencing a significant demand for cobot automation.

Contributed by | Universal Robots
Tell us about your company.
Universal Robots has lowered the automation barrier by placing robotics within reach of even small operations that view robotics as costly and complex. Our collaborative robots, or cobots, deliver all advantages of advanced robotic automation with none of the added costs usually associated with robot programming, set-up, and shielded work cells. And after a risk review, most applications do not require safety fencing or shielded work cells.
Your company will be exhibiting at AUTOMATE, what is it that makes this an important event for your company?
Automate is the most comprehensive automation show in North America and naturally a very important show for UR. Our business case is made in the personal interactions with visitors that in hands-on demos marvel at how flexible and easy our cobots are to program and operate. A show with 20,000+ visitors is a unique opportunity to deliver as many of these hands-on experiences as possible.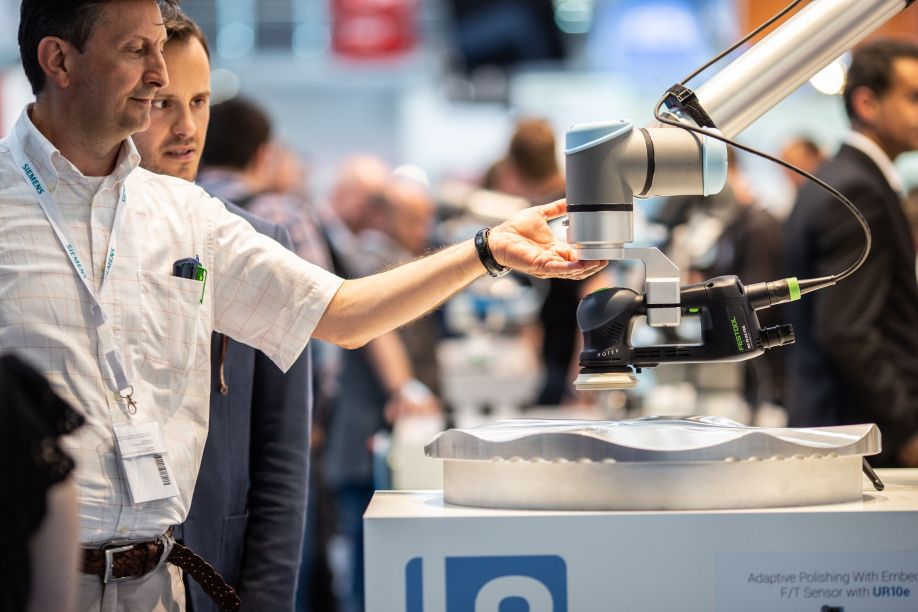 What makes your booth a must visit for AUTOMATE Attendees?
Our booth this year is a "must visit" as it actively addresses the primary business challenge manufacturers currently face; labor shortages. We will showcase how we work with our rapidly expanding partner network to develop solutions tailored to address the industries and applications hardest hit by hiring challenges. Our booth features four different application clusters for machine tending, packaging, assembly and processing. We chose to focus on these applications as they are currently experiencing a significant demand for cobot automation. These are also tasks where our cobots consistently deliver ROI of less than a year, often paying themselves back in a few months as cobots typically deploy up to 50 percent faster than traditional automation.
Automate 2019 is the U.S. launchpad for several new UR+ products. UR+ is a platform that connects UR cobot users to an ecosystem of partners providing UR-certified, ready-to-use cobot accessories such as grippers, vision systems and software. Debuting in the packaging application area as UR+ products are Dorner's 2200 Series Conveyor and SKF Motion Technologies' LIFTKIT.
Our assembly cluster will surprise many that still perceive cobots as unable to handle robust, industrial applications. The screw-driving applications include a UR10e utilizing an Atlas Copco Nutrunner to install bolts into a six-cylinder engine block provided by an active UR customer. This application involves high-torque screw-driving and will change the mind of attendees with the perception that cobots are light-duty. Many won't believe that the cobot can handle the force back exerted during actuation, so we look forward to proving them wrong.
Another myth our Automate booth is seeking to dispel is the notion that cobots are not suited for processing applications such as spraying, polishing, dispensing, and sanding. Process automation is not what cobots have been traditionally known to handle, but we're starting to see applications deploying quickly in these verticals. A recent example is Dynabrade's robotic sanders that come in a UR+ kit including vacuum-ready pneumatic sanders, robot mount, and a solenoid enabling robotic operation. At Automate, the sanders will be shown in a polishing application with a UR10e.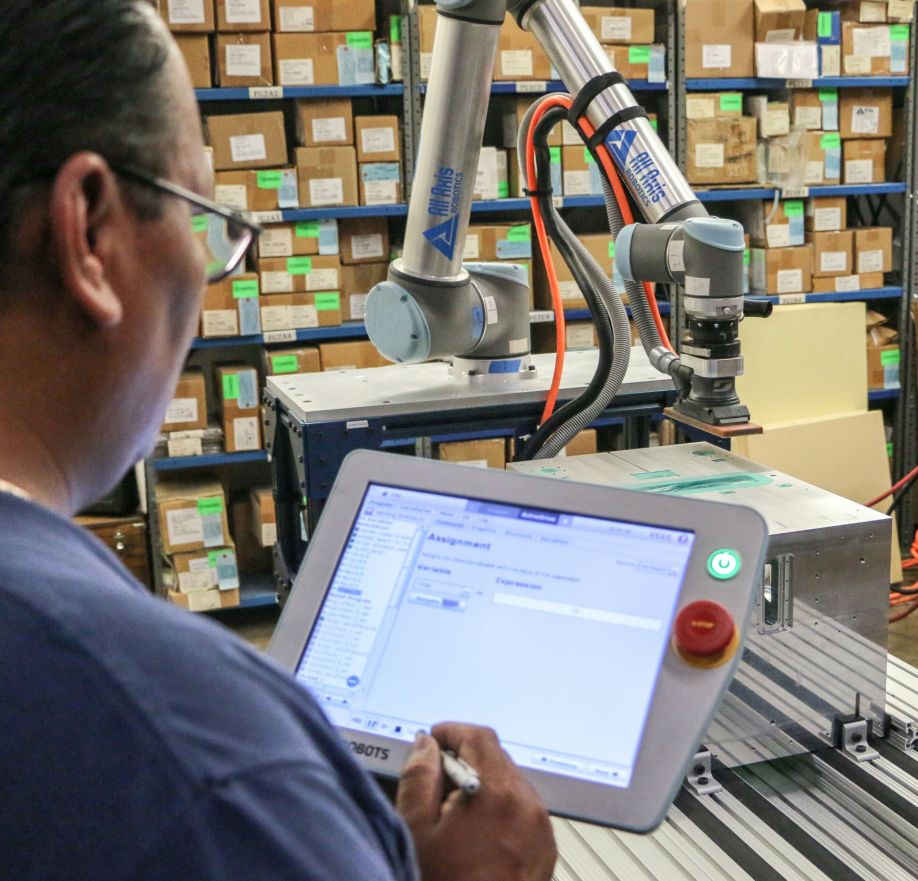 The processing applications are supported by the new built-in, tool-centric Force/Torque sensor now available in our new e-Series line of cobots that launched last year. The sensor enables the new UR cobots to take on applications requiring force control right out of the box, such as assembly, sanding, buffing, polishing, and deburring where force feedback is paramount in order to obtain uniform results and repeatability.
AUTOMATE has many educational sessions, forums & Demo's, is your company involved in any of them this year?
We are delighted to be participating in several presentations as part of the Automate Conference this year:

Monday, April 8, 1:30-2:30pm:
"Safety Implications of Collaborative Applications"
Roberta Nelson Shea, Global Technical Compliance Officer with Universal Robots

Tuesday, April 9, 3:30-4:30pm:
"Innovating the Work Place with Collaborative Robots"
Stuart Shepherd, Regional Sales Director, Universal Robots' Americas division and Brian Pelke, President, Kay Manufacturing.
In this joint presentation Kay Manufacturing shares insights on the benefits achieved by deploying UR cobots

Wednesday, April 10, 10-11am:
"The Human Touch Revolution: Welcome to Industry 5.0"
Jürgen von Hollen, President of Universal Robots.
Our president will discuss the new trend aiming to bring back the human touch in production. The trend is dubbed Industry 5.0 -- or collaborative industries.
When you get a chance to walk the exhibit hall floor yourself, what is it you will be most interested to see? Any educational sessions, pavilions etc. you plan on attending?
Automate 2019 marks the largest fleet of UR cobots on display at a trade show in North America to date. More than 80 of our collaborative robots in 34 different show booths will be showcased this year, a testament to the wide range of tasks and solutions now automated by UR. The cobots on display will handle vision-guided product inspection, pick parts off conveyors on the fly, ride on top of mobile robots while performing machine tending, perform live robotic sorting and induction into put walls and pouches, add 7th axis capabilities, hand giveaways to attendees, play golf on a putting green, and much more. Our news center has a list of all 34 UR cobot exhibits at Automate and ProMat. We will also be handing out a map to our booth visitors that will help them locate them all. We're of course incredibly excited to walk the show floor and visit with all of them; 22 of the exhibitors are now part of our UR+ program.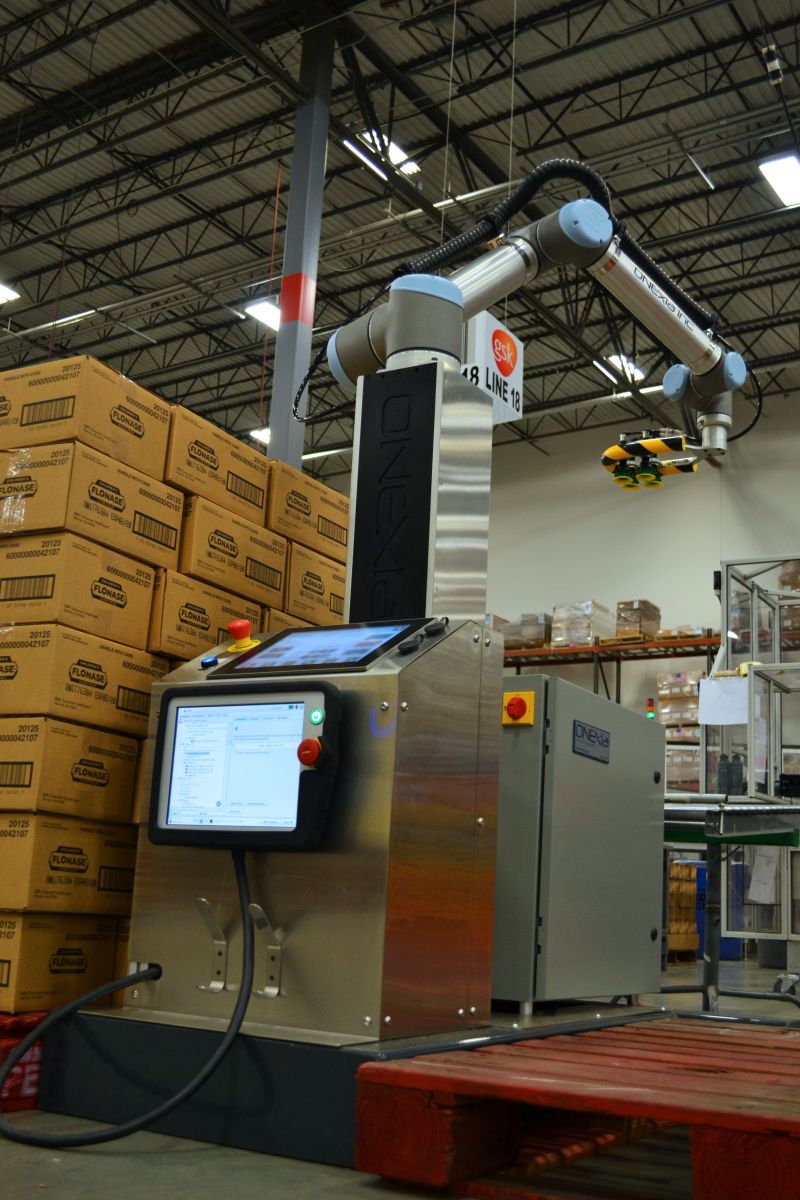 Give us your thoughts on what the future holds for manufacturers and automation technology.
In the factory of the future, we will continue to see the robot as a colleague that works right next to us in close collaboration, not simply as a machine that takes over manual labor and gets people fired. Employees with no prior programming experience are now promoted from operators to robot programmers as the robot takes over the "3D jobs" – the Dull, Dangerous and Dirty. The result is an improved work environment where humans are freed up to focus on more rewarding tasks – both financially and mentally. Putting knowledge back to the factory floor will perhaps be the best long-term result derived from leveraging collaborative robots. The industrial revolutions created enormous wealth, but at the same time it has removed passion and knowledge about the product from production itself. If we can close that gap again — if we can somehow mix people and machines in the right way on the factory floor, we see enormous potential there for value adding, rather than just cranking up production levels. It's qualitative change.
If you would like please provide contact information for a reader to setup a booth demo.
To set up an appointment for a booth demo or visit, please contact ur.na@universal-robots.com
The content & opinions in this article are the author's and do not necessarily represent the views of RoboticsTomorrow
---
Comments (0)
This post does not have any comments. Be the first to leave a comment below.
---
Post A Comment
You must be logged in before you can post a comment. Login now.
Featured Product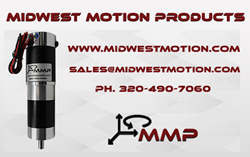 MMP specializes in supplying high-quality Brushed & Brushless DC Motors & Gearmotors for Robotics and Automation Equipment with a wide range of motor windings and gear ratios. With an impressive track record of more than 8,000 released DC Gearmotors designs and over 2,000,000 individual part numbers, we are renowned for our ability to handle large-scale orders. Due to our huge on-hand inventory, we are also well known for lightning-fast delivery of our standard products. We take pride in our dedicated customer service and our team of knowledgeable sales and engineering experts who are ready to assist you with custom design solutions tailored to your specific application. Additionally, we also offer a wide range of complimentary products, such as DC Motor Controls, DC Linear Actuators, AC-DC power Supplies, and DC Servo Amplifiers and others.