Using ATI's QC-11 Tool Changer and Tool Stands, the Autocalibration Kit enables each system to recalibrate before moving on to the next inspection job.
Automated Inspection with Automatic Tool Changers
Contributed by | ATI Industrial Automation
Creaform specializes in portable 3D measurement and analysis technologies. From handheld scanners to turnkey inspection cells, Creaform helps its customers increase quality and productivity through the design and manufacture of cutting-edge products. Fully-automated, quality control inspection solutions such as the new MetraSCAN 3D-R and CUBE-R offer users versatility, reliability, and speed without compromising accuracy. They are also entirely hands-free which increases safety.
The MetraSCAN 3D-R utilizes a patented optical scanner mounted to a robot arm for increased flexibility; it can be deployed in a new system or retrofitted to an existing application. The CUBE-R takes the automation concept even further by placing the entire inspection system in a closed cell. Both solutions provide users with an integrated approach to automated inspection and are ideal for quality assurance of automotive and aerospace components.
Inspection and verification of attributes such as shape, thickness, trim, location of holes, etc. of multiple different parts and materials is easy since the systems can be programmed offline and calibrated automatically. The MetraSCAN 3D-R and CUBE-R both include Creaform's Autocalibration Kit which helps things keep running smoothly. Users don't have to stop the process to change from one part inspection to the next or to recalibrate the equipment.
Using ATI's QC-11 Tool Changer and Tool Stands, the Autocalibration Kit enables each system to recalibrate before moving on to the next inspection job. The master side of the ATI Tool Changer is mounted to the robot. When it's time to inspect a new part, the robot picks up the Autocalibration Kit from the tool stand by automatically coupling the master and tool sides of the Tool Changer. The robot moves the Autocalibration Kit into position and goes through a sequence to optimize scanning parameters before returning it to the tool stand. The application of ATI's automatic tool changer in the Autocalibration Kit is straightforward, but significant; it brings reliability and efficiency while saving space and increasing safety.
The MetraSCAN 3D-R and CUBE-R deliver totally automated inspection solutions that integrate multiple aspects of quality assurance verification throughout production. The systems leverage machine power and innovative programming to produce repeatable 3D analyses of parts and help manage potential quality issues further up the supply chain. The data from inspections aids in overall process improvement as well by helping to signal the appropriate times for preventive maintenance and identifying defects before they reach customers.
The safety benefits of automated systems are numerous, and can result not only in better working conditions, but also higher levels of job involvement. The MetraSCAN 3D-R and CUBE-R systems free workers from tedious inspection tasks and potential hazards by moving them into more engaging roles, such as system programming and design. Jerome-Alexandre Lavoie, Product Manager at Creaform, says that these products help to initiate a significant mindset shift in the culture of their users. "These systems encourage users to focus on 'Quality Assurance' throughout the production process," Lavoie says. "Instead of chasing and containing defects after they reach a customer, MetraScan 3D-R and CUBE-R users can prevent those defects from ever leaving the plant."
Of the Creaform-ATI relationship, Lavoie shares that, "Our main focus is cutting edge measurement technologies; it was clear that we needed to partner with a strong and solid robotic equipment provider such as ATI. The reliability of the ATI components has been perfect so far. We are very happy with this relationship and can't wait for upcoming new products!"
Through innovative automation, both ATI and Creaform are changing the way work gets done. Leveraging human skill and experience with automated technology enables a higher level of production quality in manufacturing. It also helps keep people safe and engaged as it moves manufacturing technology further into the future.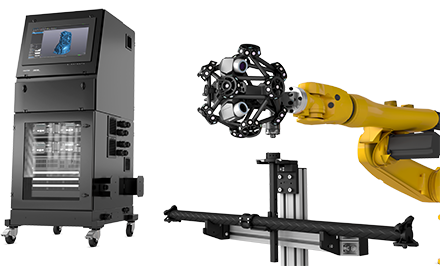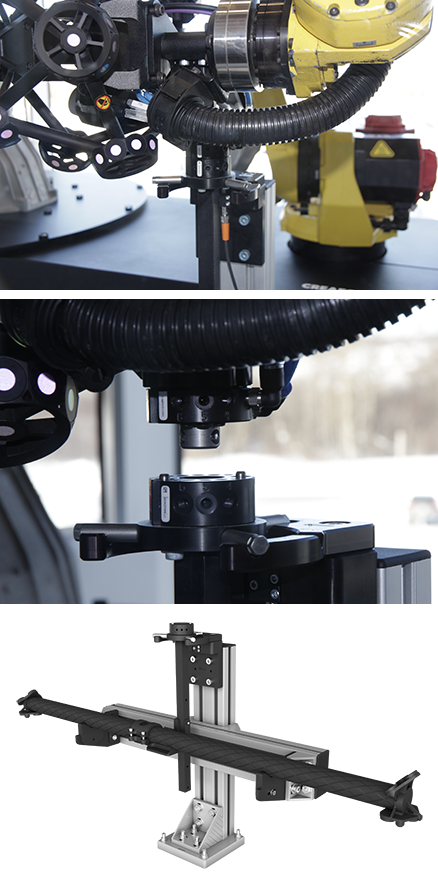 Photos courtesy of Creaform. Top - MetraScanR System, Middle - Robotic Pickup of AutoCalibration Kit, Bottom - closeup of AutoCalibration Kit with ATI Tool Changer
The content & opinions in this article are the author's and do not necessarily represent the views of RoboticsTomorrow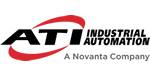 ATI Industrial Automation
ATI INDUSTRIAL AUTOMATION is the world-leading engineering-based developer of robotic accessories and robot arm tooling, including Automatic Tool Changers, Multi-Axis Force/Torque Sensing Systems, Utility Couplers, Material Removal Tools, Robotic Collision Sensors, Manual Tool Changers, and Compliance Devices. Their robot end-effector products are found in thousands of successful applications around the world. Since 1989, their team of mechanical, electrical, and software engineers has been developing cost-effective, state-of-the-art end-effector products and solutions that improve robotic productivity.
Other Articles
We will have a large variety of robotic demonstrations featuring the latest ATI Tool Changers, Material Removal Tools and Force/Torque (F/T) Sensors as well as technologies from our automation partners.
Producing the world's most advanced air defense missile requires technological innovation, especially when annual production is set to increase to 500 by 2024.
ATI has pulled out all the stops for our IMTS 2022 exhibit, with our largest booth, largest show staff and most robotic demonstrations ever! In addition, we have a variety of newly-released Force/Torque Sensors, Material Removal Tools, and Robotic Tool Changers
---
Comments (0)
This post does not have any comments. Be the first to leave a comment below.
---
Post A Comment
You must be logged in before you can post a comment. Login now.
Featured Product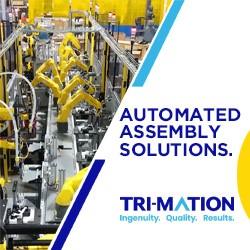 Tri-Mation reduces labor costs, improves accuracy, and production speed. Our integrators specialize in building automated assembly manufacturing systems for part production in any required volume or level of complexity.