The R2000 LiDAR sensor is used for navigation, monitoring the AGV's surroundings with a 360° scan angle, and providing high accuracy measurements to the AGV controller.
Guiding the Future of Autonomous Commercial Cleaning
Case Study from | Pepperl+Fuchs
Discovery Robotics has a corporate mission "to increase human productivity, safety, and quality of life by creating robotic solutions that deliver value to [their] customers." The Pittsburgh, PA-based robotics manufacturer created the FX250, an autonomous commercial floor cleaning robot, to accomplish this mission in the janitorial services industry.
According to the National Safety Council, ergonomic injuries and accidental falls are common health risks plaguing janitorial workers. Discovery Robotics built the FX250 to reduce these incidents. The company even co-founded the Work to Zero 2050 Movement with the goal of eliminating workplace injury and death by 2050. To help achieve this goal, Discovery Robotics needed an innovative industrial sensor manufacturer for AGV navigation.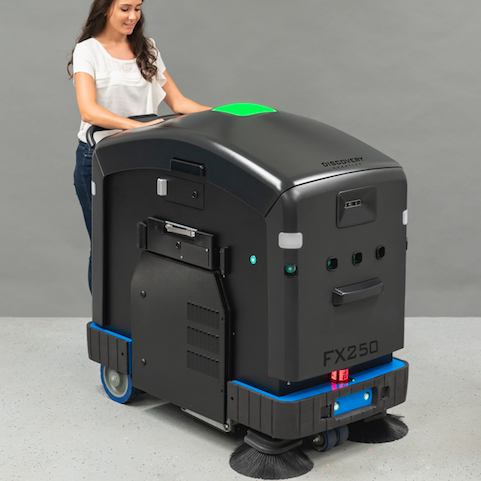 The FX250 uses Pepperl+Fuchs R2000 and R2100 series LiDAR sensors with Pulse Ranging Technology (PRT), R10x photoelectric sensors with Multi Pixel Technology (MPT), and Series 70 ultrasonic sensors for reliably accurate navigation, localization, collision avoidance, and other object perception tasks.
The R2000 LiDAR sensor is used for navigation, monitoring the AGV's surroundings with a 360° scan angle, and providing high accuracy measurements to the AGV controller. The controller uses this data to build a map of the robot's surroundings and localize the robot's absolute position within the map. The R2000's extremely high sampling rate (up to 25,000 measurements in one scan) allows for the smallest object features to be detected and identified, further enhancing the landmark extraction capabilities within a simultaneous localization and mapping (SLAM) implementation.
Located in the AGV's rear, the R2100 LiDAR sensor is used for collision avoidance and navigation support when the AGV is driven in reverse. Multiple wide-beam emitters ensure reliable object detection over a broad, 88° scan angle.
New objects and obstacles, such as personnel or an open door leading to a stairwell, may appear in the commercial floor cleaning robot's set path. Pepperl+Fuchs R10x photoelectric sensors and Series 70 ultrasonic sensors ensure smooth navigation as the FX250 performs its autonomous cleaning tasks. The R10x sensors make certain that there is no change in ground level, providing reliable cliff detection with MPT. This keeps the AGV from going off stairwells and platforms. With the ultrasonic sensors, the propagation of the ultrasonic signal from the sensor to the object is evaluated. The measured object distance can be provided in various signals such as an analog signal, a binary switching signal, or in digital form via an interface. No matter the signal, object detection is always reliable and accurate.
These highly configurable Series 70 ultrasonic sensors are mounted close together in the FX250 front panel to provide the robot precise object detection without cross-talk. This is possible due to the sensors' synchronization input feature, which allows the sensors to be conveniently mounted close together to multiply sensing capabilities without creating mutual interference. The sensors have an adjustable sound beam width to grant Discovery Robotics the flexibility needed to adapt the FX250 to navigating a wide variety of obstacles found in commercial structures such as airports, convention centers, and retail warehouses.
Pepperl+Fuchs LiDAR and ultrasonic sensors aid the FX250 in covering 10,000 square feet per hour at a cleaning success rate of over 95%. When the FX250 is done with its cleaning tasks, its sensing technology safely guides it back to where the user had assigned its storage location.
"The FX250 has been undergoing testing for eight months at over 15 potential customer locations," said Discovery Robotics Co-founder and CTO Larry Williams. "Our potential customers have been very impressed with the way it cleans carpeted and hard surfaces. But more importantly, they have been fascinated by the way it senses, interacts, and adapts to both fixed obstacles and humans who are moving about the area. They are excited about having robots working with them to achieve a higher level of clean."
The content & opinions in this article are the author's and do not necessarily represent the views of RoboticsTomorrow
---
Comments (0)
This post does not have any comments. Be the first to leave a comment below.
---
Post A Comment
You must be logged in before you can post a comment. Login now.
Featured Product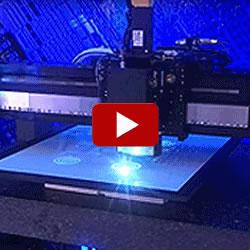 A traditional gantry system employs X-Y or X-Y-Z range of motion. Mounted on a base plate, usually granite, 2 parallel rails constitute the synchronized Y axis motion while the cross axis (bridge axis) provides the X motion. A vertical axis can be added on the bridge for the Z motion. A Split Bridge system can be less complex than a traditional gantry system because synchronization of the two parallel linear motors is not required. Both systems are used in industrial production, testing, and additive manufacturing.