While many Baby Boomers pursued trade or vocational jobs, Millennials and Gen Xers were encouraged to attend college and apply for white-collar jobs.
Solving the Labor Shortages in Manufacturing
Joe Gemma | KUKA Robotics
How is the labor shortage affecting the manufacturing industry? What factors are contributing to this?
The labor shortage is a very prevalent issue in the manufacturing industry. Manufacturing is a major part of the U.S. economy, and companies are struggling to keep up with rising production demand without a sufficient labor force to support this. Generational differences are a big contributor to this. While many Baby Boomers pursued trade or vocational jobs, Millennials and Gen Xers were encouraged to attend college and apply for white-collar jobs. Now, many Baby Boomers are nearing retirement (or at least looking for less-strenuous jobs), meaning there's a large sector of the workforce heading out the door. And with few recruits coming in, the manufacturing workforce is quickly depleting, leaving manufacturers scrambling for talent.
How are manufacturers addressing the shortage currently?
Recruiting, recruiting, recruiting. Manufacturers are looking for any way to attract new talent. One tactic I've seen a lot of success in is when manufacturers partner with vocational schools for a direct recruitment line and easy access to a talent pool. By getting involved with these students, manufacturers are investing in their potential future workforce - something they can't pass up at the moment. Of course, recruiting can only take you so far, and it often is a long and strenuous process - which is where automation comes in.
Why is automation a viable solution for the shortage?
Automation can take on a lot of the tedious, dirty tasks to fill a gap in the workforce, such as palletizing, wrapping, shelving, etc. This enables companies to alleviate the worker, allowing them to focus more of their attention on higher-value tasks, like improving factory efficiency and product development. When you're short-staffed, automation can step in and take on some of those strenuous tasks that a human worker may normally take on.
How does one go about finding training for a job in the new automated factory?
As technologies like automation and IoT become more prevalent, there are more and more resources for workers to find training so they can be successful in an automated factory. At KUKA, for example, we have the KUKA College program, where our customers can send their new employees over for hands-on training courses and informative seminars. This helps new workers become familiar with and learn more about the solutions they'll be using in an automated factory.
Is the public school system preparing graduates for a future in this automated career environment?
Automation is an area more and more schools are engaged in and developing. In fact, KUKA piloted a program several years ago to help address the readiness of students coming out of our school systems with a package called ready2_educate. The package includes the basic hardware and software for students to learn on, and we provide a comprehensive curriculum for the educator to insure the students have a good, well-rounded knowledge when the complete the course. The student does receive a certificate of completion and college credit. Other companies have followed suit and are providing similar programs supporting education across the nation.
How will automation affect current workers? Will it replace any employees?
There are no data points that prove automation is reducing job opportunities. In fact, every time robot sales have gone up in the past few years, unemployment has gone down. Of course, manufacturing is changing, which will change the roles we see in future manufacturing companies, but most of the time these changes mean that lots of new jobs are created to support these new technologies and processes. Jobs change, but work doesn't disappear.
What would you advise your children or grandchildren to study in school in order to ensure a job in their future?
Having an in-depth understanding of automation and IoT will be invaluable in the future workplace. These technologies will set the foundation for the solutions we'll all use in the future. Jobs in these areas aren't going away anytime soon; in fact, we can expect to see a major increase in jobs related to IoT and automation over the next ten years. You can never go wrong with studying STEM.
About Joe Gemma
Joe Gemma is the Chief Regional Officer at KUKA Robotics. His primary role is to oversee strategy and sales growth in North America, encouraging collaboration across teams and enhancing the customer experience with quality service, products and a committed professional team.
The content & opinions in this article are the author's and do not necessarily represent the views of RoboticsTomorrow
---
Comments (0)
This post does not have any comments. Be the first to leave a comment below.
---
Post A Comment
You must be logged in before you can post a comment. Login now.
Featured Product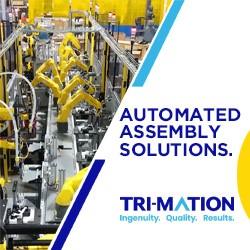 Tri-Mation reduces labor costs, improves accuracy, and production speed. Our integrators specialize in building automated assembly manufacturing systems for part production in any required volume or level of complexity.